d'Arnaud steps up to improve on field, at plate
Catcher homers vs. Marlins, producing for Mets from No. 2 spot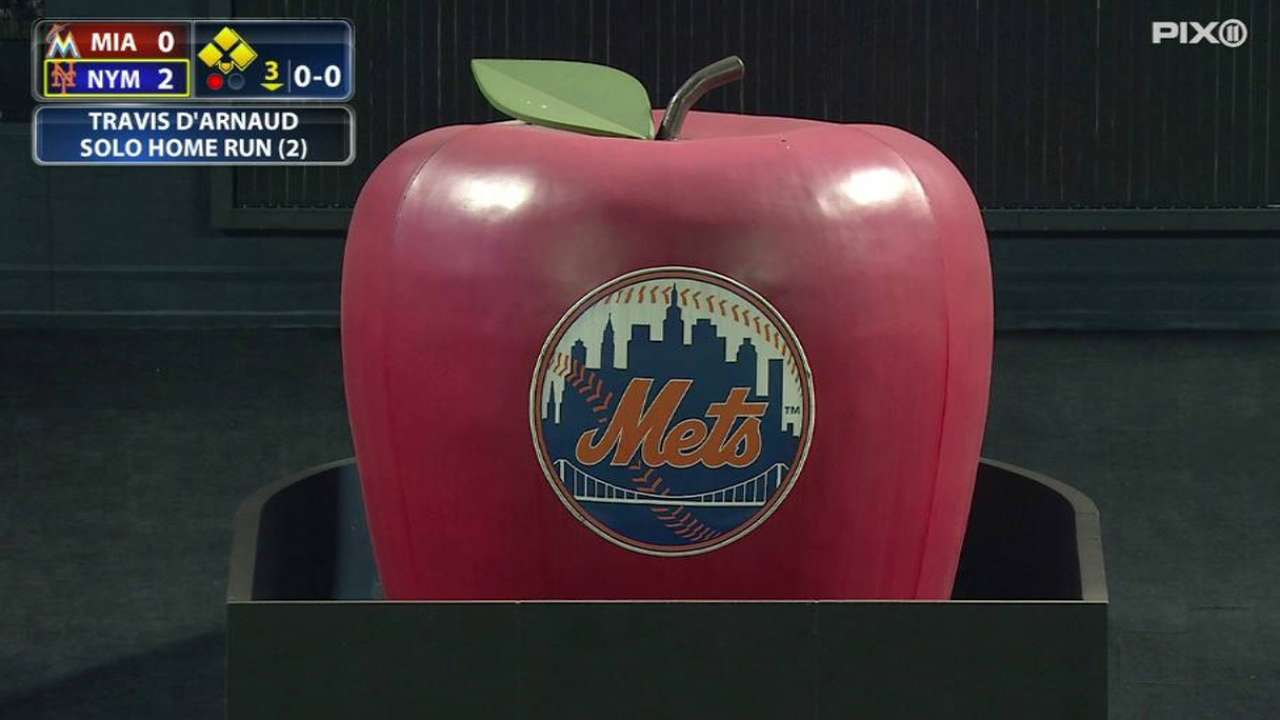 NEW YORK -- When the Mets inserted catcher Travis d'Arnaud into the No. 2 spot in the lineup to replace the injured David Wright, d'Arnaud considered the move a show of confidence. So far, New York has been rewarded for that confidence.
In his first three games at that spot in the order, d'Arnaud has hammered two home runs, including a solo blast in Saturday's 5-4 victory against the Marlins.
"This is what I want from him. That's why he's hitting second," Mets manager Terry Collins said. "He showed us last year he could swing the bat."
But the Mets have imagined d'Arnaud is capable of the kind of complete performance he displayed during Saturdays' game. It began in the first inning, when d'Arnaud threw out Marlins second baseman Dee Gordon on a stolen-base attempt -- for the second time this series. It continued with his solo homer in the third inning off Mat Latos before he settled in to help guide starter Jacob deGrom to another stellar performance.
d'Arnaud has had his share of struggles, both at the plate and in the field, in his young career, but he is showing signs of putting it all together.
After struggling at the beginning of last season, he was sent to Triple-A Las Vegas on June 8 for a few weeks to work on his swing. He received the callup on June 24 and responded by batting .272/.319/.486 with 10 home runs and 32 RBIs through the end of last season.
d'Arnaud has continued to build off that performance through the start of this season, batting .289/.317/.526 with a pair of home runs and nine RBIs.
"I just believe in myself," d'Arnaud said. "I'm able to make adjustments quicker and believe in my thought process at the plate and know it works."
There have also been times when d'Arnaud has struggled throwing baserunners out, so he worked on moving his feet quicker and shortened his stride in order to prevent his arm from lagging behind his body.
His performance against Gordon, one of the league's premier baserunners, these past few days has given the Mets a glimpse of what he provides on defense.
"Travis knows he can throw, and he proved it," Collins said. "He's taken on these challenges very, very personally."
Jamal Collier is a reporter for MLB.com. Follow him on Twitter at @jamalcollier. This story was not subject to the approval of Major League Baseball or its clubs.