Morin still looking to carve out set bullpen role
Reliever allows three-run homer in 4-0 loss to Astros on Saturday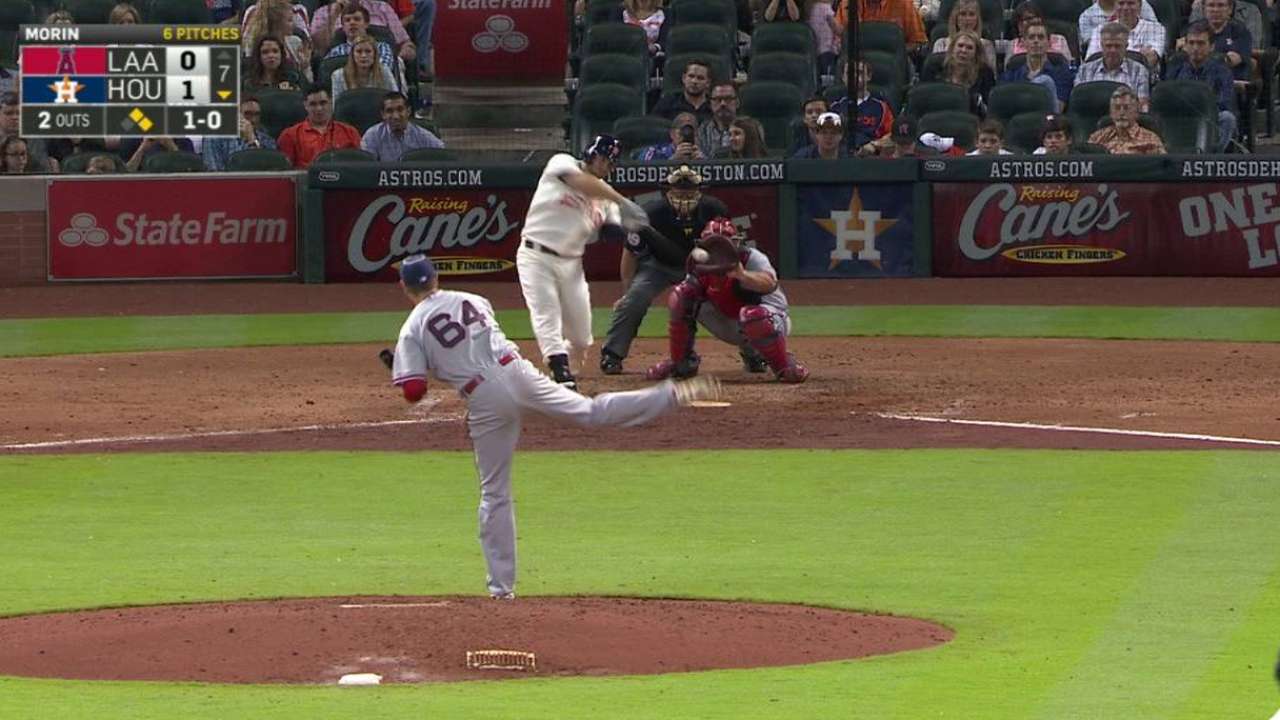 HOUSTON -- Mike Scioscia called it "a 307-foot fly ball," but Mike Morin didn't want to hear it.
"We know the dimensions of the ballpark," Morin said of the three-run homer he served up to Astros left fielder Robbie Grossman, the death nail in the Angels' 4-0 loss on Saturday night. "I didn't execute the pitch -- bottom line."
The pitch was an 0-1 fastball that stayed up, moments after Jose Altuve was intentionally walked with first base open and the Angels trailing by one in the bottom of the seventh. The fly ball was lifted over the 19-foot-tall scoreboard in left field, which sits 315 feet from home plate.
Scioscia was surprised it went out.
"Give him credit for hitting it," Scioscia said, "but placement was key there."
More surprising, perhaps, was that Morin was in that spot to begin with.
The 23-year-old right-hander impressed as a rookie in 2014, riding a dynamic changeup to a 2.90 ERA and a 1.19 WHIP in 60 appearances. With Kevin Jepsen gone, Morin entered the 2015 season with aspirations of locking down the seventh-inning role, which meant he would pitch the seventh whenever the starter was out of the game and the Angels led by three runs or less.
But that hasn't necessarily been the case.
Scioscia has used that crucial inning -- the three outs that lead to his dominant one-two punch of Joe Smith and Huston Street -- to match up. Jose Alvarez and Cesar Ramos have been used against lefties, and Vinnie Pestano has seemingly had the priority against righties.
"It's not going to be one guy," Scioscia said of the seventh, "but Mike will be part of that."
So far, though, only three of the 14 batters Morin has faced have come with the lead. He's been mostly relegated to situations when the Angels are trailing, though Saturday's appearance was a crucial situation nonetheless.
"I trust Sosh completely," said Morin, who has a 4.91 ERA in 3 2/3 innings. "It has nothing to do with that. I'll be ready day in and day out, whether it's the second inning or the 10th or the seventh. It's not weighing on my mind at all."
But Morin -- like all relievers -- wants to prove worthy of his own inning. To do that, he knows he has to improve against lefties, who batted .283 against him last year. The key, Morin said, is "pitching in, and when I do go away, have some late sinking action."
That wasn't the case against Grossman, a switch-hitter who was batting from the left side of the plate when he hit his game-breaking home run.
For Morin's sake, perhaps it's a good thing Scioscia merely considered it a well-placed fly ball.
"It's frustrating," Morin said. "You have to continue to improve every day. Nothing is given you. You earn your role. I'm looking forward to earning it."
Alden Gonzalez is a reporter for MLB.com. Read his blog, Gonzo and "The Show", and follow him on Twitter @Alden_Gonzalez. This story was not subject to the approval of Major League Baseball or its clubs.