deGrom's scoreless streak, Mets' seven straight wins spark hope
2014 NL Rookie of the Year tosses seven shutout innings to contribute to New York's impressive run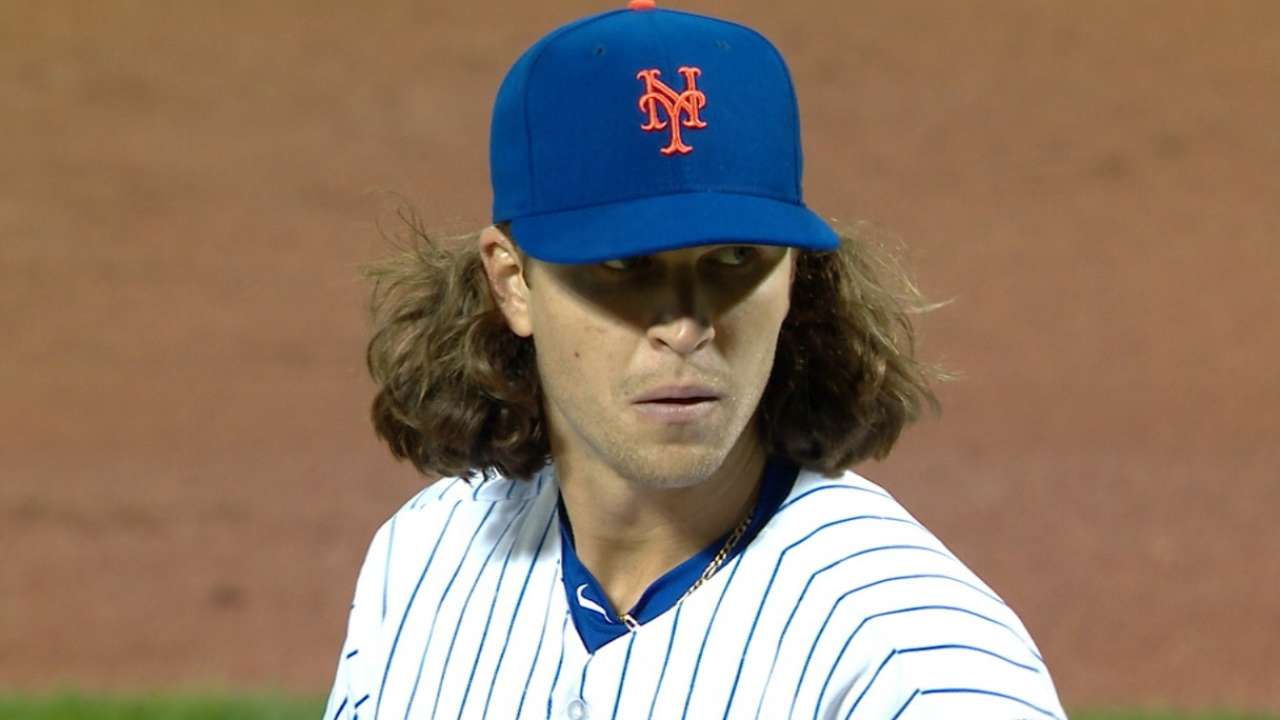 NEW YORK -- It's been 18 1/3 innings and 274 pitches since Jacob deGrom allowed a run, 203 days since the Mets last lost at Citi Field and nine years since a start so spectacular and surrounded by so much hope.
That's what's spilling over the seats at Citi Field now as the Mets sit in first place after hanging on Saturday night to beat the Marlins, 5-4, winners of seven in a row and their sights set on a Sunday-style Harvey Day. Hope, and it can be quantified.
Six home wins to start a season -- the most since 1985. Nine wins in 12 games -- the best start since 2006. But maybe the most impressive number? Zero. That's the one deGrom keeps throwing up.
"You want to get better every time out," said deGrom, who lowered his ERA to 0.93 by blanking the Marlins over seven strong innings. "I just want to put us in a position to win."
The 2014 National League Rookie of the Year has done that every time in 2015, compiling an almost perfect young season. deGrom has been flawless since surrendering a two-run home run to Ryan Zimmerman -- on his 18th pitch of the year -- in his April 8 season debut.
Since then, he's registered wins over two division rivals, recorded 17 strikeouts against three walks, generally spearheading a starting rotation that sits second in the NL with a 2.58 ERA.
"There are those guys that have a feel for what it takes to play and what it takes to pitch," said Mets manager Terry Collins. "He's got it. He's the knack. He's got the feel."
The feel never went away Saturday. The ever-calm deGrom, disrupted twice for a combined 6 minutes and 15 seconds by replay reviews, scattered six hits to earn his second win. After what would have been an inning-ending out was reversed in the third, deGrom struck out the next batter and retired the next eight. He fought through his toughest jam -- cradling a 2-0 lead against Giancarlo Stanton with two on and one out in the sixth -- with impressive poise.
After falling behind Stanton 3-0, deGrom came back to strike the slugger out with a 96-mph fastball.
"I had to bear down and go right after him," deGrom said. "That's what I did."
deGrom barely threw any breaking pitches through the first four innings, instead thriving with his fastball-changeup combination. Only five of his first 56 pitches were breaking balls. Then deGrom started mixing it up. Over his last 45 pitches, deGrom utilized 18 breaking balls. Command of all four pitches allowed him to leave with a 5-0 lead before the Mets' bullpen almost gave it back.
deGrom is 7-0 with a 0.95 ERA over his last eight starts at Citi Field. The scoreless-innings streak is a career high and the best by a Met since R.A. Dickey tossed a franchise-record 32 2/3 scoreless in 2012.
deGrom has been a big part of the Mets' seven-game win streak, the longest current streak in the Majors and New York's best since 2010. The Mets have also won eight straight games at home dating back to September 27 of last season.
More numbers. But Collins believes they mean something, even in April.
"I realize it's early," he said. "I certainly understand where we're at. But you know what, these games count. They count in the win column and they count during the season. Everybody thinks pennants are won in August and September, and maybe they are. But I'll tell you one thing, if you win early, at least you're in the dogfight."
Joe Trezza is an associate reporter for MLB.com. This story was not subject to the approval of Major League Baseball or its clubs.