MLB.com Columnist
Fred Zinkie
DraftKings picks: Ellsbury, Headley, Ortiz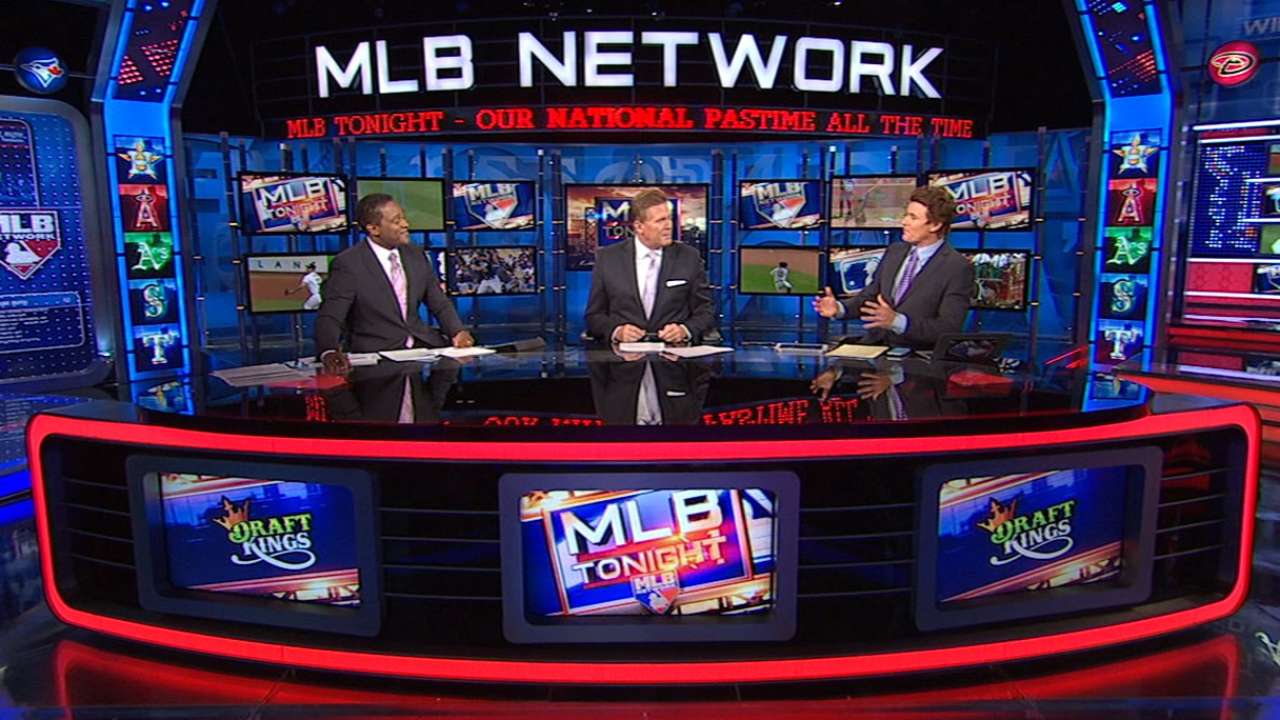 Offensive options will be plentiful for DraftKings participants on Sunday, as several clubs have scheduled struggling or backend-type hurlers. The challenge will be to pack a lineup full of productive hitters and still find room for at least one of the high-end starters. A few of the best options to consider can be found below.
Jacoby Ellsbury (Yankees): The owner of a career .794 OPS vs. right-handers (.750 against lefties), Ellsbury could have success against Rays right-hander Matt Andriese. The Yankees outfielder could display extra-base power or swipe a base against the Tampa Bay 25-year-old, who has 4 2/3 innings of Major League experience.
Chase Headley (Yankees): With a career .769 OPS vs. right-handers (.722 against lefties), the third baseman could reach base multiple times against Andriese, who threw 3 2/3 innings during his first Major League start on April 14.
David Ortiz (Red Sox): The designated hitter -- who owns a lifetime .972 OPS against right-handers as opposed to an .819 mark vs. southpaws -- could go deep at his hitter-friendly home park against long-ball-prone Orioles righty Miguel Gonzalez, who has compiled a career 1.2 HR/9 rate.
Travis d'Arnaud (Mets): The catcher has hit high in the lineup in recent days, which maximizes his opportunities for success. And with a career .711 OPS vs. right-handers (.627 against lefties), d'Arnaud could make excellent use of his premium lineup position against Marlins righty Tom Koehler.
Jose Ramirez (Indians): Ramirez has swiped 13 bases in 311 career plate appearances, and he could pick up another steal if he can reach base Sunday, as Minnesota catcher Kurt Suzuki often struggles to control opposing running games. And with Trevor May, who has a 7.94 ERA and a 1.76 WHIP in 51 career innings, on the mound for the Twins, Ramirez has a solid chance to find his way to first base multiple times.
Jason Kipnis (Indians): The second baseman, whose career .779 OPS against right-handers exceeds his .642 mark vs. lefties, could be part of an Indians stack against May. DraftKings participants could fill their infield with Kipnis, Ramirez and third baseman Lonnie Chisenhall, who also fares best against righties.
Brian Dozier (Twins): The owner of a career .859 OPS against left-handers (.661 mark vs. righties), Dozier could thrive against southpaw TJ House, who allowed six runs across 1 1/3 innings during his initial 2015 start. The second baseman offers the combination of power and speed that DraftKings participants covet.
Matt Joyce (Angels): Having slugged 79 of his 88 career homers against right-handers, the outfielder could show off his power against Astros righty Scott Feldman on Sunday. Joyce could also drive in multiple runs, as Feldman has compiled a 4.49 ERA and a 1.36 WHIP during his big league tenure.
Matt Kemp (Padres): The outfielder, whose career .952 OPS vs. southpaws exceeds his .805 mark vs. right-handers, could have success against Cubs southpaw Jon Lester. Kemp could even look to run the bases aggressively in this game, as Lester has struggled to hold baserunners this season.
Angel Pagan (Giants): The outfielder has regularly hit out of the third spot in the lineup this season, and he could produce from that premium position when he faces D-backs righty Jeremy Hellickson on Sunday. With a career .775 OPS vs. right-handers (.710 against lefties), the switch-hitting Pagan could post strong numbers against the Arizona hurler, who has surrendered a .732 OPS to left-handed hitters as a big leaguer.
Corey Dickerson (Rockies): The outfielder has dominated right-handed hurlers to the tune of a career .941 OPS (.689 vs. lefties), and he could rip a homer against Dodgers righty Brandon McCarthy (career 1.1 HR/9 rate) even though Sunday's game will take place away from hitter-friendly Coors Field.
Nelson Cruz (Mariners): A relocation to Seattle has not affected the power stroke of the reigning Major League home run champion. On Sunday, Cruz could build on his baseball-leading homer total when he brings his career .892 OPS vs. lefties (.812 against right-handers) into a matchup with Rangers southpaw Ross Detwiler.
Stephen Strasburg (Nationals): The right-hander is off to a slow start in 2015, but he could get on track in a hurry by posting plenty of whiffs and dominant ratios against a mediocre Phillies offense on Sunday. Strasburg has compiled a career 3.08 ERA, but his ERA in 59 starts at home -- where he will take the hill Sunday -- is a dazzling 2.60.
Matt Harvey (Mets): By racking up 17 K's in his initial two 2015 starts, the right-hander has quelled any concern about the lingering effects of his 2013 Tommy John surgery. On Sunday, Harvey will face the Marlins at Citi Field, where he has registered a 2.01 ERA and a .192 opponents' batting average across 19 lifetime outings.
Gerrit Cole (Pirates): The No. 1 pick in the 2011 First-Year Player Draft, Cole is a budding ace who has posted a 14:4 strikeout-to-walk ratio across his initial two starts this season. On Sunday, the right-hander could dominate in his pitcher-friendly home park against a Brewers lineup that is missing injured center fielder Carlos Gomez and includes several prominent hitters who fare best against southpaws.
Shane Greene (Tigers): When he faces the White Sox at Comerica Park on Sunday, Greene will attempt to become the first Detroit starter to allow zero earned runs across his first three starts of a season. DraftKings owners could find success by pairing the potentially cost-effective right-hander with one of the previously mentioned aces.
All statistics are accurate through the completion of Friday's games.
Fred Zinkie is a senior fantasy baseball writer for MLB.com. Follow him on Twitter at @FredZinkieMLB. This story was not subject to the approval of Major League Baseball or its clubs.