Locke proves second time now the charm
Past the first inning, starter dominates Brewers in rematch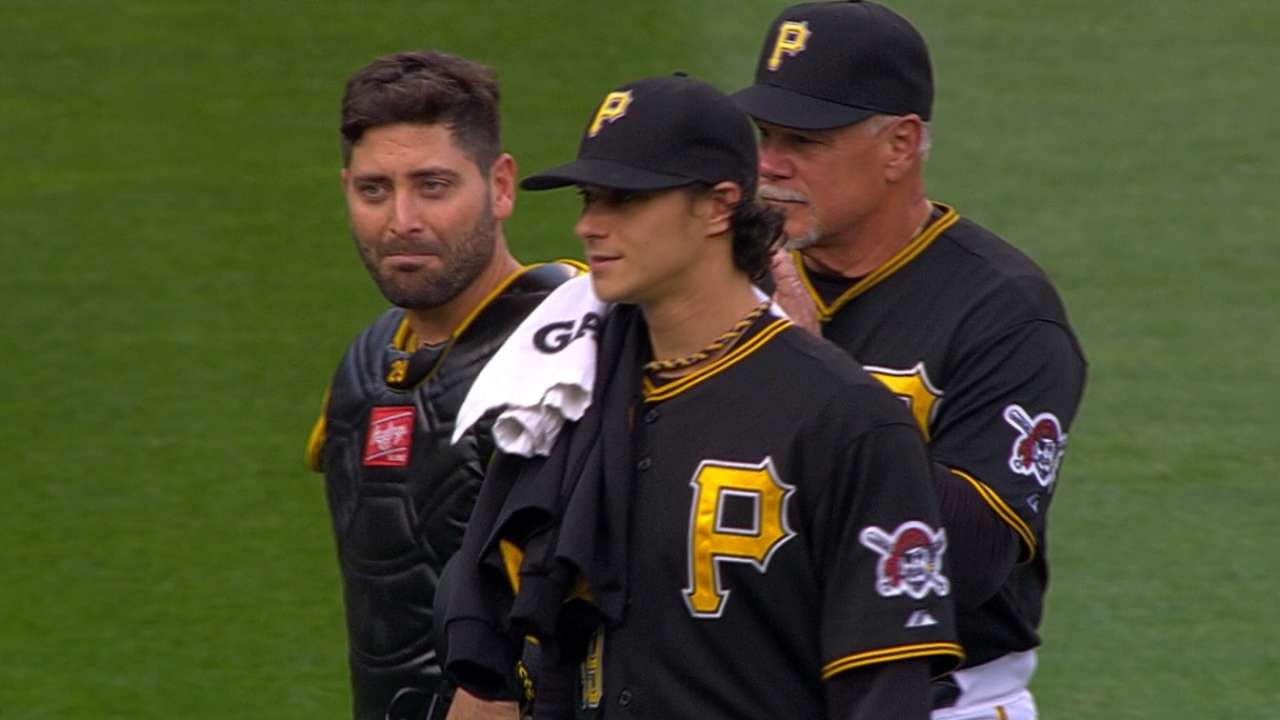 PITTSBURGH -- Jeff Locke confronted not only the Milwaukee Brewers but also his personal history when making repeat starts against a team, and defeated both Saturday night.
Locke had decisioned the Brewers eight days earlier in Miller Park, but this time he doubled-down in PNC Park. He had previously drawn the same opponent in consecutive starts three times in his career, and they'd roughed him up for 15 earned runs in 14 innings.
His manager, Clint Hurdle, knew the lefty was better equipped for the challenge because of his experience.
Alluding to Locke's ability to make in-game adjustments, Hurdle said, "Based on reps, innings, the success and challenges he's had, he's more prepared to come up with a Plan B."
Plan Brewers worked perfectly. After the game's first two hitters got into scoring position, Locke retired 23 of the next 25, taking any suspense out of the 6-2 win.
"Sometimes we overthink it a little bit. I know I did at first," Locke said of encore hookups, of which he had two last season and one in 2013. "You're thinklng, 'Same team twice in a row, what do I have to do to have the same success against them?' It gets in your head a little bit.
"You've just got to attack guys. Keep the ball down. When all your pitches are working, you feel like you can do whatever you want, long as it's down."
Locke had that do-whatever feeling for eight innings, drawing his manager's raves and a comparison to another night of dominance, last Sept. 8 in Philadelphia, a seven-inning three-hitter over the Phillies with nine strikeouts.
"That was probably a bookend for this one," Hurdle said. "He had great rhythm and tempo throughout. He had good stuff and trusted it. A really well-pitched game. The game started with the third batter -- and he put a foot down."
The game's first batter, Ryan Braun, singled.
"You come into a game and Ryan Braun is the leadoff hitter … you don't know what kind of a day it's going to be," Locke said.
No. 2 batter Jean Segura also singled, and advanced to second on the late throw to third attempting to nab Braun. A run scored on a sacrifice fly. And here came Locke's foot.
"To limit the damage and have them come away with one … yeah, that was big," Locke said. "It kinda took the wind out of their sails."
Locke may offer one of the best demonstrations of positive pitching momentum ever. He has certainly had his days of stagger. After all, this is the guy who in 2013 led the National League in walks (84). When he is in a zone, however, he is unbreakable. Saturday night was the fourth time he has gone eight in his career, and in those peak performances he has walked a total of two.
Locke retired after 99 pitches. Was there any thought given to getting a shot at his first complete game?
"Yeah, there was a discussion - about the eighth," Locke grinned. "The ninth, there was no question. It would've been nice, but it's unchartered territory right now."
Tom Singer is a reporter for MLB.com and writes an MLBlog Change for a Nickel. Follow him on Twitter @Tom_Singer. This story was not subject to the approval of Major League Baseball or its clubs.