Blackmon trying to go deeper into counts this season
Rockies leadoff hitter is hoping new approach will help teammates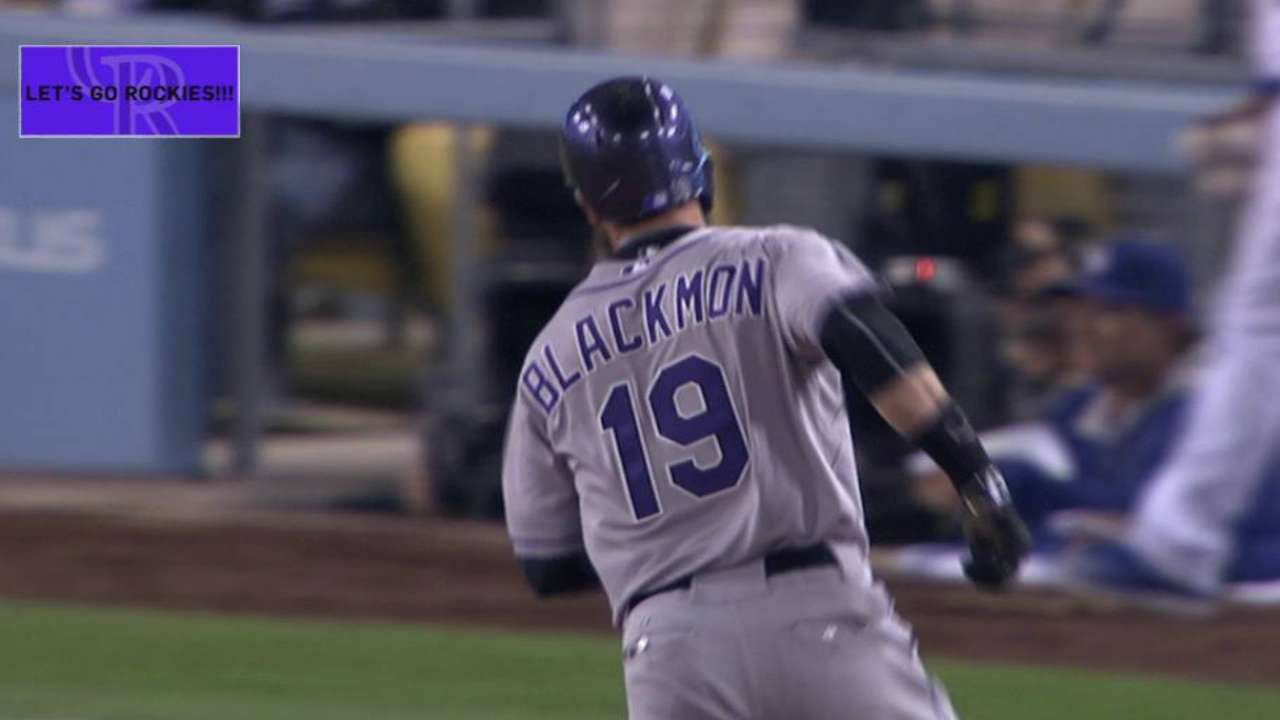 LOS ANGELES -- Rockies leadoff hitter Charlie Blackmon is seeing more pitches this year, hoping it will be beneficial to his teammates.
Through the first 10 games going into his start Saturday night at Dodger Stadium, Blackmon saw 4.13 pitches per plate appearance, an increase over the 3.58 average he saw last year -- his first in the top spot in the order.
Blackmon entered Saturday hitting .263 with a .350 on-base percentage. The batting average was below his career pace, but the OBP is significantly above the .335 he managed last year and his .330 career number.
"I started trying to see a few more pitches in Spring Training," Blackmon said. "I'm better deep in the count. It's better for the team to go deeper in the count. As a leadoff hitter you give your guys more chance to see the other pitcher's arsenal, and maybe earn a walk here or there."
Blackmon is a .330 career hitter ahead in the count and a .304 hitter with the count even. Laying off first pitches is helping. Just 11.1 percent of first pitches to him have been strikes -- a fact likely attributable to the power he displayed last season (19 home runs, .440 slugging percentage).
Blackmon is not bad with the count full. Friday night's full-count, two-run home run off the Dodgers' Clayton Kershaw was just his second homer at 3-2, but he's a .402 hitter with that count.
But he hits .244 with the pitcher ahead, so he must be careful not to back himself into bad counts. He is also concerned enough about not chasing pitches that he has to battle the looking strikeout (five of his 12 this year).
Blackmon also said he reserves the right to be unpredictable. He doubled the only time he put a first pitch in play, but he is a career .361 hitter (43-for-119) on first pitches. He figures opponents are paying attention to this year's trends.
"There will be times I'll be very aggressive to keep pitchers honest," he said. "That's by design. I don't always try to see 4.13 pitches. If I notice teams fall into a pattern one way or another, I'll come out of that and start hacking."
Worth noting
• Righty David Hale, who suffered a left oblique injury late in Spring Training, will make his first injury rehab start Monday for Class A Modesto at home against Visalia.
• Kyle Kendrick pitched seven scoreless innings at Milwaukee on Opening Day but since then has walked nine and given up 14 earned runs in 9 2/3 innings. Manager Walt Weiss said the problem is correctable.
"We saw him real good in Milwaukee and we'll see that again," Weiss said. "The command hasn't been as good as it can be and will be. He got into some tough counts last night [when he lasted 4 2/3 innings in a 7-3 loss to the Dodgers]."
Thomas Harding is a reporter for MLB.com. Read his blog, Hardball in the Rockies, follow him on Twitter @harding_at_mlb, and like his Facebook page, Thomas Harding and Friends at www.Rockies.com. This story was not subject to the approval of Major League Baseball or its clubs.