Pair of Jesses combine on A's shutout of Royals
Hahn goes 5 1/3, exits with blister on finger; Chavez does rest, whiffing six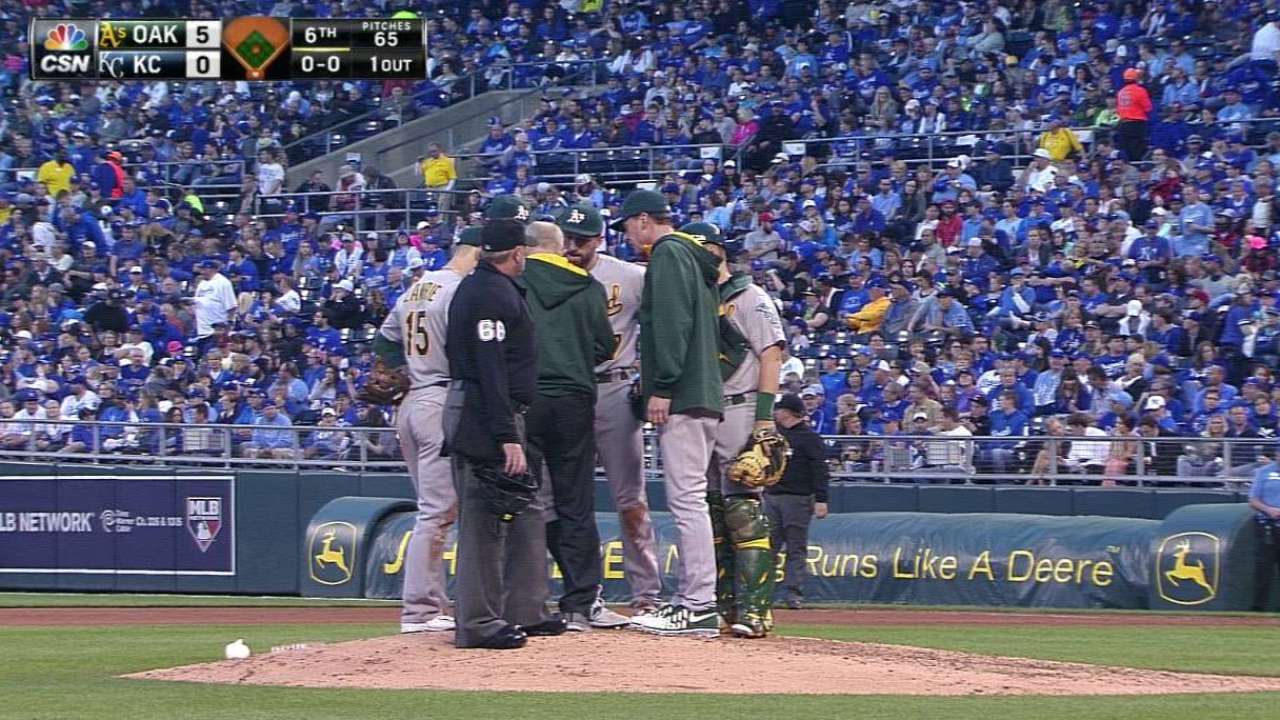 KANSAS CITY -- Right-handers Jesse Hahn and Jesse Chavez combined for the A's fifth shutout of the season Saturday night, with starter Hahn collecting his first win as an Athletic and Chavez compiling a 3 2/3-innings save, the club's first save of the year.
"Jesse plural was very good tonight," said catcher Stephen Vogt, smiling. "They both used their movement, both sides of the plate. Just really made pitches."
Hahn was around for 5 1/3 innings of the 5-0 shutout, throwing 65 pitches before departing with a blister on the middle finger of his throwing hand. The right-hander believes he'll be able to make his next start Thursday in Anaheim.
"It's been popping up, today a little worse than others, I guess," said Hahn. "In the sixth there, a couple of pitches in, it just split open on me. I usually get 'em. That was a little worse.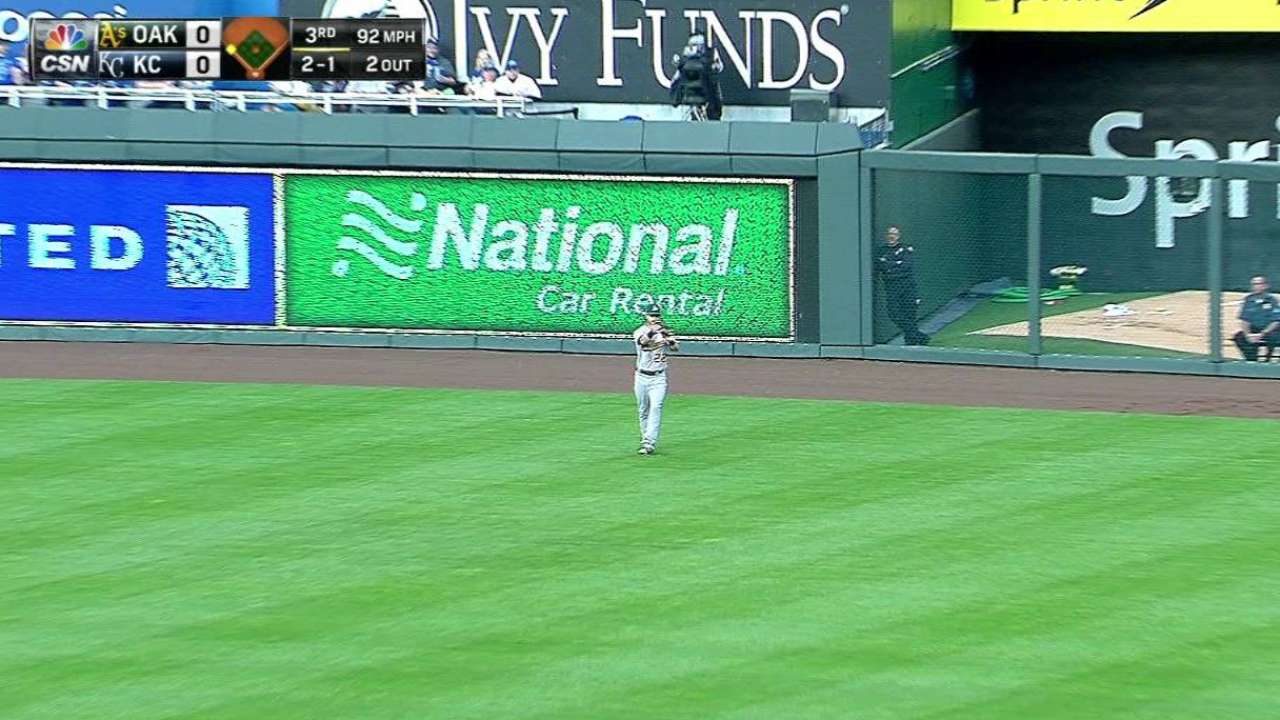 "I would have liked to get a little further in the game to let our bullpen rest some more, but when you've got a guy like Chavez over there who can come in and do that, that's awesome."
Hahn established the inside fastball early and racked up ground balls like clockwork, getting 11, including a pair of double plays. His best work was on display in the third, when Omar Infante notched a leadoff double and advanced to third, and Hahn exited the inning unscathed.
"Getting out of that jam, I think that was the inning of the game, not the five-run inning," said Vogt. "By him getting us out of that the way he did, he kind of spark-plugged us going into that next inning."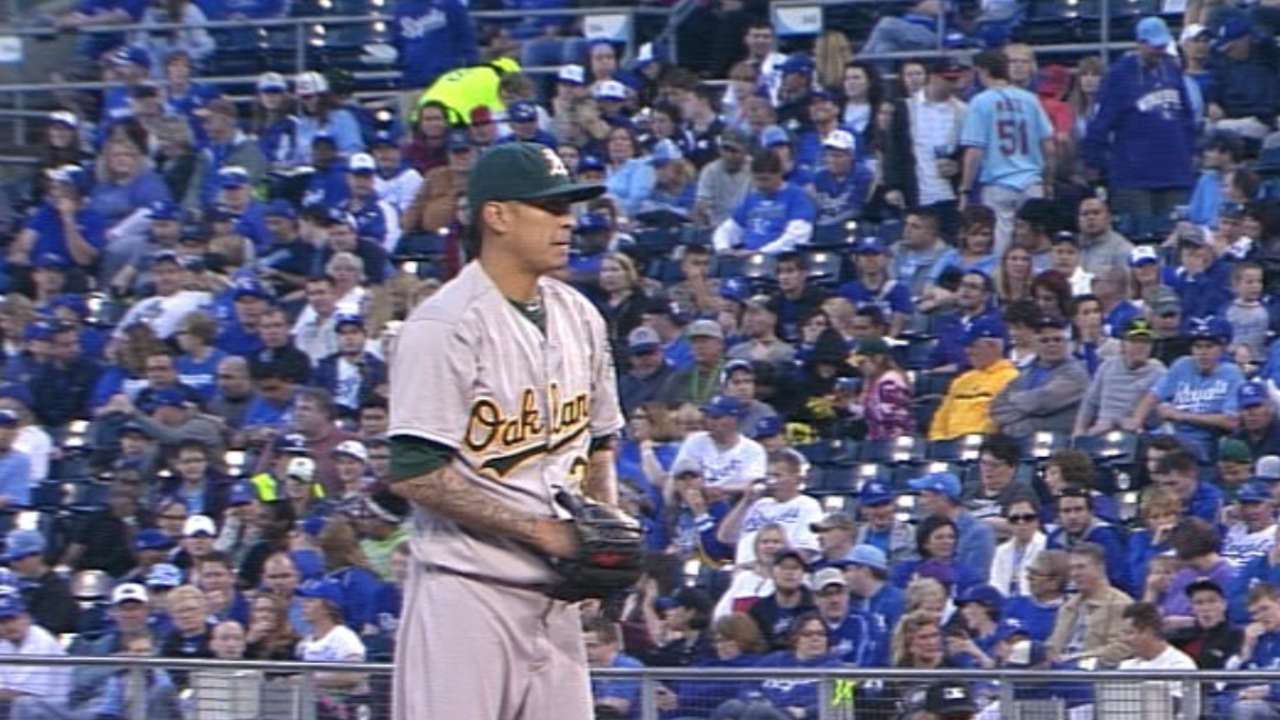 Chavez, meanwhile, rang up six strikeouts in his outing, needing 57 pitches to fend off the Royals.
"That was some of the nastiest pitching I've seen in a long time," said Vogt. "They weren't going to string together three hits. They weren't going to do it with the stuff he had today. He was throwing 94-mph cutters, 96-mph fastballs, and his curveball was very good. He was some kind of good. Everything he did was outstanding."
"Chavy is the guy for that," said A's manager Bob Melvin. "We got [Tyler] Clippard up at the end, but for him to finish that up and give the bullpen a rest … that was terrific."
Jane Lee is a reporter for MLB.com. This story was not subject to the approval of Major League Baseball or its clubs.