Tension flares between A's, Royals for second straight night
Benches clear again after Ventura's ejected for hitting Lawrie; players offer differing viewpoints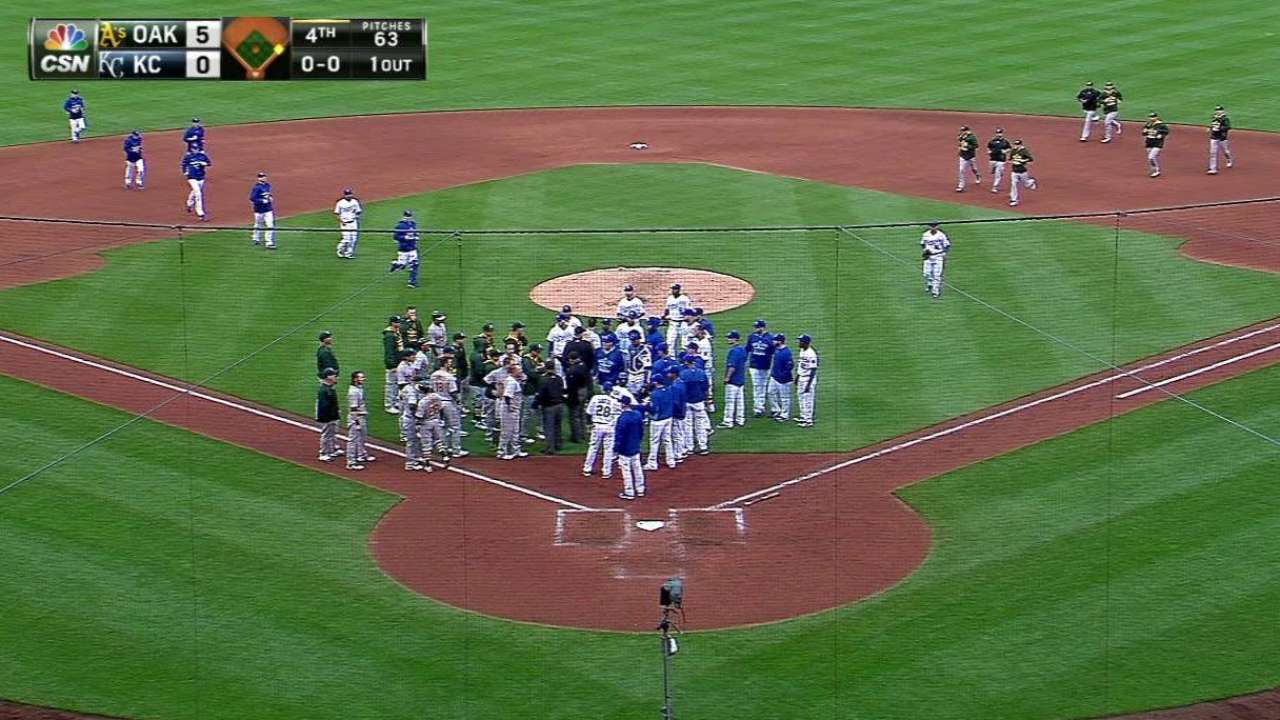 KANSAS CITY -- For the second straight day, benches and bullpens emptied at Kauffman Stadium.
On Friday, Oakland's Brett Lawrie slid hard into Royals shortstop Alcides Escobar in the seventh inning, which led to the first fracas. The incident was complicated by the fact that Escobar claims he did not receive a text message apology from Lawrie. More >
And then, on Saturday, Royals starter Yordano Ventura drilled Lawrie with a pitch in the fourth inning, causing tempers to flair again.
But whether there will be more bad blood between the teams, it depends on who you talked to postgame.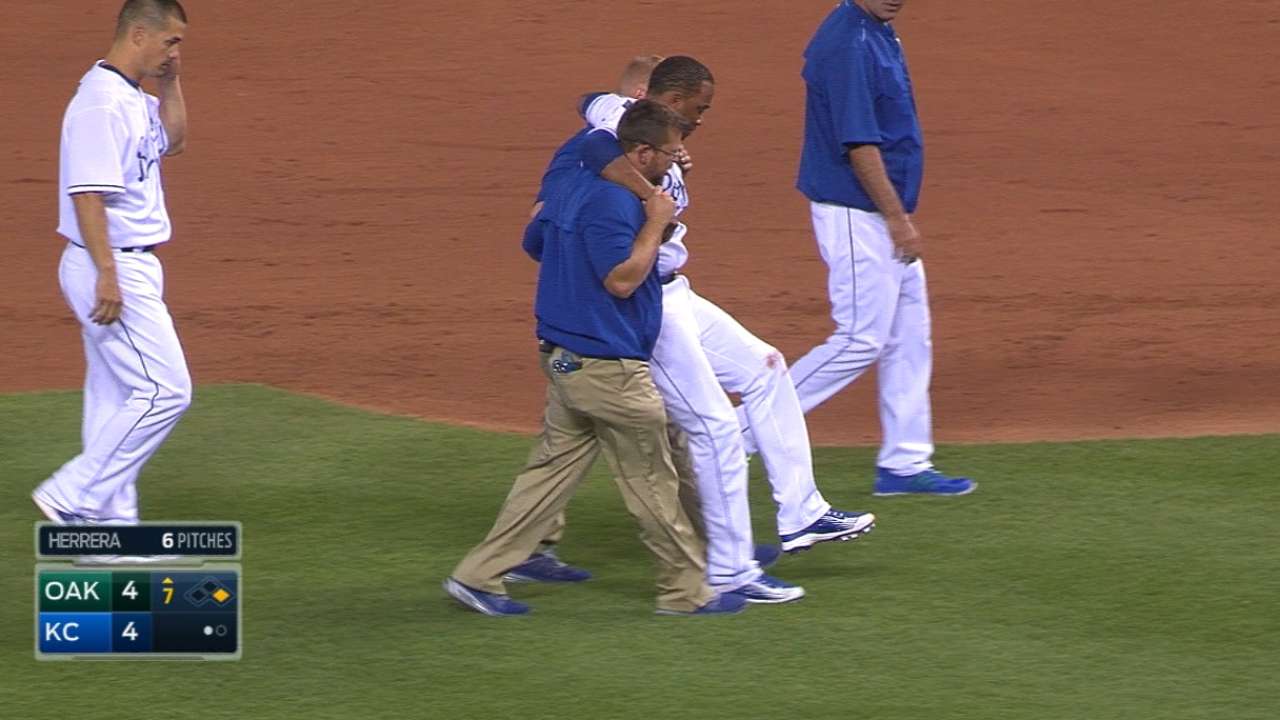 Royals center fielder Lorenzo Cain appeared ready to move on from the issues between the teams.
"No war between us," Cain said. "Everything's settled. A clean slate for everyone."
Ventura, who was ejected for plunking Lawrie in the fourth inning, refused to comment on the hit-by-pitch.
Lawrie seemed content to defuse the situation as players again spilled onto the field.
"I just walked to first base," Lawrie said. "I didn't say a thing. You know what? It's one of those things, if I go and try to make something ridiculous out of it and all of a sudden we have a huge fight and we have five guys thrown out of the game, three guys hurt, it just causes something I don't think is needed …
"But it happened, and [tomorrow is] a new day. He hits you with one, and there's two things I can do. I can blow up right here, or I can just take it and walk to first base and let him get in trouble and let it get the better of him."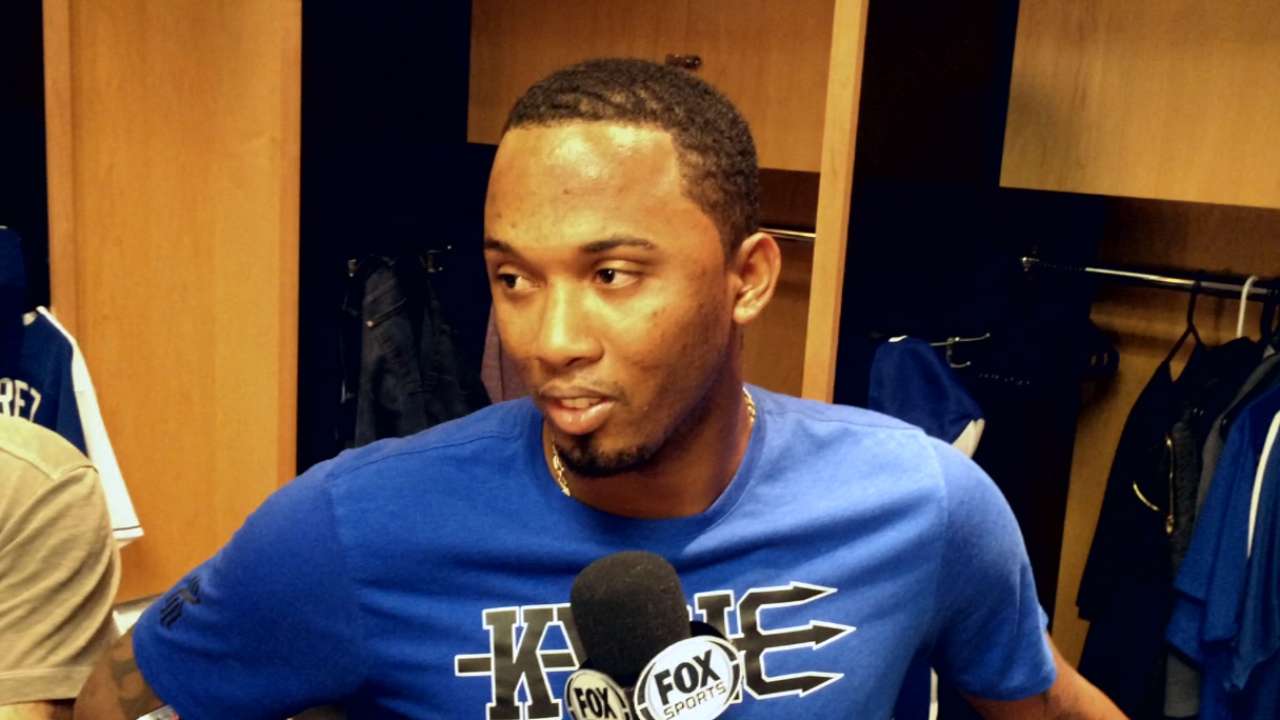 But Oakland's Josh Reddick, who homered preceding the hit-by-pitch, had a different impression.
"We knew it was coming," Reddick said. "After a home run, down by five, he's pretty much got nothing left to look forward to. All of us were celebrating the home run, then after the first pitch, we were already on the top step waiting for it. We were anticipating and we were ready for it. It's bush league, there's no need for that …
"I don't think it was professional at all, and [it's] a joke."

And Reddick also seemed to suggest the bad blood is far from over.
"You're talking to all the players out there, all the position players, and they're saying nothing was planned," Reddick said. "It makes you wonder who's actually making the calls over there [with the Royals] for that. There's no need for a season to be ruined between two teams [over] something so small that happened. That obviously is not going to be forgotten when they come to our place. You never know what's going to happen, or if we're going to retaliate when they come to our place. I hope it doesn't happen because it's a great group of guys over there."
Jeffrey Flanagan is a reporter for MLB.com. Follow him on Twitter at @FlannyMLB. This story was not subject to the approval of Major League Baseball or its clubs.