Hanley still learning Monster ropes in left field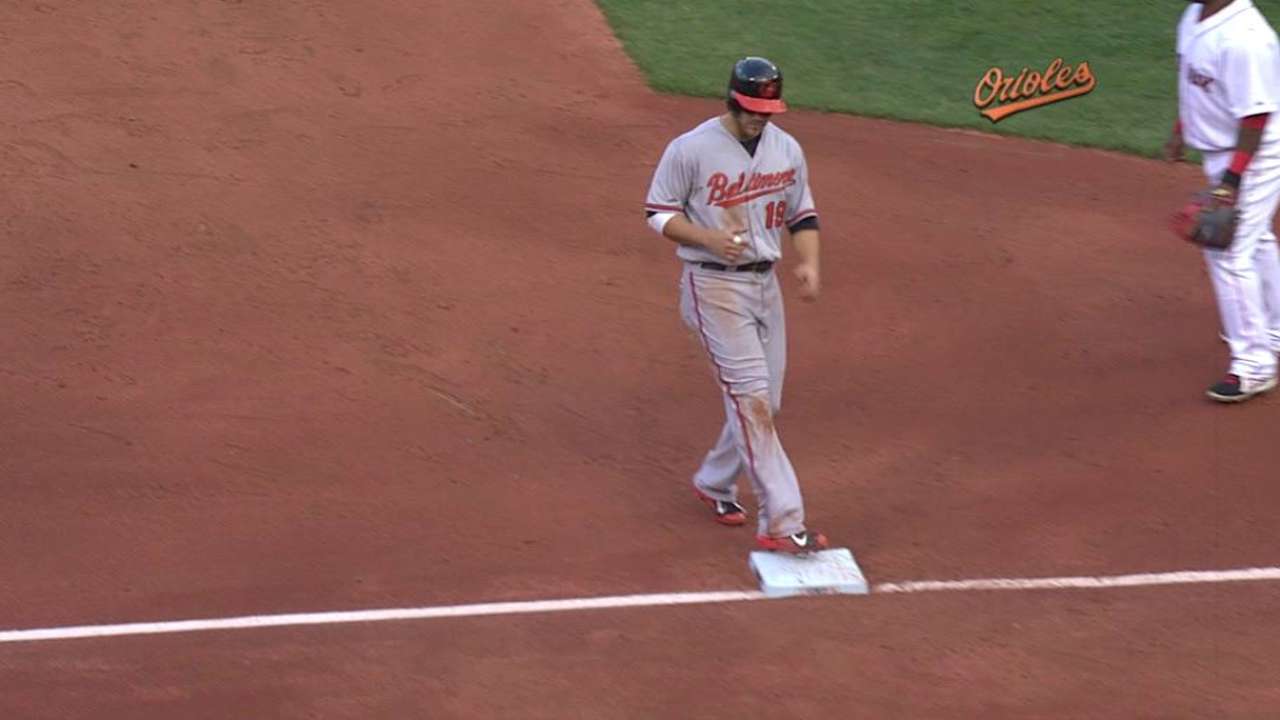 BOSTON -- In the fifth inning on Saturday, Hanley Ramirez drifted back to the Green Monster, trying to get a bearing on exactly where he was, and had the drive by Jimmy Paredes tick off his glove for a single.
It's the type of play that Ramirez will probably make in due time, once he becomes fully comfortable as a left fielder.
For now, Ramirez -- an infielder until this season -- is doing the best he can. However, the results aren't always pretty, and they weren't in this 4-1 loss to the Orioles.
Saturday's misplay by Ramirez was not the first he has had during the first homestand of the season.
"Defensively, there's been a couple of balls he might have been a little bit in between, particularly on the carom off the wall," manager John Farrell said. "Today, I thought he went back in good shape. The ball just hit him on the heel of the glove."
Ramirez had a different take on the play.
"It hit the wall and then hit my glove, so make sure you see the replay person and ask him about it," Ramirez said.
After several looks at the replay, it looked like the baseball hit Ramirez's glove and never hit the wall.
"Just have to keep working," Ramirez said. "It looked like it hit my glove, yeah, but it hit the wall first and went down and hit my glove."
An inning earlier, Paredes spun a ball down the line in left that Ramirez couldn't get to. The wind appeared to play a significant factor in that one.
"The wind was blowing that ball on that one. We weren't pinching the line. We were playing toward the gap," Ramirez said. "The ball kept going that way. You've got to read it. He put a good spin on the ball."
Ramirez said he was not making excuses.
But playing in the wind of Fenway Park in April is far different than playing in front of a replica Monster at the club's Spring Training home in Fort Myers, Fla.
"It's unbelievable," Ramirez said. "It can switch on you. It can change on you in two seconds. I remember one play it was blowing towards left field and one batter after it was blowing the other way. You just have to stay on it and keep working."
Ramirez was one of the first position players to arrive in Spring Training, and worked daily with outfield instructor Arnie Beyeler.
"We knew it was going to be a transition for him," Farrell said. "There was going to be work to be done. The wall here is going to be different than what we had the ability to work with in Fort Myers, just because of the way it's constructed. To me, there's nothing alarming and the more games played, the more comfortable he's going to get."
Brock Holt, who learned how to play the outfield last season after being an infielder his whole life, can relate to what Ramirez is going through.
"Well left field here in Fenway is tough because of that Monster, so he's had a few balls that were tough plays that were close," Holt said. "You don't know whether to get to the wall and catch them or come off and take them off the wall. He's had some in-betweeners, but the more he's out there, the more comfortable he'll get."
Ian Browne is a reporter for MLB.com. This story was not subject to the approval of Major League Baseball or its clubs.