Davis' opposite-field homer part of payoff at plate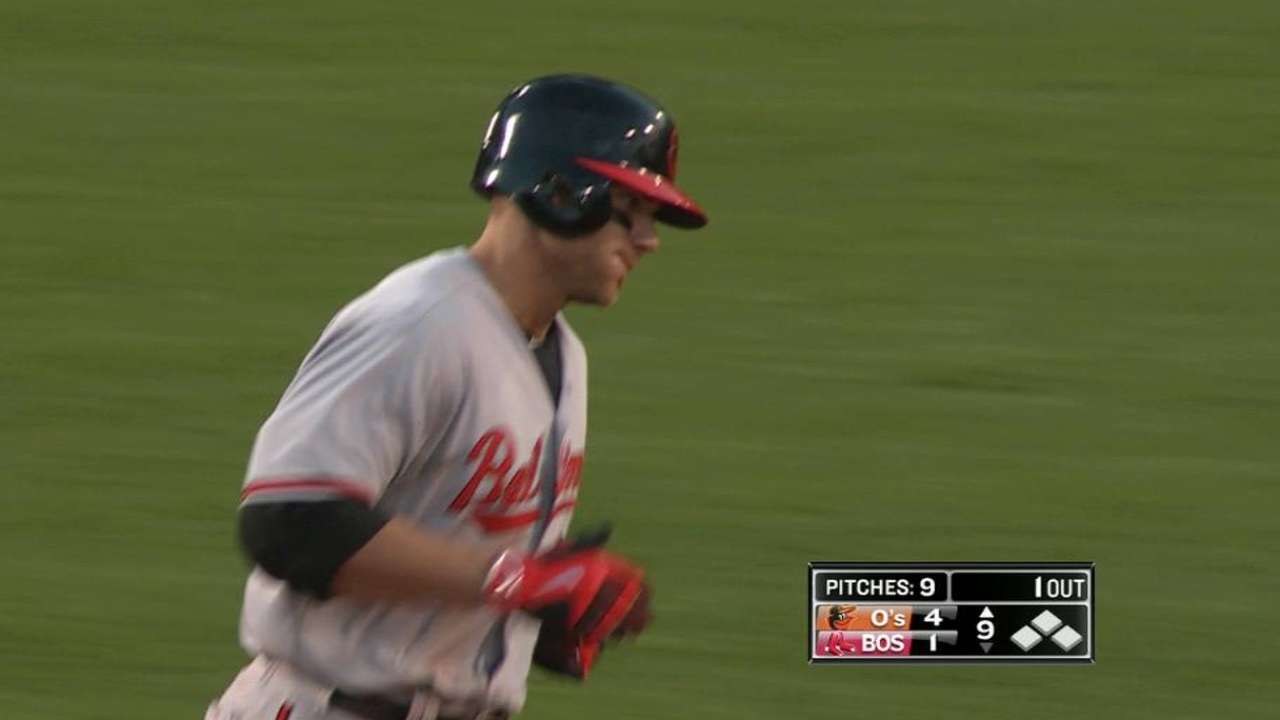 BOSTON -- While the Orioles are just 11 games into the season, first baseman Chris Davis is already reaping the benefits from adjustments he's made to his swing.
Case in point, his final at-bat in Saturday's 4-1 win over the Red Sox. With the O's leading by just one run and Steve Pearce on first base, Davis belted a two-run shot just above the Green Monster in the ninth inning.
The home run gave Baltimore some breathing room and also showcased Davis' ability to hit to the opposite field.
"I think early in the season, in my batting practice and in early work, just trying to stay on the ball as long as I can. If that means going the other way or pulling the ball the right way, we talked about that a lot," Davis said.
"In that situation, that just happened to be where that pitch was. Every pitch [Red Sox reliever Robbie Ross Jr.] threw to me in that at-bat was away.
"In that situation right there, a one-run game, it's big for us to get those two runs. Like I said, I finally got in a favorable count and got a good pitch to drive."
Even with the big home run, Davis still struck out three times.
"It's still early. I'm still trying to find my rhythm and timing. I feel like the more at-bats I'm seeing, the more I'm seeing the ball," Davis said. "[Red Sox starter] Clay [Buchholz] had a real good changeup today. It's pretty much his pitch. He's a guy who if he gets ahead of you early, you've just got to zone him up and he threw me in my first at-bat and my second at-bat, two really good ones. Tip your hat and move on.
"Obviously, the last at-bat, off Robbie was an at-bat that I finally got a favorable count and was able to look for a fastball out over the plate. Got my pitch."
Quinn Roberts is a reporter for MLB.com. This story was not subject to the approval of Major League Baseball or its clubs.