Marte paces suddenly surging Pirates over Brewers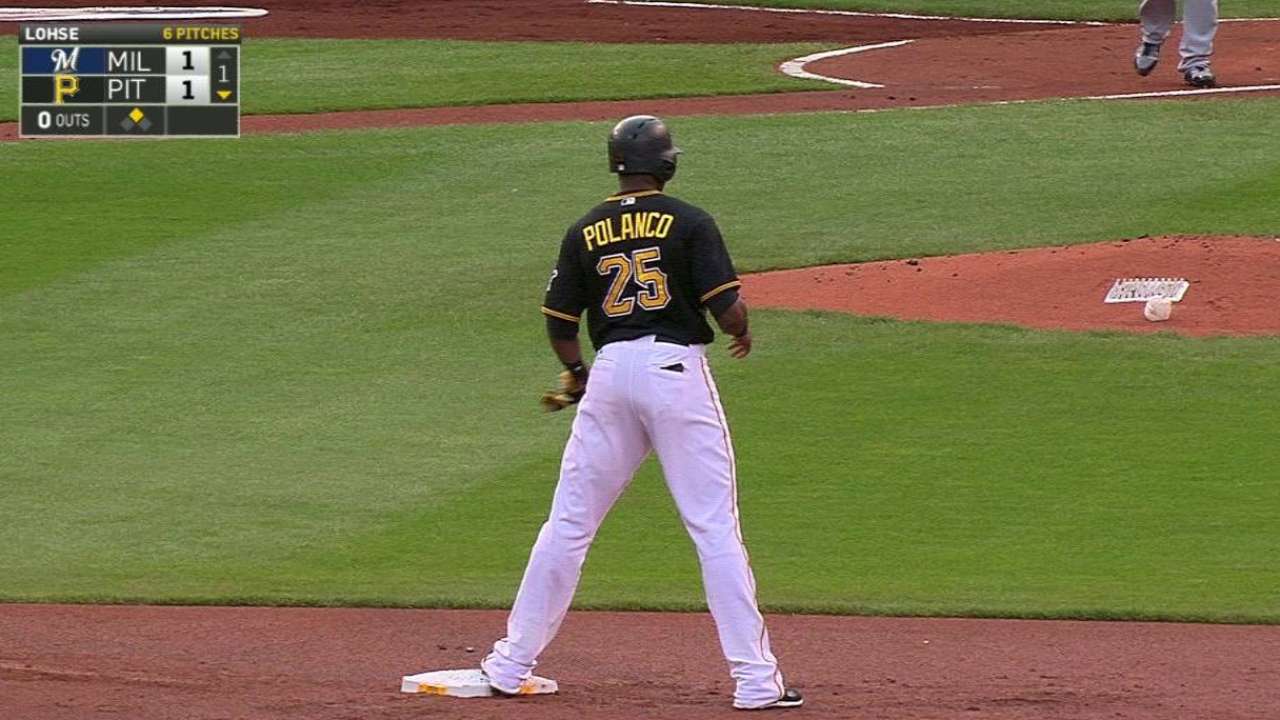 PITTSBURGH -- Starling Marte drove in a career-high five runs and left-hander Jeff Locke retired 23 of the last 25 men he faced Saturday night, leading the Pirates to a 6-2 win over the Brewers.
Ryan Braun, batting leadoff for the first time in his big-league career, opened the game wirh a single and eventually scored on Jonathan Lucroy's sacrifice fly, but the 1-0 lead given Kyle Lohse did not survive the bottom of the first. Gregory Polanco doubled for the tying run and Marte singled for two go-ahead runs.
"I take responsibility for today," said Lohse, 0-3 with a 10.34 ERA in his first three starts. "It's tough to put that on the team when guys are doing everything they can to put together innings offensively and you go out there and do that." More >
Marte added a three-run homer, his second in as many nights, in the fifth. He had come into the game batting .152 with a total of four RBIs.
In beating Milwaukee for the second time in a week, Locke matched his career-long outing by going eight innings for the fourth time. He allowed four hits -- two each by Jean Segura and Braun -- and struck out six without a walk.
"His fastball command was good. He stood them up," manager Clint Hurdle said of the lefty. "He used the glove side, mixed in a curve that played extremely well. And the changeup … Each (pitch) fed off the other."
MOMENTS THAT MATTERED
A new No. 1: Brewers manager Ron Roenicke slotted Braun into the leadoff spot, an attempt to mix things up for the scuffling lineup, and the move produced one run in the first inning. Braun ripped a line-drive single to center, took third on a base hit by Segura and scored on Lucroy's sacrifice fly to right field. More >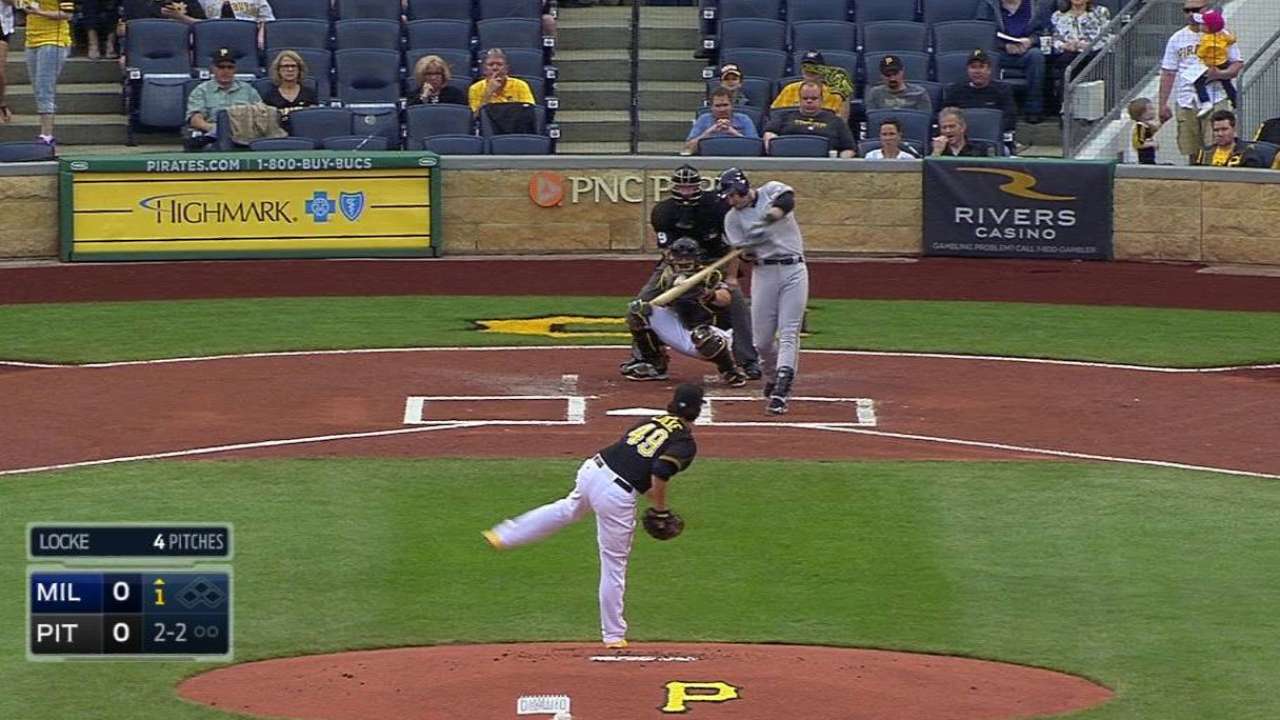 Locke's start off to a good start: Locke had an immediate chance to conform to his historical woes when facing the same team for a second straight start, and refused. The Brewers' first started off with men on second and third, none out. After Lucroy's sacrifice fly, Locke turned it off from there.
"I actually thought he pitched better this time," Roenicke said. "I thought his command of his fastball was really good. His changeup was really good. And he mixed in more breaking balls today, which also kept you off-balance, and located them well. But his changeup was really good, which was a big pitch for him."More >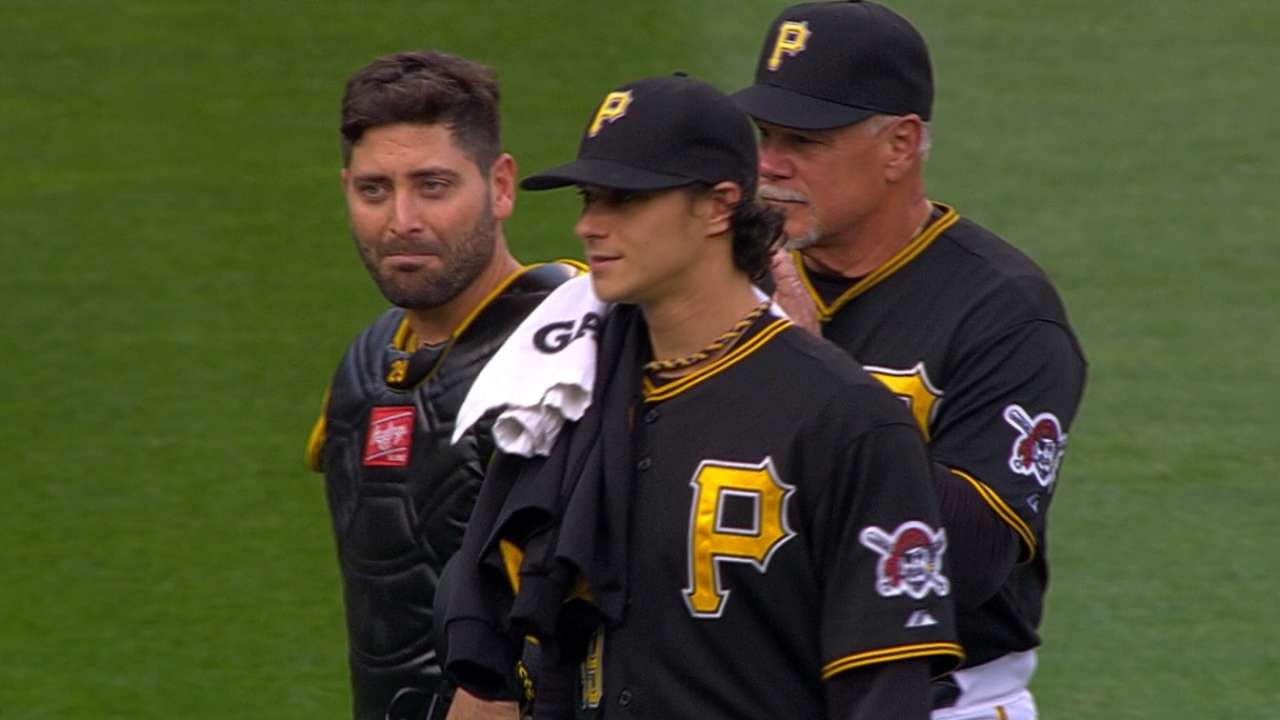 Synchronicity, it's a beautiful thing: The Bucs were already excelling at two-thirds of baseball's trilogy, pitching and defense, but it did them little good while losing games by 2-0 or 1-0 scores. Now their Golden Triangle seems complete, with an awakening offense that has produced 12 runs the last two nights, seven of them driven in by Marte.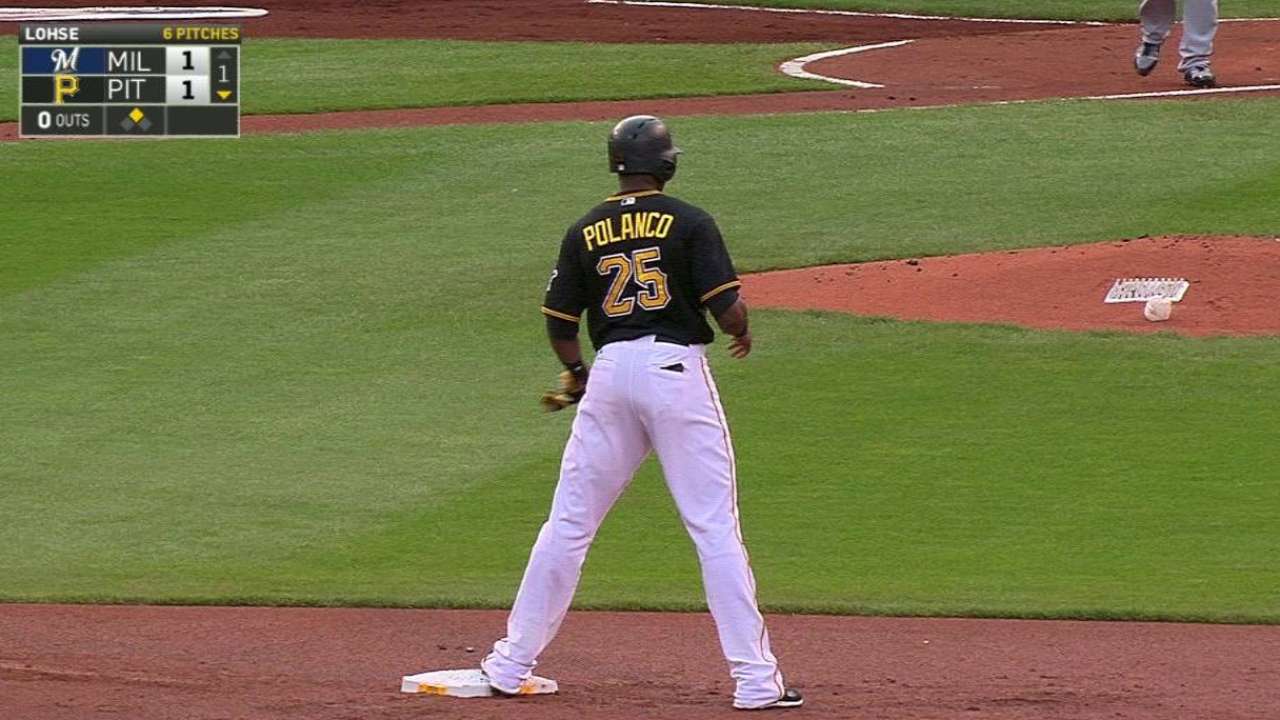 QUOTABLE
"I mean, Kyle Lohse has probably been our best hitter, and I think we just wanted to give him some protection in the lineup." -- Braun, jokingly, on his move to the leadoff spot
SOUND SMART WITH YOUR FRIENDS
The Brewers, 2-9 on the year, have now suffered two separate four-game losing streaks within their first 11 games. The Brewers only had five losing streaks of at least four games all of last season. More >
The Pirates extended their errorless streak to 71 innings. Last miscue? The ninth-inning line drive right fielder Polanco let clank off his glove to give the Reds a walk-off win in the season's third game, on April 9.
BENCHES GET LATE WARNING
When Pittsburgh fireballer Arquimedes Caminero's first pitch in the ninth inning bounced off Braun's knee brace, plate umpire Cory Blaser issued warnings to both the Brewers and the Pirates. Blaser doubtless was wary because two innings earlier, Milwaukee reliever Tyler Thornburg had gone up-and-in on Andrew McCutchen, nailing him on the high shoulder. Seeing both team's respective signature players get plunked convinced Blaser warnings were in order.
WHAT'S NEXT
Brewers: The Brewers will wrap up their six-game road trip through St. Louis and Pittsburgh on Sunday at 12:35 p.m. CT. Right-hander Matt Garza will make his third start of the season, carrying a 2-1 record and 3.58 ERA in six career starts at PNC Park.
Pirates: The Bucs go for the sweep over the nemesis Brewers behind Gerrit Cole in the 1:35 p.m. ET game at PNC Park. Cole has a lifetime 12-6 record in the yard, and an ERA of 3.27 in five starts against Milwaukee.
Watch every out-of-market regular season game live on MLB.TV.
Adam Berry is a reporter for MLB.com. Follow him on Twitter at @adamdberry. Change for a Nickel. Follow him on Twitter @Tom_Singer. This story was not subject to the approval of Major League Baseball or its clubs.