A-Rod swinging hot bat as he adjusts to DH
Rodriguez working to stay active between at-bats, heeds advice from longtime DH Martinez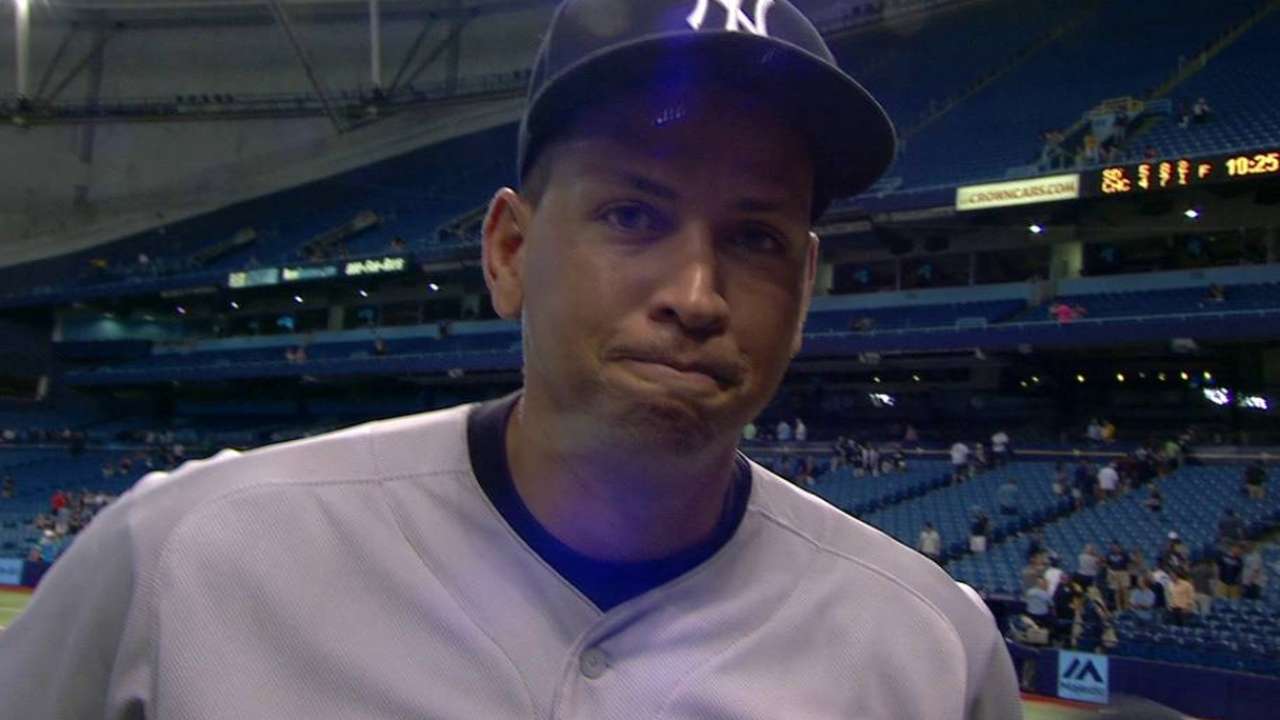 ST. PETERSBURG -- Alex Rodriguez has repeatedly said he did not know what to expect coming into this season, shaking off the rust following what essentially was a 17-month layoff, but it is difficult to imagine his first 10 games having a greater impact on the field.
Rodriguez entered play on Saturday leading the Yankees with 11 RBIs, batting .344 (11-for-32) with four homers. The rest of the Yankees have combined to bat .209 (67-for-320) to start the season, and Rodriguez said he is surprised how well he has taken to life as a designated hitter.
"I don't know that it's easier than what I thought, but I'm certainly getting more comfortable with it," Rodriguez said. "I'm just a routine person. I'm still working through some things, but I'm getting more comfortable each day."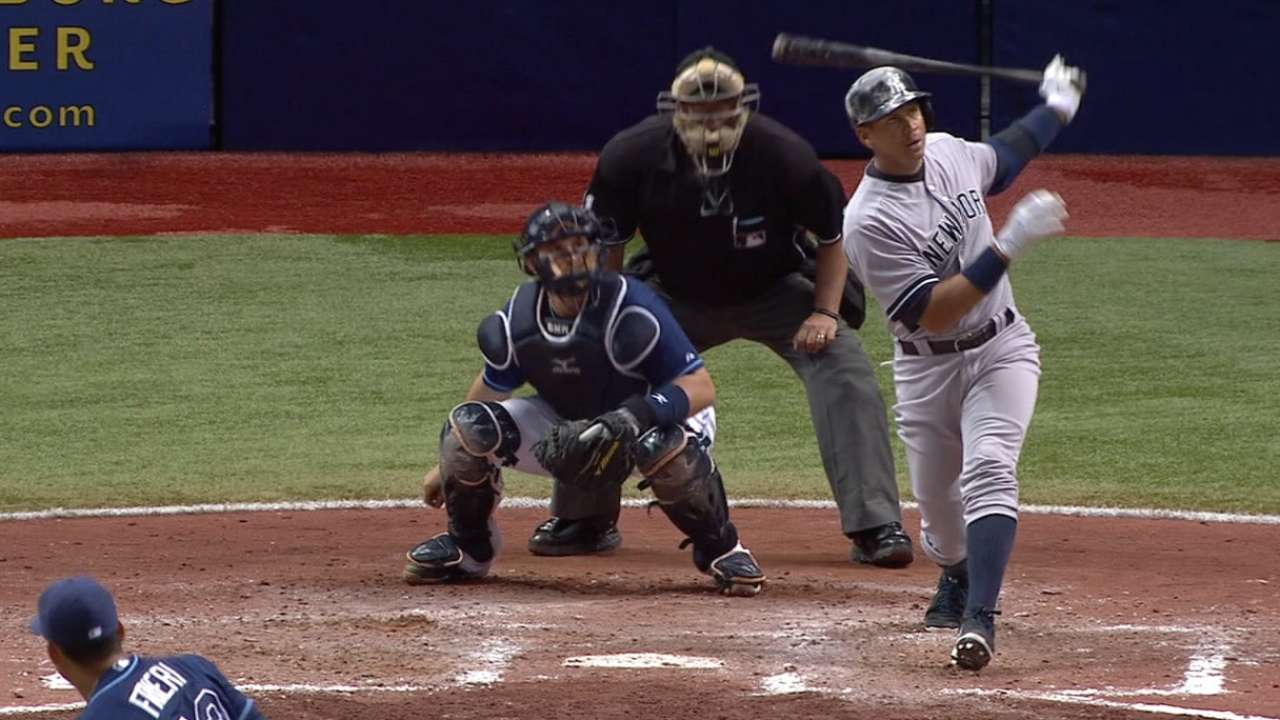 With Carlos Beltran out of the lineup due to illness, Rodriguez was promoted to the No. 3 spot in the batting order on Saturday. Rodriguez has played defense just twice this year, appearing once at each infield corner. He said that between at-bats, he has been trying to keep his body moving while also paying attention to the action on the field.
"I think it's just core stuff, making sure I stay activated, making sure I have some kind of sweat working," Rodriguez said. "That's the thing; sometimes it's 45 minutes between at-bats.
"One of the things that Edgar Martinez told me a long time ago is to try to stay on the bench as much as possible for your vision, and to stay really into the game. That's been helpful as of late."
Yankees manager Joe Girardi said he believes Rodriguez can continue to be productive all year, as one of the first things he noticed this spring is that the slugger's batting eye has stayed sharp.
"What really stuck out in my mind was how patient he was and how he was taking his walks," Girardi said. "He wasn't really going out of the zone and chasing a lot of pitches."
Rodriguez said he appreciates Girardi's trust but still feels like there is room to improve in that department.
"I think I've been good at times and sometimes I've been poor at recognizing pitches," Rodriguez said. "Sometimes, once I get past the 100 at-bat mark, I'm going to have a much better feel. But I'm just trying to grind and get better every day."
Bryan Hoch is a reporter for MLB.com. Follow him on Twitter @bryanhoch and read his MLBlog, Bombers Beat. This story was not subject to the approval of Major League Baseball or its clubs.