Dickey battling through early-season command issues
Veteran knuckleballer completes seven innings, keeps Blue Jays close for eventual walk-off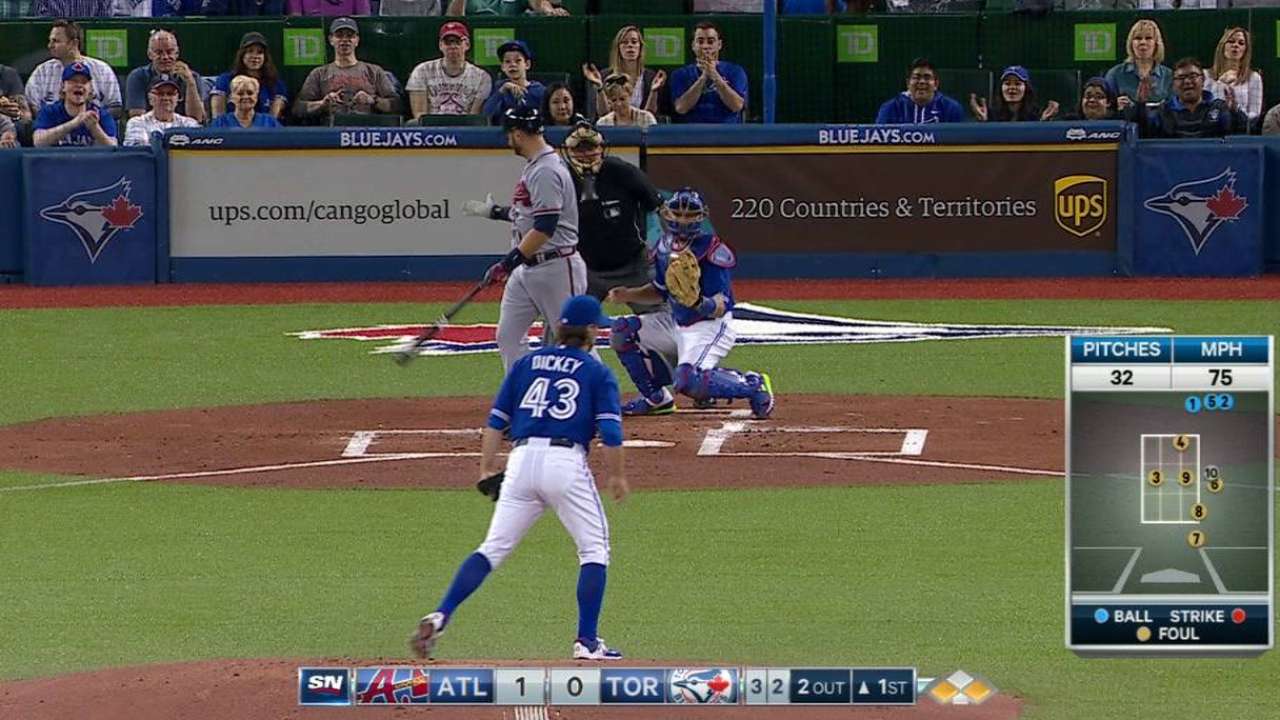 TORONTO -- Unlucky, injured and relatively young, the Toronto Blue Jays turned to veteran R.A. Dickey on Saturday for a measure of consistency. But for the third straight start, Dickey's outing was met with unpredictable results.
Dickey (0-1) struck out six and completed seven innings for the first time this season, but he surrendered a pair of homers, walked four and laboured through a 32-pitch first inning in Saturday's 6-5 win over the Braves. The right-hander appeared to find his groove from there, retiring the side in the second and striking out the first two hitters of the third, before a close 2-2 call went the Braves' way, resulting in a two-out walk to Nick Markakis and eventual two-run homer by Freddie Freeman.
"It's been kind of a kooky beginning here," said Dickey, who's now issued 12 free passes in 19 1/3 innings. "In all honesty, I feel like I should have about half the walks that I have. A lot of that is out of your control and so you just try to fight with what you got."
The pitch to Markakis, in particular, illustrated how unpredictable Dickey's knuckler can be not only for him, but for the men calling and catching it behind the plate.
With the count even, Dickey's knuckler danced through the lower half of the strike zone, but the late drop prevented catcher Russell Martin from properly framing it and potentially influenced the call. So says Dickey, at least.
"Yeah, sure, they're human," Dickey said, acknowledging the knuckler can be tough for umpires to call. "But at this level, you hope to get the ones that are strikes, that's just the way it goes. It's a real challenge sometimes when that ball moves late for [Martin] to give the umpire a good look, but he's done a great job so far."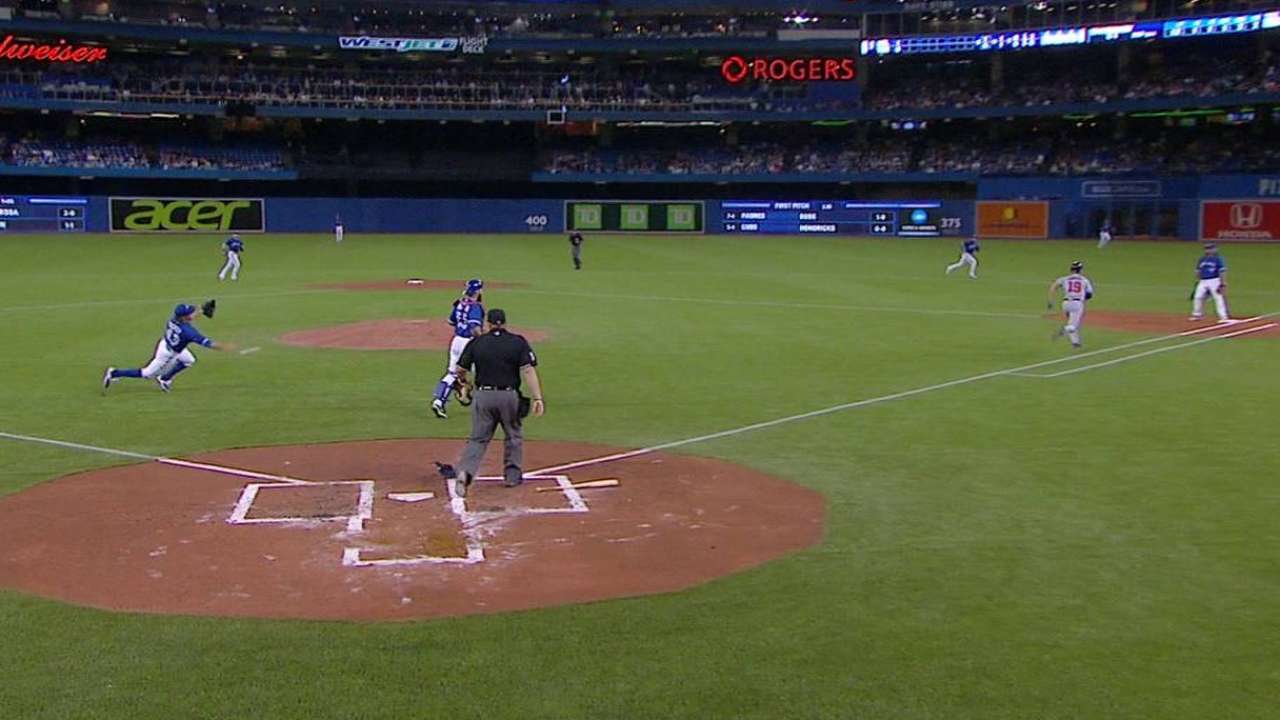 Command has been a recurring storyline so far for Dickey, who made a point this spring to focus on limiting his walks and pounding the zone more. In two instances where he did find the zone Saturday, he left pitches over the middle of the plate that Freeman and A.J. Pierzynski hit out of the park.
"It's been frustrating, but at the same time I can't be too displeased with some of the results I've been having and making pitches in big situations," Dickey said. "I've been able to do that for the most part, but in reality I feel like I should have given up two runs."
Focusing on the positives, Dickey's outing marked the first time this season a Blue Jays pitcher has completed seven innings. Not only was it an individual success, but the effort helped spare a bullpen that manager John Gibbons admitted after the game is overworked.
"We got a lot of fight in this clubhouse," Dickey said. "You know if you can keep the guys close in the game, and get a little deeper in the game, then you're going to have a chance to win ballgames this year. These guys can hit."
Dan Toman is a contributor to MLB.com. This story was not subject to the approval of Major League Baseball or its clubs.