Braun moves to leadoff as Crew looks to spark offense
Slugger welcomes lineup move for struggling Brewers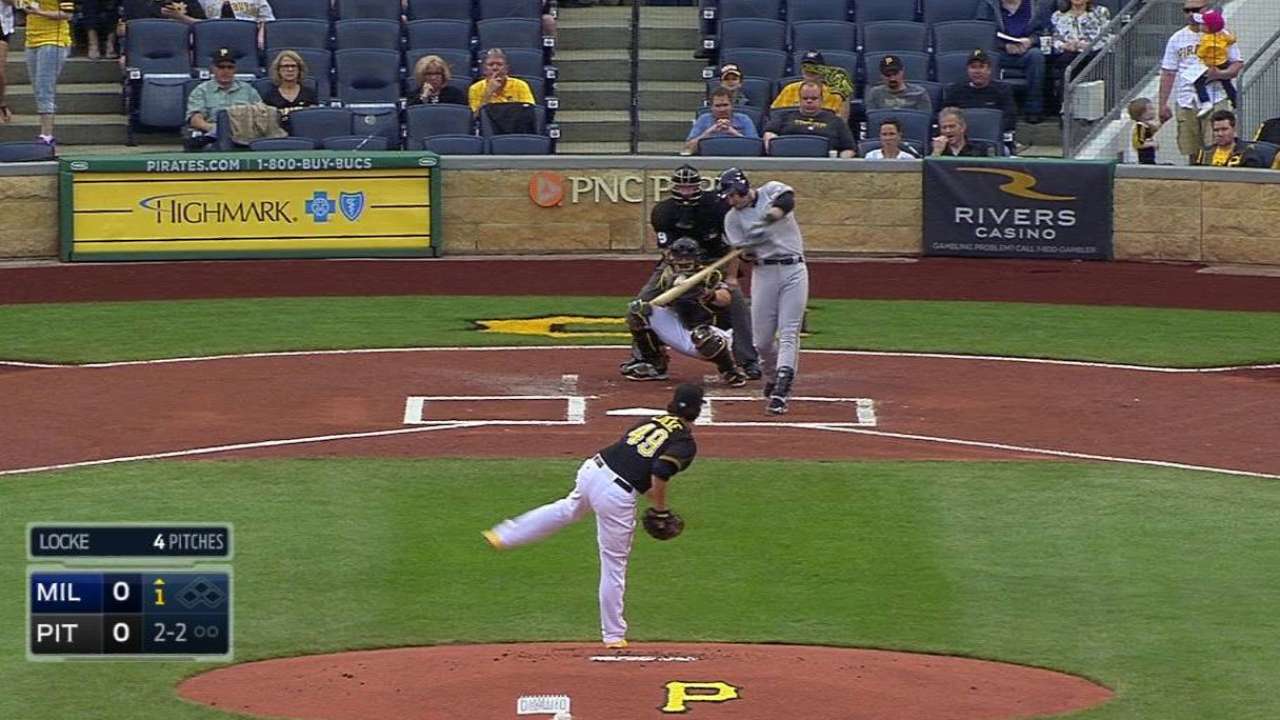 PITTSBURGH -- Ryan Braun walked into PNC Park on Saturday and found his name in an unfamiliar spot: atop the lineup card.
Looking to shake things up amid a poor offensive start for Braun and the Brewers, manager Ron Roenicke slotted Braun into the leadoff spot for Saturday night's game against the Pirates.
The move paid off as Braun singled off Jeff Locke to start the game, moved to third on Jean Segura's single and scored on a Jonathon Lucroy sacrifice fly to right to give the Brewers a 1-0 lead.
It was the first time in Braun's Major League career that he's hit leadoff, and only the second time in his professional career that he's done so. He led off for Triple-A Nashville in 2007 in his final three games before getting called up by Milwaukee.
It worked then, apparently. As the Sounds' leadoff man, Braun batted .455 (5-for-11) with two doubles, two home runs, four RBIs and three walks.
Just to put in perspective how long it's been: R.A. Dickey was the winning pitcher for Nashville when Braun last hit leadoff, May 24, 2007, and Braun was playing third base.
"I think sometimes when things aren't going well as a team, it's certainly not going to hurt to try something different," Braun said. "Obviously I'm not by any means opposed to it. It's something I'm looking forward to."
Braun entered Saturday's game batting just .226. He went without an extra-base hit in his first nine games. He hasn't homered since last Sept. 11. As a team, the Brewers began Saturday having scored 26 runs, tied with the Phillies for the fewest in the National League.
Braun said he approached Roenicke with a similar idea last year, so he was receptive, but still surprised, when Roenicke pushed him up the lineup Saturday.
"We all expect to play better than we've played, perform better than we've performed, and I think a lot of times changing something up is a good thing," Braun said. "It just kind of breaks up the same thing, the same routine, the same things that have been occurring.
"It just gives everybody kind of a fresh mindset, a fresh slate. Just try something different and see what happens."
Roenicke said he kicked around several other lineups -- "a lot crazier ones than the one I put up," he said -- to change things up for the scuffling Brewers. The hope is that batting leadoff will alter Braun's mental approach.
Joe Maddon pulled a similar move with Rays slugger Evan Longoria three times in 2011, and Longoria responded by going 5-for-11 with a double, home run and four walks. Braun hoped for a similar jump-start Saturday night.
"If they're going good, you do whatever you can to keep them there," Roenicke said. "And when they're struggling, whatever you can do to get them to think differently."
And what if it works? Are we witnessing the beginning of "Ryan Braun, Leadoff Hitter"?
"If it goes well, might as well stick with it," Braun said, smiling. "We haven't found anything that's really worked yet, so why not?"
Adam Berry is a reporter for MLB.com. Follow him on Twitter at @adamdberry. This story was not subject to the approval of Major League Baseball or its clubs.