Hughes fights inconsistencies in loss to Tribe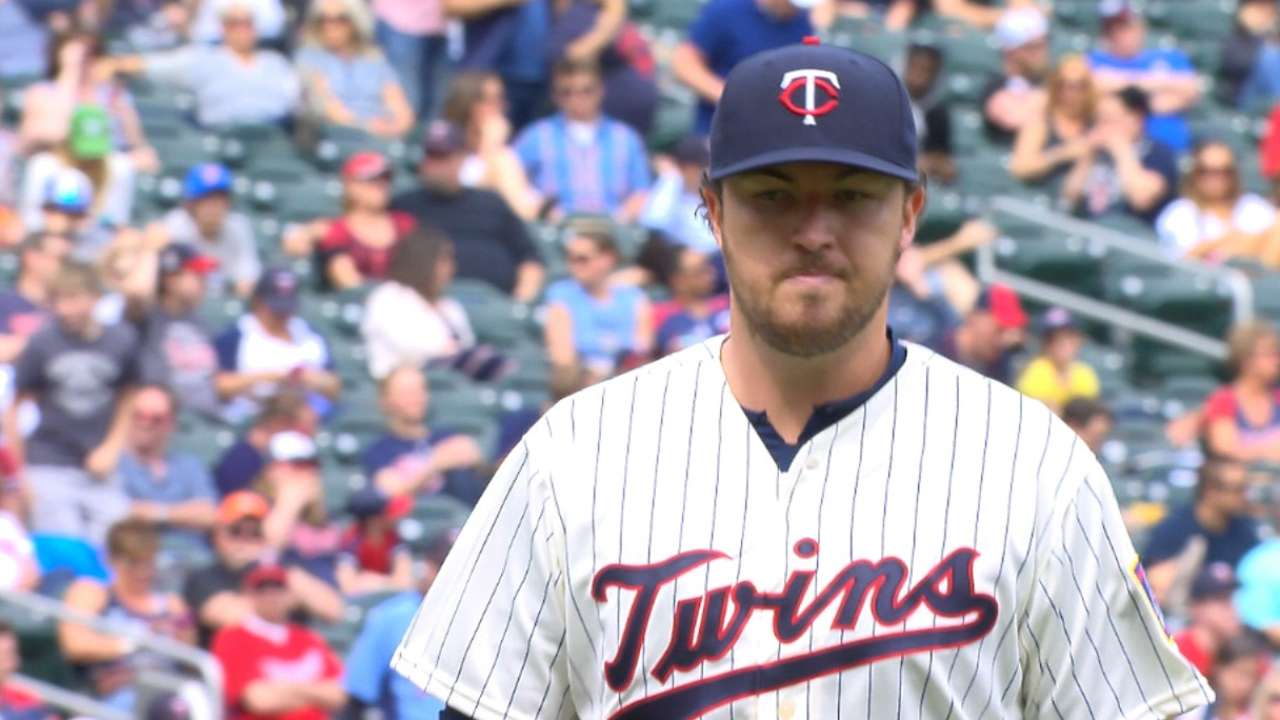 MINNEAPOLIS -- After establishing himself as the ace of the Twins staff last season, right-hander Phil Hughes wanted to get off to a good start this season to build on his breakout year that saw him post the best strikeout-to-walk ratio in Major League history.
But after giving up four runs on eight hits and a walk over 6 2/3 innings in Saturday's 4-2 loss to the Indians, the right-hander fell to 0-3 with a 5.30 ERA in three outings early this season. Hughes has always been a slow starter throughout his career -- he's 6-15 with a 6.04 ERA in 31 career starts in March and April -- but said it's not an excuse for the way things have gone.
"Just inconsistency," Hughes said. "It's not something I expect out of Spring Training, but it's something I've struggled with in the past. Just trying to get the pitch execution up to the 85, 90 percent that you want and right now it's in that 60-40 range. Usually, when I get to an 0-2 count, I can bury that backdoor cutter and execute a good pitch. But right now I'm floundering a little bit."
To his credit, he kept the Twins in the game on Saturday and was just one out away from exiting with the Twins trailing by just a run in the seventh. But he failed to get out of the jam, allowing a two-out RBI single to Jason Kipnis before another run scored on a wild pitch from reliever Caleb Thielbar, who replaced him.
Hughes was also dealing with a cracked nail on his right middle finger he suffered while warming up during the fifth. It's an issue Hughes dealt with last year, but said it did keep him from using his curveball and cutter once he got to the fifth.
"I came out of the gates OK, but was just trying to be aggressive with my fastball command," Hughes said. "I didn't have great stuff so I made an adjustment. I tried to use more changeups and sinkers today because they were aggressive early. That worked for a while until I got in trouble in the seventh."
For as good as Hughes was in '14, when he finished 16-10 with a 3.52 ERA in 209 2/3 innings, he also went through an early rough stretch. Hughes was 0-1 with a 7.20 ERA in his first three starts, but posted a 3.24 ERA the rest of the season, starting with his first quality start in his fourth outing of the year. So Hughes is hoping he gets on a similar roll starting with his next start, but noted it's a process.
"Maybe that's a sign the next one will be good," Hughes said. "But it's a slow progression and it's not like the light bulb just goes on and you're in midseason form. You gain a little bit of arm strength and command as you go along."
Rhett Bollinger is a reporter for MLB.com. Read his blog, Bollinger Beat, and follow him on Twitter @RhettBollinger.
This story was not subject to the approval of Major League Baseball or its clubs.