Elbow looks good, results not as much for Bailey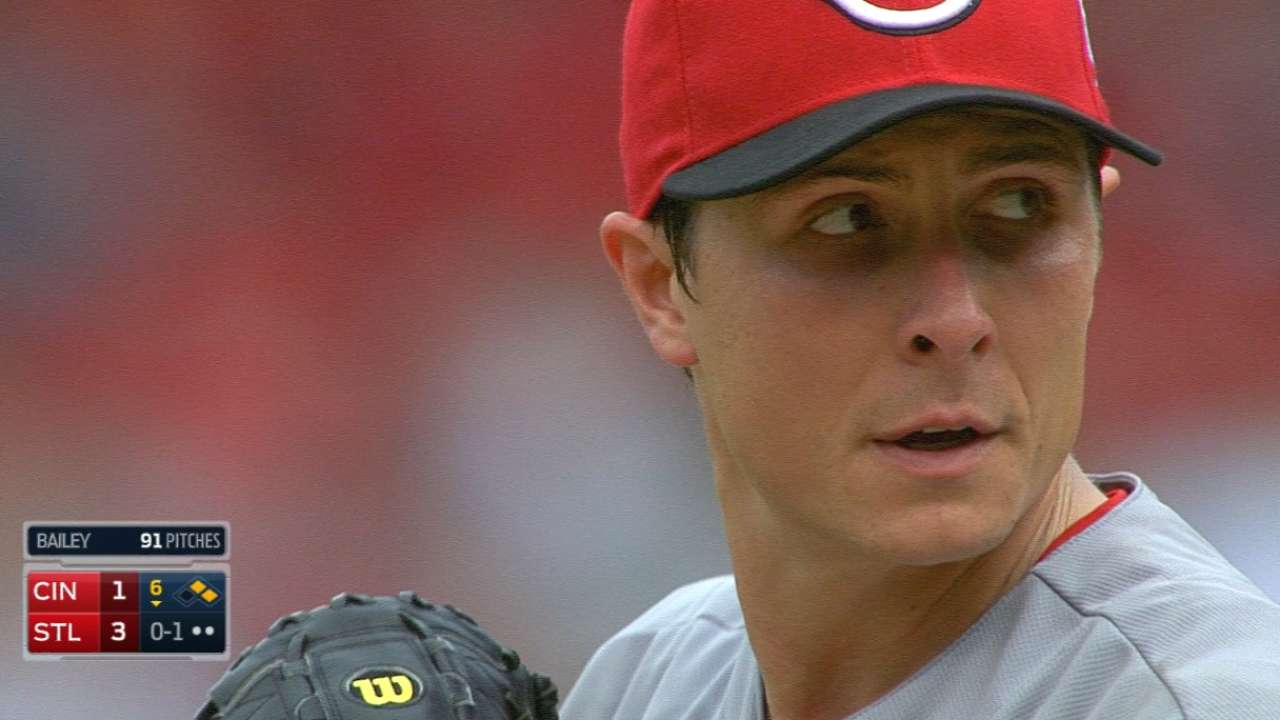 ST. LOUIS -- Homer Bailey smoothly overcame the arduous rehabilitation process required after a significant arm surgery. The Reds starting pitcher, activated from the disabled list Saturday to make his 2015 debut, could not overcome his track record vs. the Cardinals.
In a 5-2 loss to St. Louis, Bailey was tagged for five earned runs and nine hits over 5 2/3 innings, with two of his three walks intentional. It was Bailey's first regular-season start since Aug. 7. He had surgery on Sept. 5 to repair the torn flexor mass tendon near his right elbow.
"It's good to get back out there, being with the guys playing," Bailey said. "But ... we definitely need to sharpen up some things."
Until there were two outs in the Cardinals' sixth inning as the Reds trailed by a 3-1 score, Bailey had a chance to get a quality start. With runners on first and second, his 92nd and final pitch of the game was a 93-mph fastball lifted to the wall in right-center field by Matt Carpenter for a two-run double that broke open the game.
That made the lefty-hitting Carpenter 17-for-29 (.586) lifetime against Bailey. Manager Bryan Price had lefty reliever Manny Parra warming in the bullpen, but stuck with his starter.
"At this point in time, I felt that Homer had the stuff to get it done," Price said. "[Carpenter] had hit the ball soft three times -- a soft single his first at-bat and two soft groundball infield outs. It felt like Homer earned that right to face that hitter right there."
Bailey allowed three hits in the first inning, but also got a double play. Matt Adams' RBI single put Cincinnati down by a 1-0 score. Jason Heyward hit an 0-1 fastball into the right-field bullpen for a two-out home run in the second inning. Yadier Molina's RBI double with one out in the fourth inning made it 3-0.
For only the fifth time in his career, Bailey did not record a strikeout. He said he felt fine physically.
"It's definitely different. You can't prepare for that, especially with the limitations I've had," Bailey said. "I'm not going to use that as an excuse. Bryan asked me if I was good for the sixth. I told him I was. Then they had a few hits early in the counts. That was kind of the plan anyways, to try and get early outs. Knowing I didn't get the same base as everybody else did, I was trying to get early outs. Doing that, you have to be in the strike zone. That's the way it goes."
Over his career of 21 starts vs. the Cardinals, Bailey is 6-11 with a 5.44 ERA. At Busch Stadium, he is 1-6 with a 6.56 ERA in 10 starts. St. Louis has scored four or more runs against him 11 times.
"I just want to make sure he gets through this OK and his elbow is OK," Price said. "I don't think he's by any means 100 percent yet, but he is where he needs to be with his rehab, as far as coming back and being able to compete. I think his best stuff, his best days, are still a little ways ahead of him."
Mark Sheldon is a reporter for MLB.com. Read his blog, Mark My Word, and follow him on Twitter @m_sheldon. This story was not subject to the approval of Major League Baseball or its clubs.