Largest offensive output displays White Sox potential
Melky, Abreu and LaRoche combine to go 10-for-16 with two HRs and 10 RBIs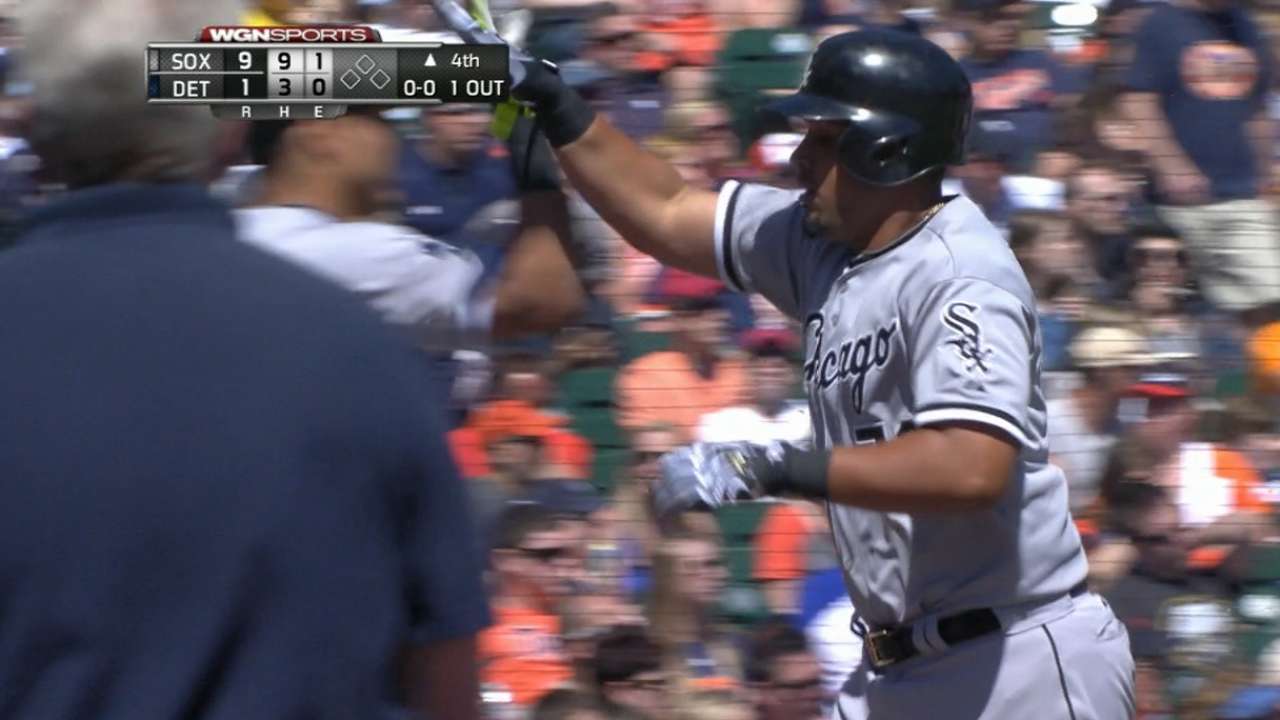 DETROIT -- The White Sox certainly can't guarantee the high level of output produced Saturday afternoon during their 12-3 victory over the Tigers.
With only 25 runs scored in total the first nine games, the offense would take half of that scoring on a daily basis and be more than satisfied. But in the latest "it's too early to panic" installment for the White Sox, their outburst against Anibal Sanchez and friends proved the potency of this lineup.
Let's focus on the two-through-four hitters, comprised of Melky Cabrera, Jose Abreu and Adam LaRoche. In Saturday's victory, they combined to finish 10-for-16, with two homers, three doubles, 10 RBIs and six runs scored. LaRoche's three-run shot capped off a four-run frame that marked the team's highest single-inning total of 2015.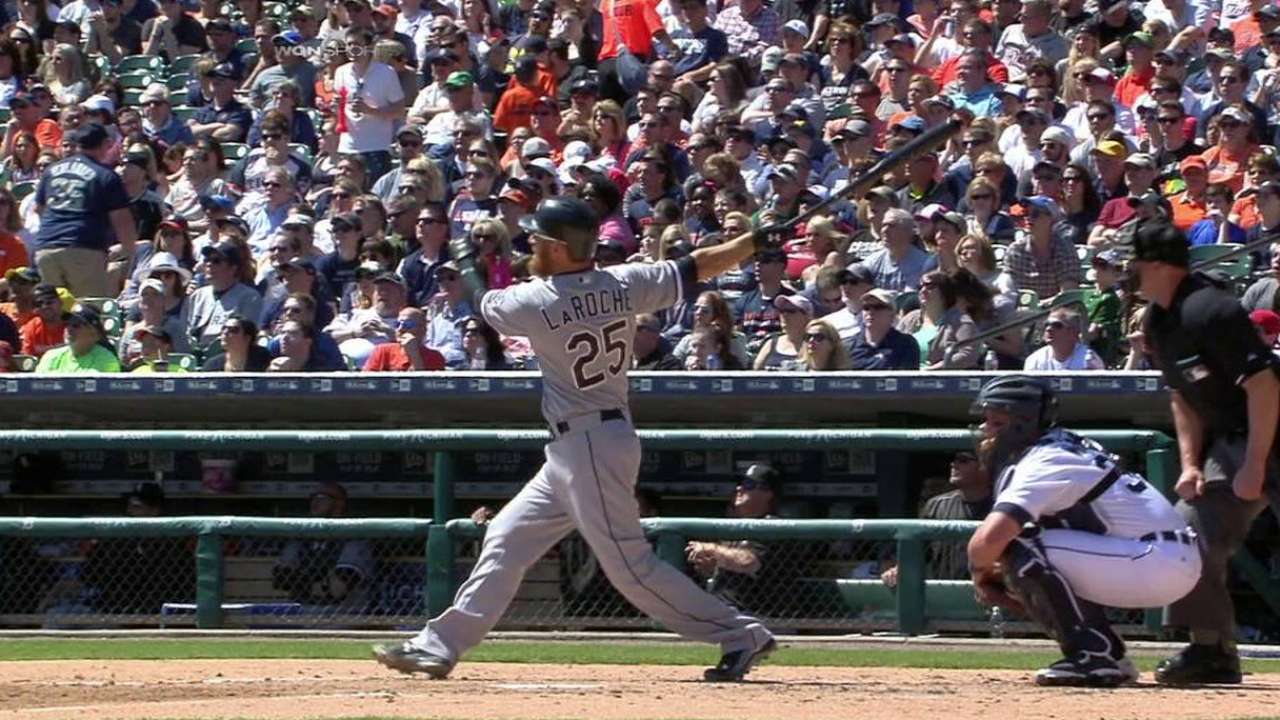 That record lasted until the fourth, when Abreu's second career grand slam served as the high point of a seven-run surge. Cabrera entered the day hitting .162, Abreu was at .206 and LaRoche checked in at .179.
They exited respectively at .238, .250 and .242. Yes, it really is early when numbers change that drastically.
"You can't take conclusions just from the first nine games," said Abreu through interpreter and White Sox Spanish language broadcaster Billy Russo, after increasing his season totals to three homers and six RBIs. "Everybody knows what we can do or what we are able to do. I'm not saying we are going to score 12 runs every day. But yeah, we can do some damage to the pitchers."
"For these guys, just the feeling they have, the trust and good competitive, quality at-bats," White Sox manager Robin Ventura said. "There were just a lot of professional at-bats today. When you do those, and continue to do them over and over again, you get some results."
Cabrera picked up his 13th career four-hit game, while Abreu's blast to left field marked his first grand slam since a walk-off shot against Tampa Bay's Grant Balfour on April 25, 2014 in Chicago that announced the slugger's big league arrival. He joined LaRoche with three hits and four RBIs apiece.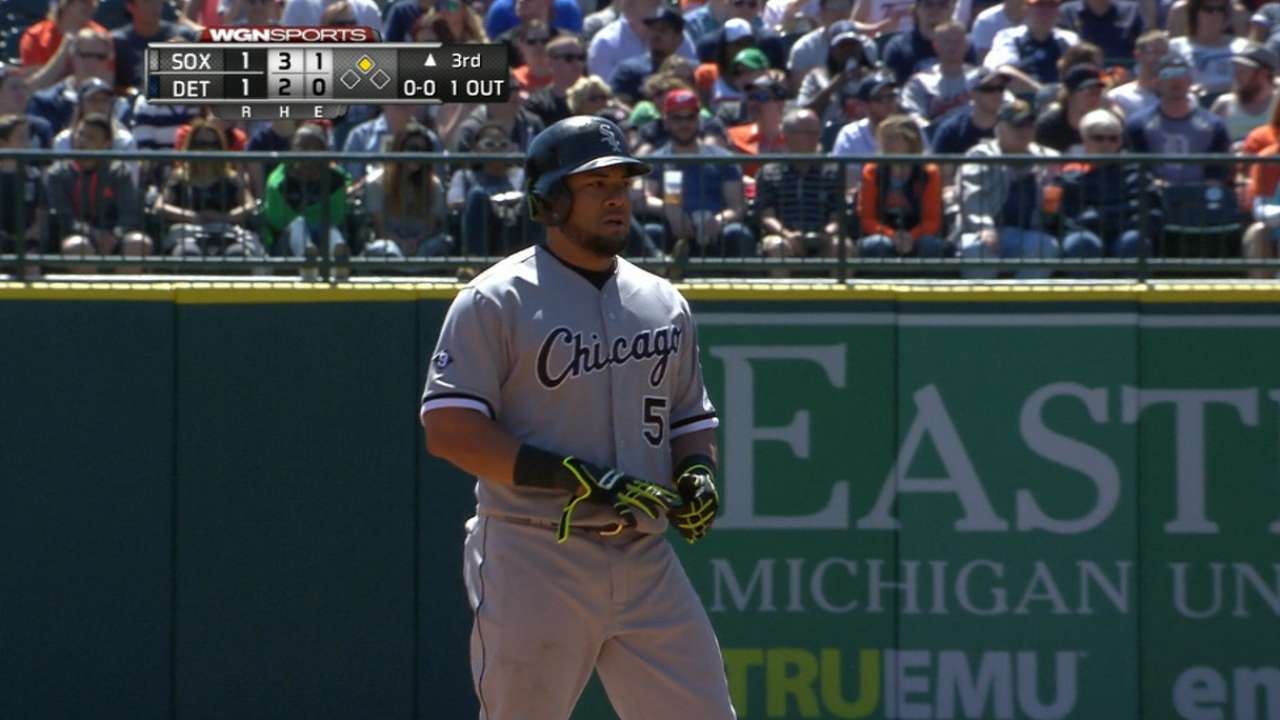 It might just be a coincidence that the White Sox have scored 18 of their 37 runs this season in two games started by Chris Sale. Then again, it might be confidence brought on by having their ace back on the mound.
But the 17-hit output Saturday, with everyone in the starting lineup reaching base at least once and every starter but Adam Eaton picking up at least one hit, stands as more along the lines of the consistently tough outs the White Sox envisioned. It came at the perfect time after two straight tough losses on this five-game road trip.
"We're 10 games in. We have a lot of guys in here who know the gig. We're not making or breaking the playoffs right here, right now," Sale said. "It's about staying confident, letting this kind of stuff roll off. When bad things come, you let it roll off and keep grinding. We're 10 games in. That's 152 left. That's most of them left."
Scott Merkin is a reporter for MLB.com. Read his blog, Merk's Works, and follow him on Twitter @scottmerkin. This story was not subject to the approval of Major League Baseball or its clubs.