MLB.com Columnist
Phil Rogers
Bryant's versatility presents Cubs with many options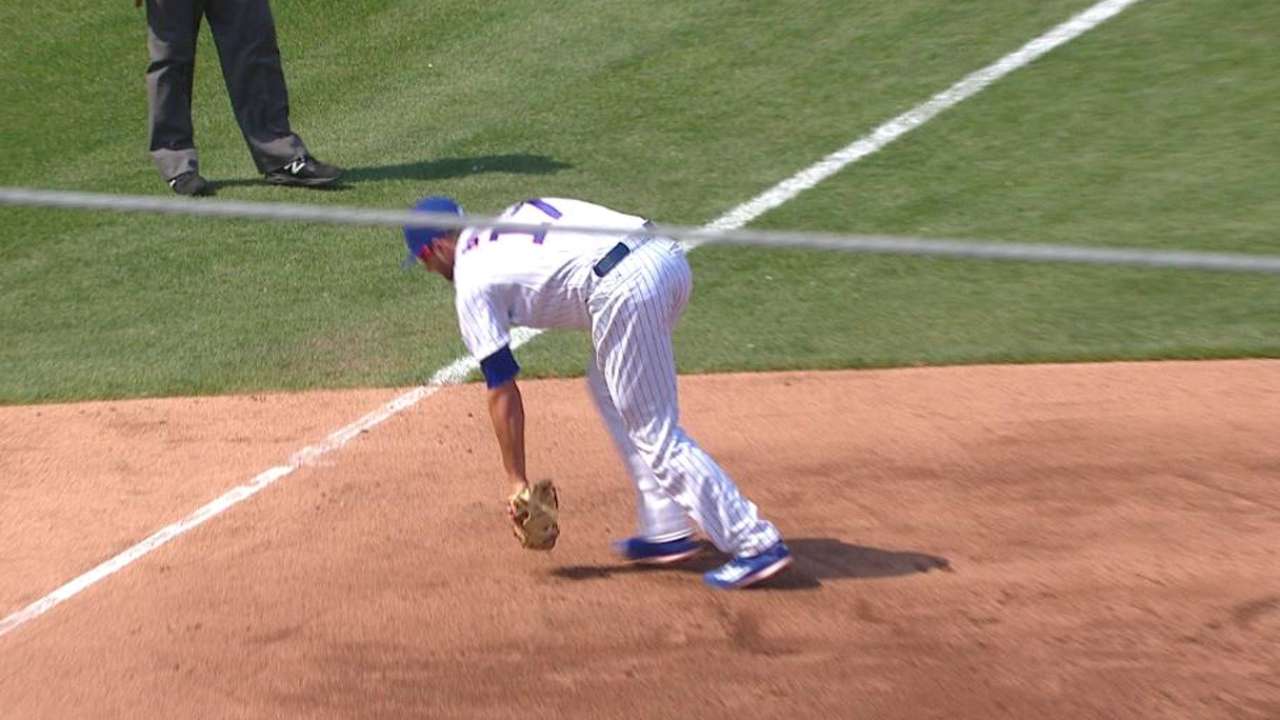 CHICAGO -- Kris Bryant begins his career as a third baseman. He's likely to end it as an outfielder.
But what is really fascinating to consider is this: Could he spend much of it as an almost one-of-a-kind weapon -- a cleanup hitter who is strong enough in the field to move with ease between third base and the corner-outfield spots, allowing manager Joe Maddon tremendous flexibility?
"You've got one of the best skippers in the history of the game there," said University of San Diego coach Rich Hill, Bryant's college coach. "He gives him some options."
Bryant, who had three walks and two hits (including a broken-bat single off Tyson Ross to drive in a run) in Saturday's 7-6, 11-inning win against the Padres, has had mixed results in the field. He muffed a routine grounder for an error in his second game, after playing an excellent third base in his Major League debut on Friday.
On Friday, Bryant made a diving catch to take away an extra-base hit, a strong throw from foul territory to nip a runner at first and a fundamentally sound throw to second base to start a double play.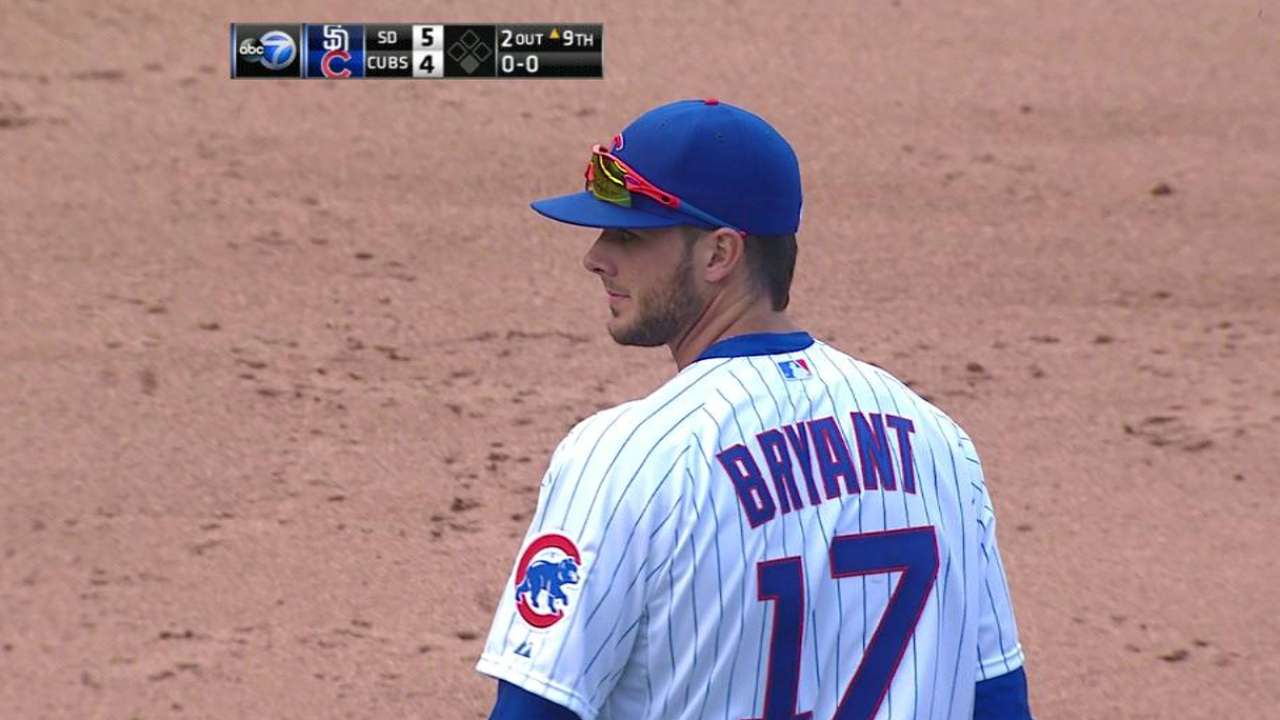 "We did bring him up for his glove, didn't we?" Maddon joked.
Bryant's bat is the reason he soared through the Cubs' farm system in only 181 games, after being the second-overall pick in the 2013 Draft. But Theo Epstein and his scouts insist on identifying two-way players, and Bryant meets that standard.
Epstein's statement during Spring Training that Bryant still needed developmental time as a third baseman -- along with a late look at him in the outfield -- may have elevated the concern about Bryant's fielding.
But he has the skills and athleticism to excel at both third base and in the outfield corners. Given the creative thinking of both Maddon and Epstein, it won't be a surprise if he evolves into the second coming of players like Bobby Bonilla, Tom Tresh, Jackie Robinson, Mel Ott and Freddie Lindstrom, who moved between third base and either left field or right field.
For the time being, Bryant will be the Cubs' primary third baseman. But that could change as the organization's needs change.
Addison Russell is working to force his way into the picture, which could prompt a position change for Starlin Castro, with third base being a seemingly easy switch.
"[Russell is] playing really well," Epstein said. "He hasn't been at Triple-A [Iowa] that long, but he's playing great. He's had some really good at-bats, using the whole field, played outstanding at shortstop the first week of the season, with four highlight plays. We got him over to second base. He played second base [on Thursday] and will probably play second through the weekend. We'll see how that goes. We've had a lot of injuries in the infield. We've had to shuffle some things. He's going to continue to develop at Triple-A and we'll see what happens."
There are many such scenarios in play within the Cubs' baseball operations offices, some that could be triggered in the next few months, others in the next few years.
Maddon was asked if, given the current makeup of the Cubs' roster, Bryant could see time in the outfield, as well as at third base.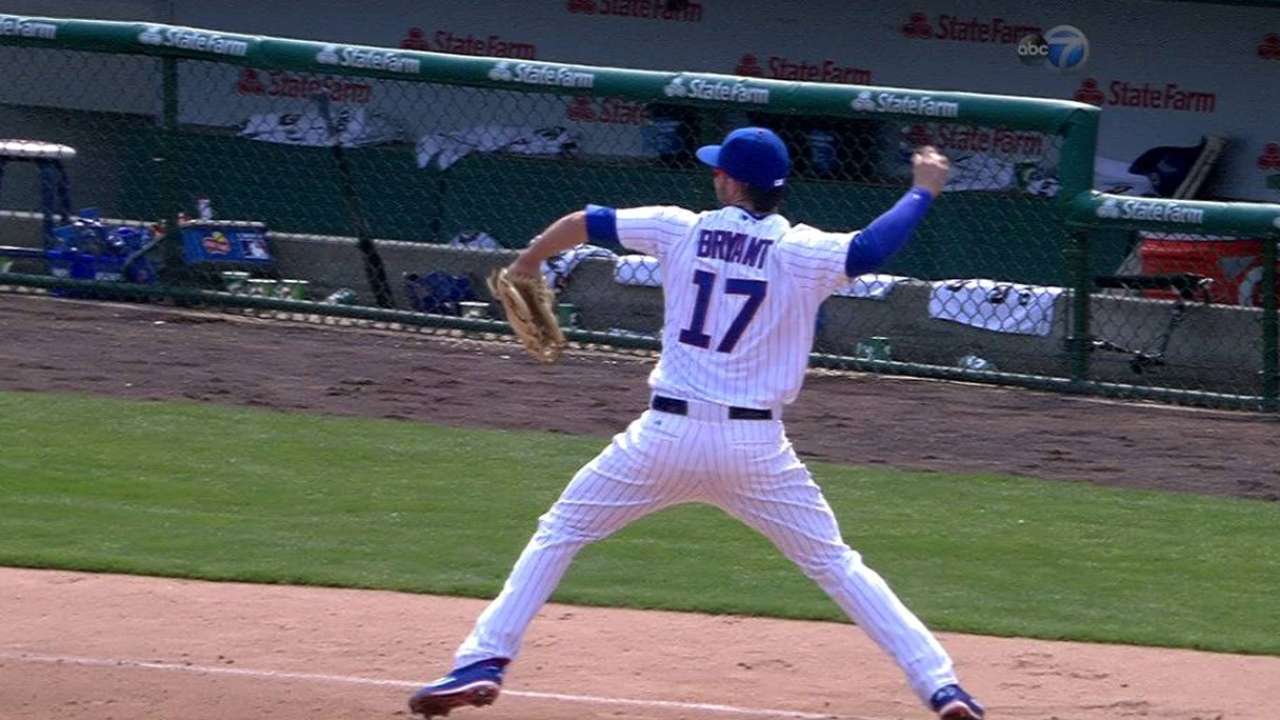 "It's not impossible," Maddon said. "That's something he and I talked about. He likes playing the outfield. That was good to know. I didn't know how much he liked to play the outfield. I could see that being possible, but I think it's really intriguing to see if he can nail down third base."
Bryant, who was a shortstop for Bonanza High School in Las Vegas, moved between third base, first base and the outfield playing for Hill in San Diego. He was playing center field when Cubs cross-checker Sam Hughes scouted him in a tournament early in 2013.
Hill believes outfield is Bryant's best position, which is no knock on his ability to play third base.
"With Kris, you just never know," Hill said. "I really believe he can be an everyday third baseman, above-average, in the Big Leagues. You put him in the outfield, and I think it's Gold Glove material."
Because Bryant is a big man -- he's listed at 6-5, 215 pounds -- scouts have long had doubts about his long-term future at third base. But he's quick and has plenty of arm, as he showed in his debut against the Padres. But Hill says he'll create "wow moments" in the outfield because of how he covers ground and throws.
"When people from Major League organizations, the scouts, asked me, 'Hey, what do you think?' I told all of 'em I think Kris is a Gold Glove outfielder," Hill said. "You watch him catch fly balls, it's something that's very, very simple. ... You watch him set up underneath a fly ball and it's very, very easy. He takes great angles. People are going to find out that Kris can really run ... [and his arm] is a bazooka arm from the outfield. Third base, it's on a line, too, but I guarantee you one of these days you're going to see him on the warning track, he's going to throw somebody out and you'll say I remember [being told he would do it]."
Since Bonilla did it with the 1993 Mets, only three players have played 50-plus games at third base and in the outfield during the same season: Pedro Feliz, Chone Figgins and Rob Mackowiak. According to baseball-reference.com, only 26 players overall have done it, the first being Tommy Leach for the 1905 Pirates.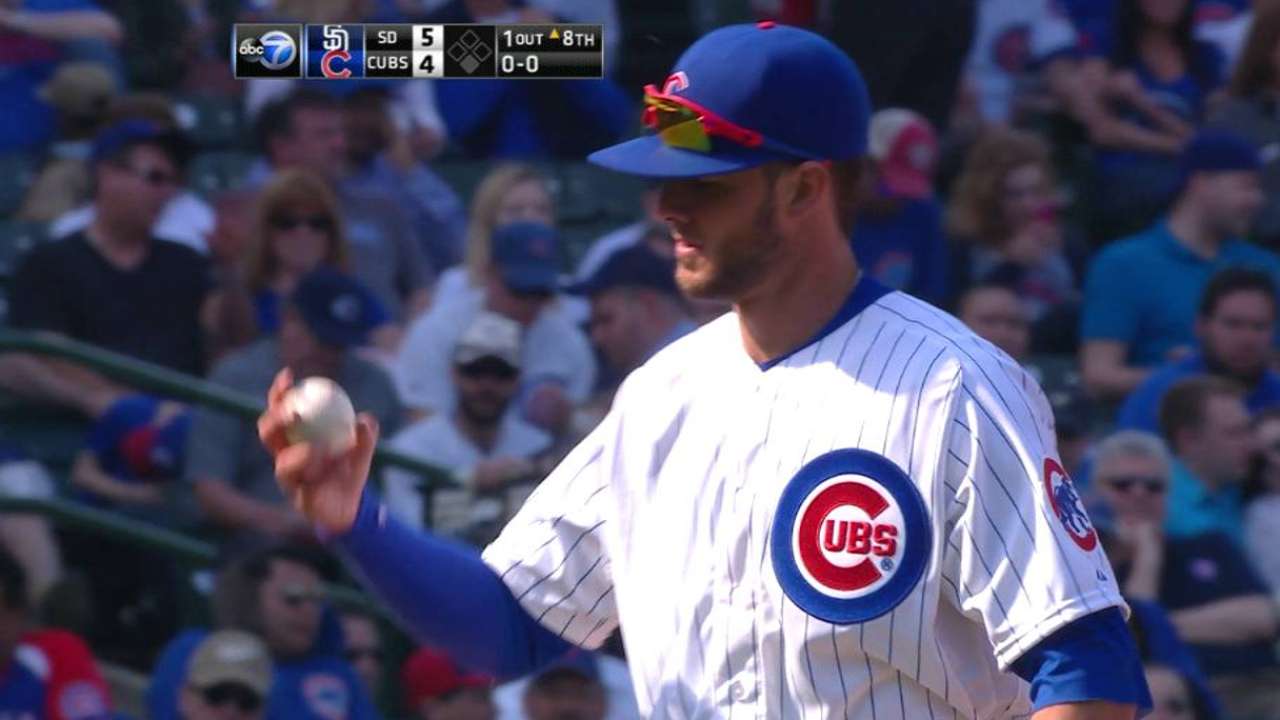 Few of them were considered defensive assets, at least at the point in their careers when they shuttled from third base to the outfield. Players like Robinson and Tresh are exceptions on a list that includes Dick Allen, Jim Ray Hart, Bob Bailey, Al Smith and Bobby Thomson -- with Tresh being the only one of the 26 to ever win a Gold Glove.
Whether Bryant will evolve into a Gold Glove contender at any position is conjecture. But if he can be adequate at both third base and the outfield corners, it would be easy for Maddon to move him around.
Depending on the pitching matchup, Maddon could add a left-handed-hitting third baseman or left fielder to that day's lineup, with the decision between those players -- say Chris Coghlan, Tommy La Stella and the switch-hitting Arismendy Alcantara, looking at the 2015 options -- determining where Bryant plays.
Prospects like Kyle Schwarber, Billy McKinney, Jeimer Candelario, Jake Hannemann and Bijan Rademacher could enter that mix in future seasons. Schwarber, for that matter, is such an advanced hitter, he could be a consideration later this season if Epstein was willing to emphasize his bat, not his development as a catcher.
Everybody loves options, right? Bryant gives the Cubs some good ones.
Phil Rogers is a columnist for MLB.com. This story was not subject to the approval of Major League Baseball or its clubs.