Mets' Torres earns first save wearing new protective headgear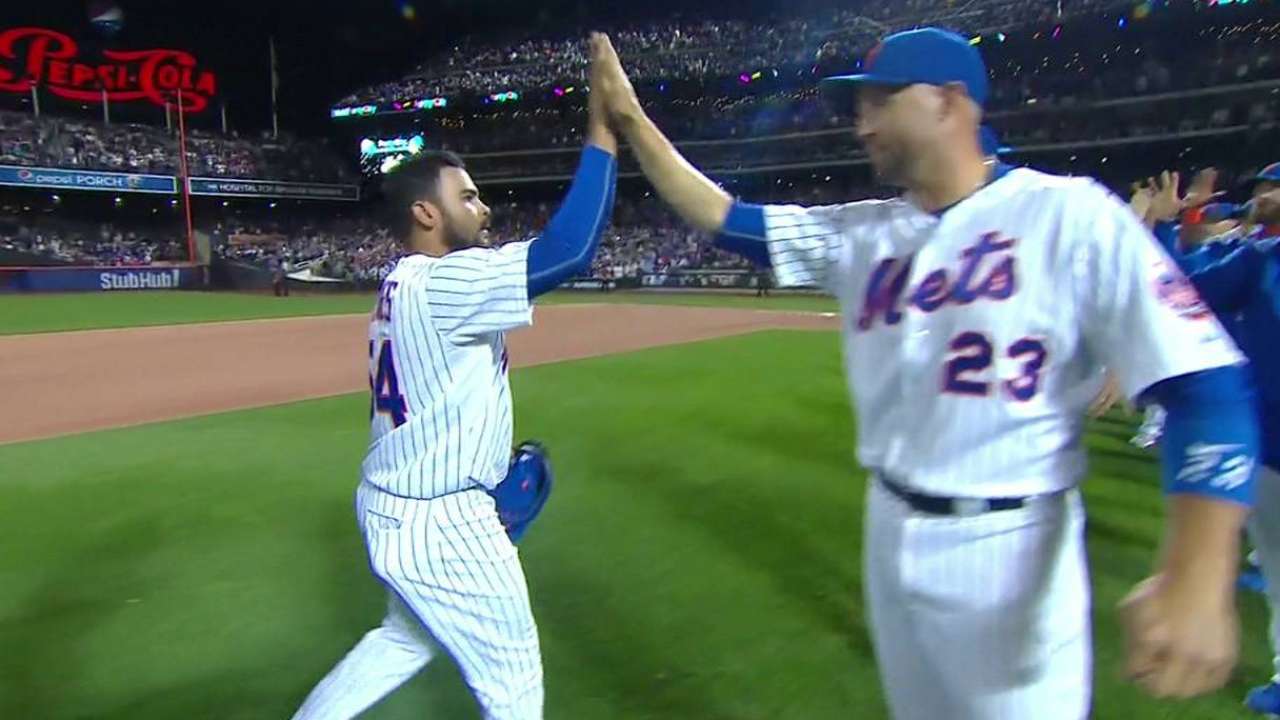 NEW YORK -- Alex Torres earned his first career save Saturday and made Major League history doing it.
After becoming the first Major League pitcher to wear protective headgear of any type last season with the Padres, Torres, in Saturday's 5-4 win over the Marlins, became the first to sport a lighter, two-piece protective design.
He debuted the new design during his one-batter appearance, during which he struck out Christian Yelich to thwart a furious late-inning Marlins rally.
"I've seen a lot of pitchers in the Major Leagues get hit in the head," Torres said. "I don't want to wait for that to happen to me."
Torres remembers sitting in the Tampa Bay Rays' bullpen on June 15, 2013, when Alex Cobb was hit in the head by a line drive off the bat of the Royals' Eric Hosmer and suffered a concussion.
That day, Torres resolved to protect himself from what is a common nightmare for big league pitchers.
"I love this game, and this game is my life," Torres said. "I need to take care of myself."
Torres' new headgear is different from the oversized cap he wore last season, when a seven-ounce protective band was built in and covered his entire skull. This season, Torres will wear a separate protective ring that gets placed around the base of his cap and cushions the head from ear to ear.
The extra piece, designed by Isoblox, is lighter than the one Torres wore last season. It is also noticeable. Met players ventured from far corners of the clubhouse Saturday to check it out, with one sardonically describing it as "different." When manager Terry Collins said he couldn't see it catching on for style reasons, it prompted memories of the concussion-proof helmet David Wright briefly tried years ago.
"I don't think you're going to see a lot of guys wearing it," Collins said. "If Alex feels comfortable wearing it, then more power to him."
For Torres, the benefits grossly outweigh the cosmetic negatives.
"I saw [Aroldis] Chapman [get hit by a line drive], I saw Alex Cobb," Torres said. "That was a scary moment."
Torres took notice again last week when Indians starter Carlos Carrasco took a comebacker to the jaw. Collins made sure to point out that protective headgear wouldn't have helped Carrasco. But Carrasco, who said he blacked out after his injury, still represents the latest victim of a pattern of pitcher head injuries.
Joe Trezza is an associate producer for MLB.com. This story was not subject to the approval of Major League Baseball or its clubs.