Bryant drives in run on first career hit
Top prospect singles to center off Ross to tie ballgame
CHICAGO -- After a whirlwind Major League debut, Kris Bryant looked more comfortable in his second game with the Cubs.
He didn't strike out either.
Bryant got his first Major League hit and RBI, and the fans responded with a standing ovation in the Cubs' 7-6 victory over the Padres in 11 innings on Saturday afternoon. He struck a broken-bat, bloop single into shallow center field off Tyson Ross to tie the game at 2 in the fifth inning.
Overall, Bryant went 2-for-3 with three walks and another single in the 11th before Starlin Castro delivered the game-winning hit. Bryant beat out a grounder to shortstop, putting runners at the corners with one out in the 11th. A review confirmed he was safe.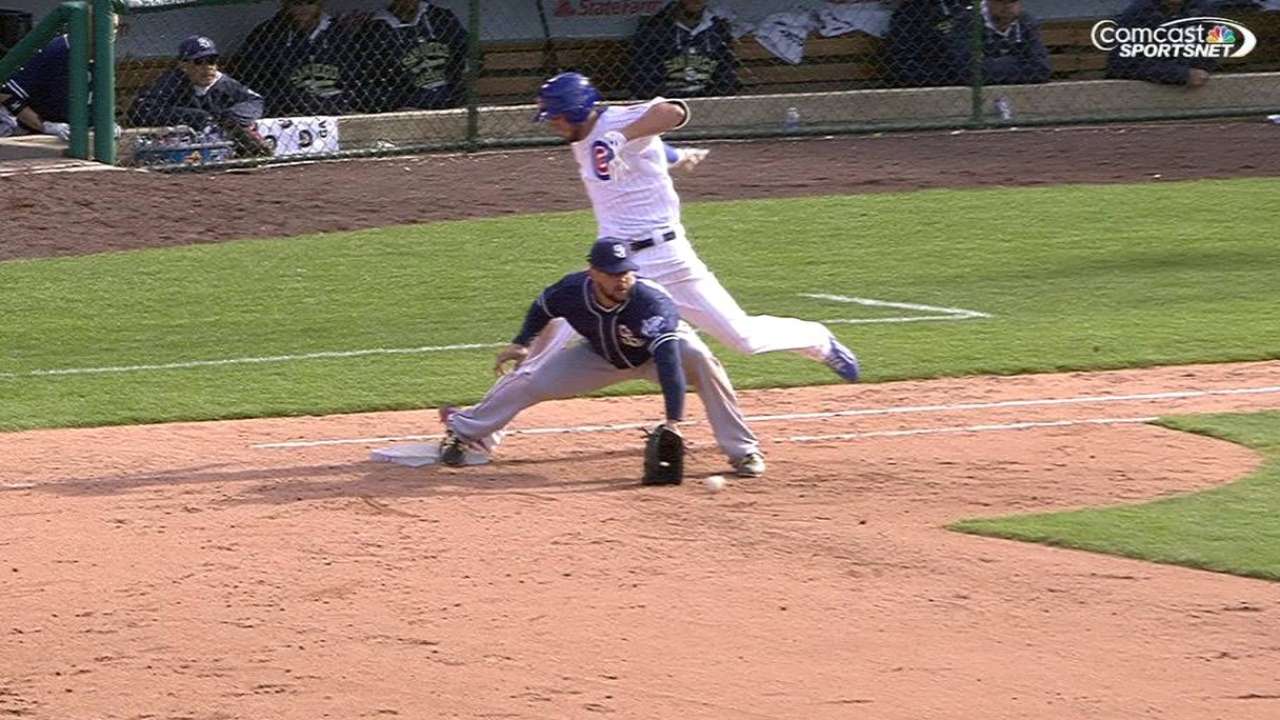 Bryant's teammates were confident he would deliver offensively after his 0-for-4, three-strikeout debut on Friday.
"He did a really good job. We know he's got talent," catcher Miguel Montero said. "We just need to take a little bit of pressure off his shoulders. He's still a young kid, and he has all the talent in the world. He's going to be good.
"He did an amazing job. He took [three] walks, and we all know he can hit. We're not worried about him."
Bryant had family at the game and departed before talking to reporters. He drew his first career walks in the first, fourth and seventh innings. With an 0-2 count, he took four consecutive balls from Ross in the first. In the fourth, Bryant was down 1-2 before he took two balls, fouled off a pitch and took another ball for his second walk.
Manager Joe Maddon appreciated Bryant's patience.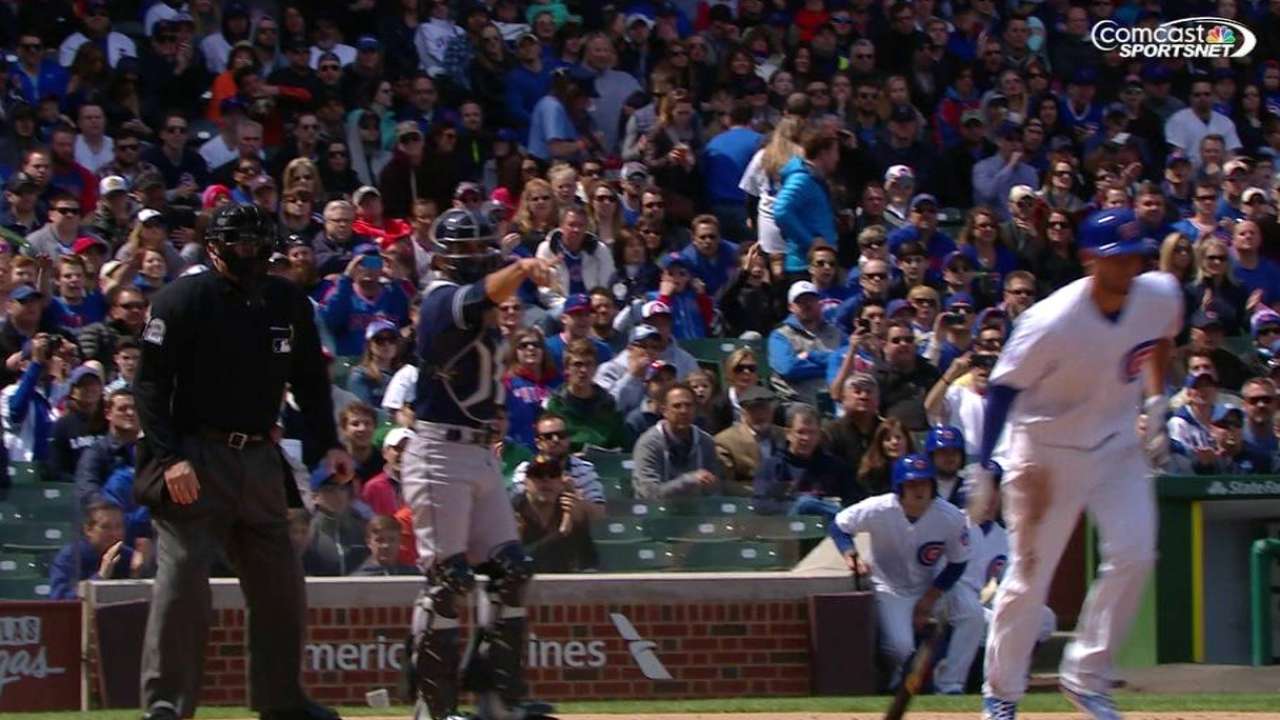 "You're always looking for good at-bats and being a good decision maker. He was that today," Maddon said. "That and he gets the big knock, broken bat -- we'll take it against a tough right-handed pitcher and he gets the base hit.
"I think the fans, the folks who watch the game closely, they understand the importance of accepting your walks. You don't look for your walk, you accept your walk and after yesterday it was ingrained in his mind that 'I'm not going to do that again.'"
The third baseman also committed his first error when he dropped a Wil Myers grounder in the first. Yonder Alonso singled to left field, and left fielder Chris Coghlan threw to Bryant to tag Myers out at third before Matt Kemp homered for a 2-0 Padres lead.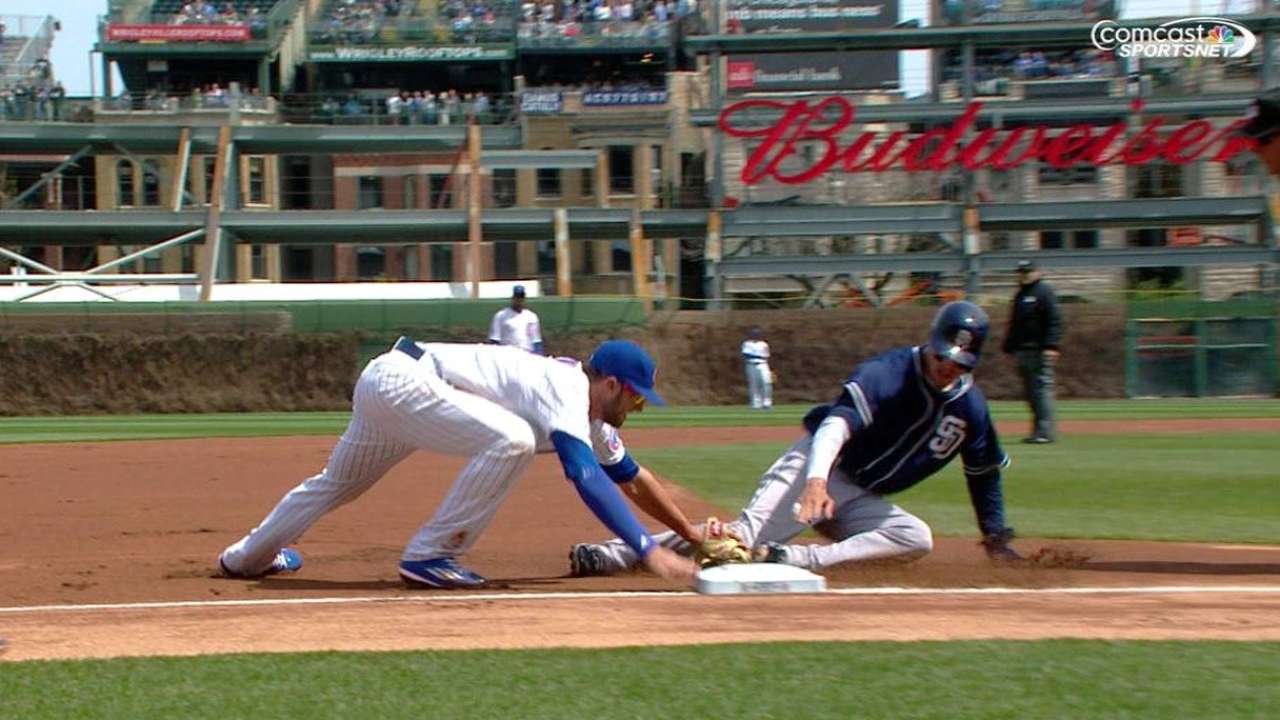 "His defense, he made the one gaffe, but overall he played well, ran the bases good, and he had a good baseball game," Maddon said.
In his other plate appearance, Bryant flied out on the eighth pitch he saw in the ninth inning in the tied game.
Bryant made his debut on Friday after the Cubs selected him from Triple-A Iowa to replace injured third baseman Mike Olt. Bryant is the No. 2 prospect in baseball, according to MLB.com.
"It's not easy to come here the first day, and millions of people [are] waiting for you," Castro said. "He did a great job today."
Sarah Trotto is a contributor to MLB.com. This story was not subject to the approval of Major League Baseball or its clubs.