MLB.com Columnist
Tracy Ringolsby
Rosters bear out nomadic life of Major Leaguers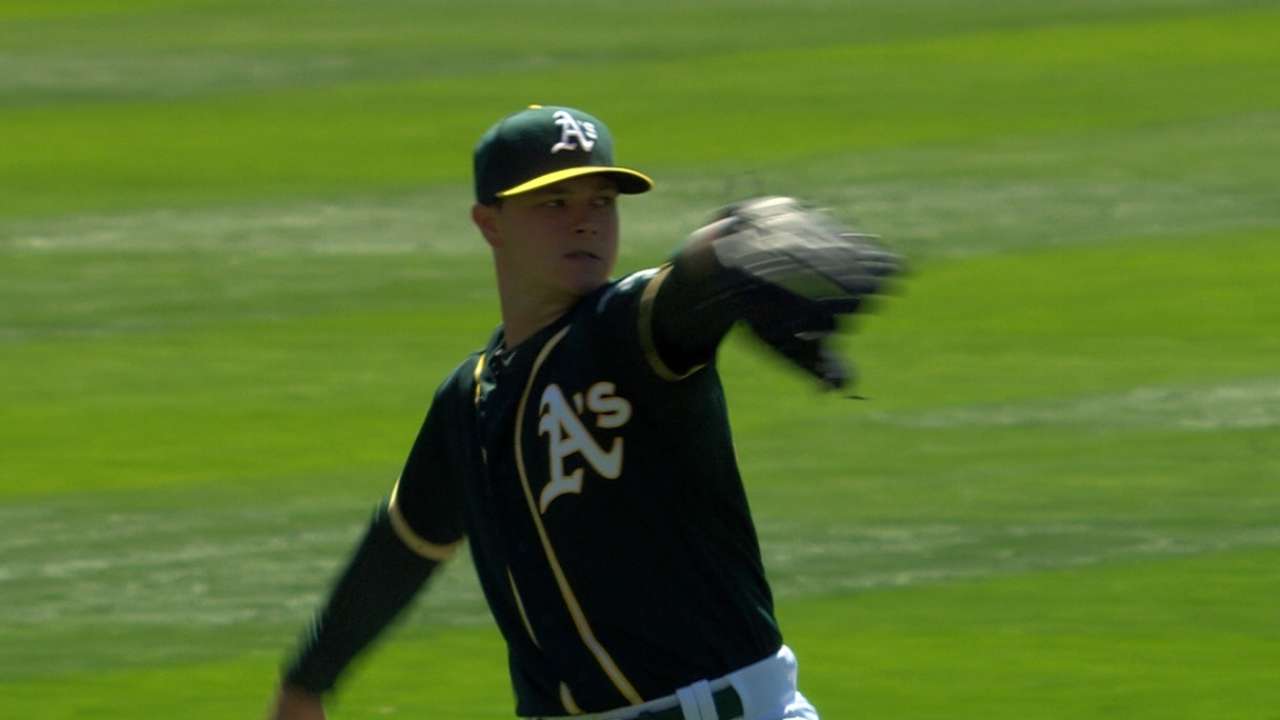 The transient nature of Major League Baseball is underscored by a survey of the active rosters.
The Mets, with 14 players produced by their system among the 25 on the roster going into the weekend, and Cardinals, with 13, are the only teams that have rosters on which home-grown players outnumber players from other organizations.
At the other extreme, the A's have one home-grown player -- Sonny Gray. The Tigers, Astros and Padres have five each, and the Cubs, Orioles and Yankees six each.
While the Dodgers have nine players from their system, only two of them are everyday players -- center fielder Joc Pederson and right fielder Yasiel Puig -- and one is a starting pitcher, Clayton Kershaw.
Four of the six home-grown Cubs are regulars: second baseman Arismendy Alcantara, shortstop Starlin Castro, right fielder Jorge Soler and third baseman Kris Bryant, who made his Major League debut on Friday. The other two are backup catcher Welington Castillo and outfielder Matt Szczur.
The Cubs' rotation? Jon Lester came up in the Red Sox's system, Jason Hammel started off with the Rays, Jake Arrieta began with the Orioles, Travis Wood the Reds, and Kyle Hendricks the Rangers. Closer Hector Rondon originally signed with the Indians.
A through Z
The A's 25-man active roster is made up of players originally signed by 20 different organizations -- including the A's having signed Gray.
Houston (Fernando Abad and Ben Zobrist), Texas (Jesse Chavez and Craig Gentry), the Chicago White Sox (Josh Phegley and Marcus Semien), the New York Mets (Ike Davis and Scott Kazmir) and Tampa Bay (Jesse Hahn and Stephen Vogt) have two of their products on the A's roster.
Organizations who also produced a player on the Oakland roster are: the Angels (R.J. Alvarez), Yankees (Tyler Clippard), Blue Jays (Kendall Graveman), Mariners (Eric O'Flaherty), San Francisco (Dan Otero), Cleveland (Drew Pomeranz), Arizona (Evan Scribner), Marlins (Mark Canha), Brewers (Brett Lawrie), Padres (Eric Sogard), Cubs (Sam Fuld), Red Sox (Josh Reddick), Tigers (Cody Ross) and Royals (Billy Butler).
Third degree
Bryant became the 82nd player to make his big league debut and hit cleanup in a starting lineup since at least 1914, according to baseball-reference.com. Baseball Reference's database only goes back to 1914.
Bryant is the first of the 82 players to strikeout three times in his debut. A number of others struck out twice while hitting fourth in their debuts -- including Barbaro Canizares of the Braves (June 11, 2009) and Brad Eldred of the Pirates (July 22, 2005) during this century.
Bryant is the fifth third baseman to hit cleanup in his big league debut. Others were Max Alvis, Indians, Sept. 11, 1962; Mel Hoderlein, Red Sox, Aug. 16, 1951; Roland Gladu, Braves, April 18, 1944, and Harry Damrau, A's, Sept. 17, 1915. There have been 26 first basemen, 18 left fielders, 15 right fielders, 10 center fielders, six DHs, one each at second base (Jewel Ens, Pirates, April 28, 1922), and shortstop (Pep Goodwin, Kansas City Packers of the Federal League, April 16, 1914) and no pitchers or catchers.
A hit
Miguel Cabrera has two four-hit games this year, giving him 39 in his career, which is tied for 45th all-time. He is fourth among active players behind Ichiro Suzuki of the Marlins, who has 50 four-hit games, and Alex Rodriguez of the Yankees and Albert Pujols of the Cardinals, each of whom have 41.
Ty Cobb is the all-time leader, having collected four hits in 95 games. Pete Rose (73 games) and Stan Musial (67 games) are second and third.
A miss
Rangers closer Neftali Feliz has dominated the Mariners throughout his career. With a save at Safeco Field on Friday night, Feliz has 12 saves and a 3-0 record in 22 career appearances against the Rangers. He has worked 27 scoreless innings, striking out 26 and giving up seven hits -- six singles and a double.
Feliz is also unscored upon in nine appearances covering 10 2/3 innings against the Rays.
Happy anniversary
Monday is the 60th anniversary of Braves relief pitcher Humberto Robinson becoming the first native of Panama to appear in the big leagues. There have been 53 Panamanians who have appeared in the big leagues. Hall of Famer Rod Carew and future Hall of Famer Mariano Rivera are among 15 who have spent 10 years or more in the big leagues.
There are currently four Panamanians in the big leagues: catcher Carlos Ruiz of the Phillies; middle infielder Ruben Tejada of the Mets; right-hander Randall Delgado of the D-backs, and catcher Christian Bethancourt of the Braves.
Quickly
• Houston pitcher Asher Wojciechowski is the 23rd player in Major League history with a last name that uses 13 letters or more. Jarrod Saltalamacchia is the all-time leader with a 14-letter last name.
• Mike Trout, 23, is the youngest player to reach 100 home runs and 100 stolen bases, and he did it in 503 games. Eric Davis reached the double century mark in fewer games (459), but was 26 at the time.
• Bartolo Colon, who turns 42 next month, has won his first three starts, making him the fifth pitcher 41 or older to open a season 3-0, according to Elias News Bureau. Roger Clemens was 41 when he started 9-0 in 2004. Phil Niekro opened 1984 4-0 at the age of 45. Nolan Ryan started 4-0 at the age of 43 in 1990. Kenny Rogers was 42 in 2007 when he opened 3-0.
Tracy Ringolsby is a columnist for MLB.com. Read his blog, Write 'em Cowboy. This story was not subject to the approval of Major League Baseball or its clubs.