Boyer bounces back with strong outing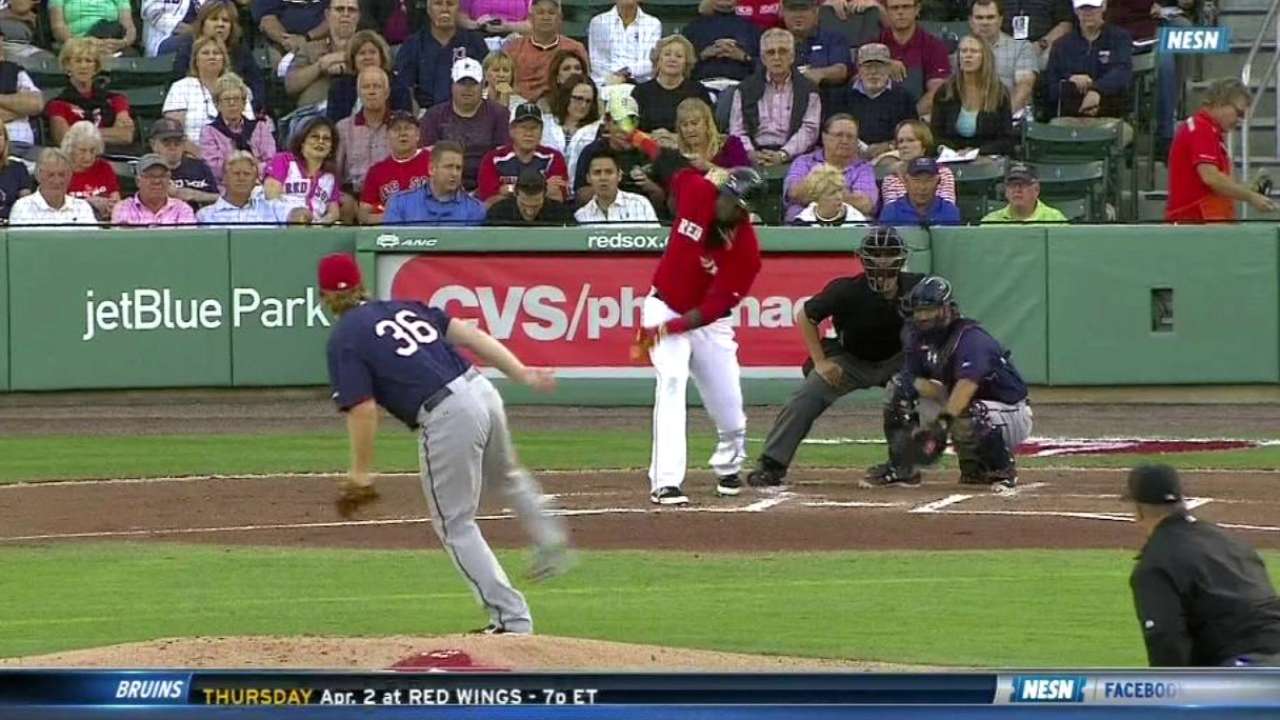 MINNEAPOLIS -- After starting out the season with a 15.00 ERA in four relief appearances, Twins reliever Blaine Boyer bounced back with strong outings on Friday and Saturday, and said it came after tweaking his mechanics.
Boyer, who was signed to a Minor League deal before the season, made the Twins after being the club's best reliever in Spring Training. But it didn't carry over into the season, as he allowed at least one run in three of his first four appearances, including three runs without recording an out on Sunday.
But Boyer spent time working with pitching coach Neil Allen and bullpen coach Eddie Guardado this week to find out what was going wrong, and feels like he found the reason for his struggles, as he said he was rushing his delivery. He made his fifth appearance of the season on Friday, tossing 1 1/3 scoreless innings in extras to get the win in a 3-2 victory over the Indians. He followed that up with two more scoreless innings in Saturday's 4-2 loss to Cleveland.
"Probably about 75 percent of my pitches yesterday were how I wanted them to feel," Boyer said. "It's just a slight adjustment. It allows me to get out in front and throw the ball down. It gives more life to it."
Boyer, a nine-year big league veteran, said Friday's outing gave him a confidence boost after his early season struggles.
"It's huge," Boyer said. "I had four outings I would've loved to thrown in the trash. But this one, to be in a situation to be in there to help the team win and be in a clutch situation is awesome."
• Super utility man Eduardo Escobar, who was hit on his left foot in the eighth inning of Friday's game, said he was fine on Saturday. Escobar left the game as a precaution and was out of the lineup on Saturday, but it was just a normal day off, Twins manager Paul Molitor said.
"It's good," Escobar said. "It got me in the toe. But I'm good. I told Mollie I wanted to stay in."
• A day after hitting a walk-off homer in the 11th inning of Friday's 3-2 win, third baseman Trevor Plouffe was held out of the lineup. Eduardo Nunez made the start in his place.
"We joked this morning that if you get the game-winning homer you have to sit the next day," Molitor said. "We did that to [Oswaldo] Arcia the other day, and then Trevor last time. But I just try to keep everybody involved and Nunez hasn't played much up to this point."
Rhett Bollinger is a reporter for MLB.com. Read his blog, Bollinger Beat, and follow him on Twitter @RhettBollinger. This story was not subject to the approval of Major League Baseball or its clubs.