Matheny seeks clarification on play at the plate
Although Carpenter scored Friday with leap, catcher Pena didn't appear to leave him with path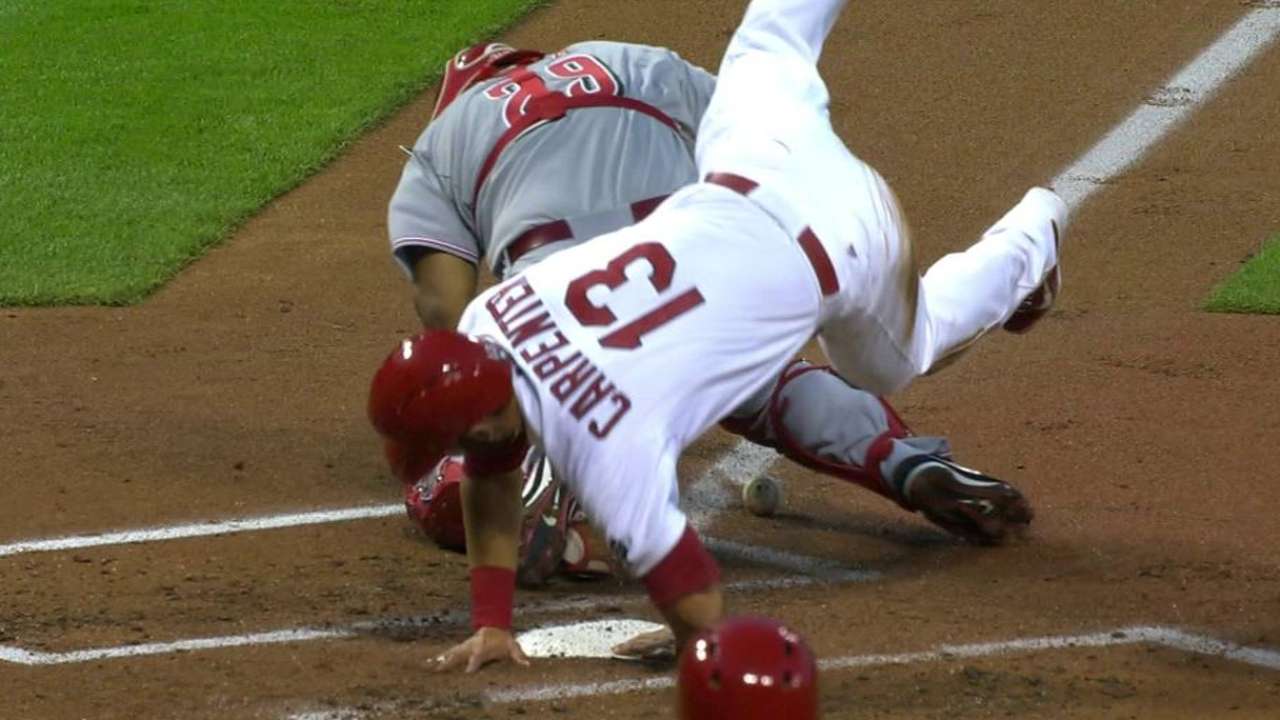 ST. LOUIS -- Though Matt Carpenter's aerial ascent made Brayan Pena's block of home plate a non-issue in Friday's 6-1 Cardinals win, manager Mike Matheny said he does intend to submit the play to Major League Baseball to see how it would have been called within the parameters of Rule 7.13.
As Carpenter sought to score from third on a flyout, Pena moved up the third-base line to receive a throw from Reds center fielder Billy Hamilton. But instead of coming forward to leave a path for Carpenter, Pena remained straddled over the baseline. That gave Carpenter two options -- run through Pena or hurdle him. Carpenter, instinctively, opted for the somersault score and executed it perfectly.
Per Rule 7.13, which was adopted on an experimental basis in 2014, a catcher cannot block the pathway of a runner unless he has possession of the ball. If he blocks anyway, the home-plate umpire can rule the runner safe. The runner is also not obligated to avoid a collision in such cases.
In this instance, Pena did not have the ball as Carpenter approached. But because the application of the rule has been fuzzy, Matheny hopes getting outside opinion on Friday's play can prepare him for how plays will be called moving forward.
"It's going to be a tough call," Matheny said. "It's just going to take some time. Until you have plays like that where the league can say, 'This is what happened. This is what we saw. This is how we're going to rule,' ... until we have enough of those that happen in real time, we're not going to know how they're going to respond."
The Cardinals continue to teach their catchers to come inside the baseline when receiving an off-line throw from right or center field. That way, the ball can be cut off without the catcher blocking the runner's path. A throw from left field presents more difficulty, since sometimes it is necessary for a catcher to cross the third-base line to receive the ball.
"A throw up the line, in my opinion, doesn't then give you freedom to take the plate away," Matheny said. "You can't be rewarded for a throw that's off-line to give the catcher the freedom to go ahead and take the plate. He can still move up the line and give the runner the plate.
"But it's all going to be how it's interpreted. There is some subjectivity with it still. We don't all know exactly how it's going to go. That play just didn't look right, but fortunately, Matt was fine."
Jenifer Langosch is a reporter for MLB.com. Read her blog, By Gosh, It's Langosch, follow her on Twitter @LangoschMLB and like her Facebook page Jenifer Langosch for Cardinals.com. This story was not subject to the approval of Major League Baseball or its clubs.