Decker's homer, 3 RBIs lift El Paso to win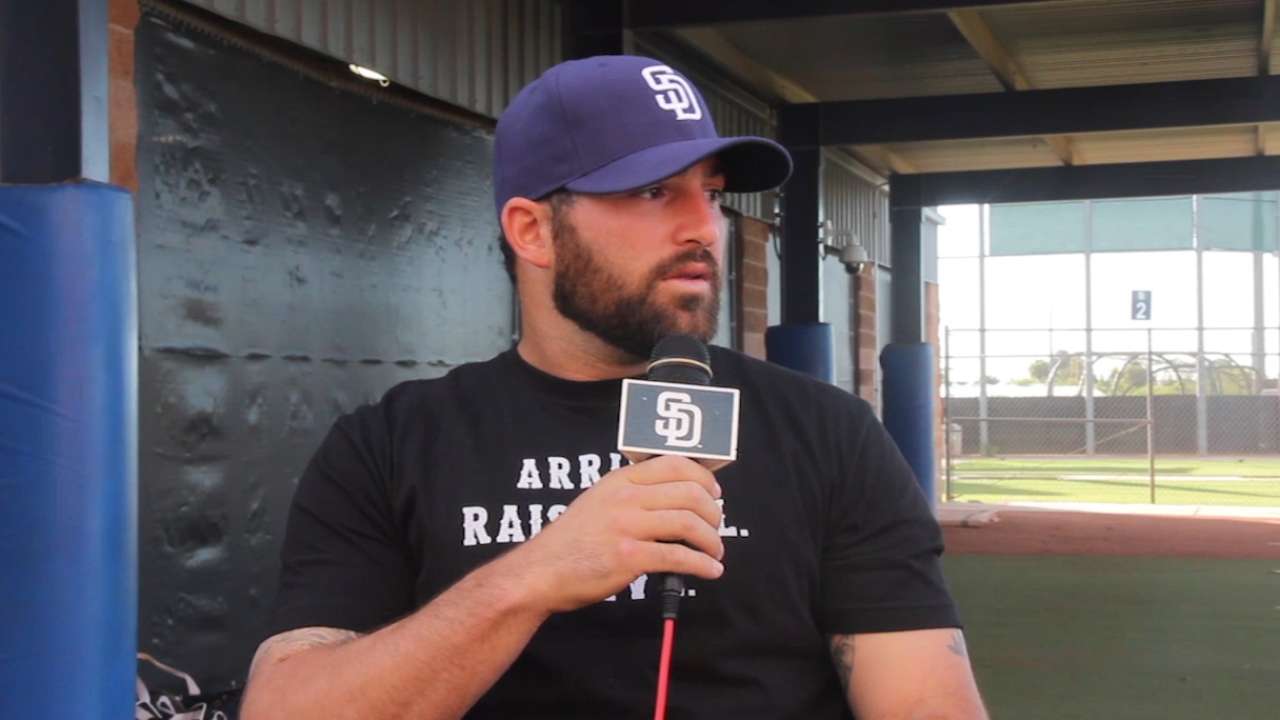 Bill Center, longtime sportswriter for U-T San Diego, is an employee of the Padres.
Cody Decker hit a two-run homer and drew a tie-breaking, bases-loaded walk Friday night to lead Triple-A El Paso a 4-2 win at Tacoma.
Santana High grad James Needy, 24, picked up his first Triple-A win, holding Tacoma to one run on three hits and a walk with seven strikeouts in six innings. Needy was aided by Padres relievers-in-waiting Nick Vincent and Kevin Quackenbush.
Vincent (2.25 earned run average) struck out five in two perfect innings. Quackenbush (1.80 ERA) picked up his second save despite allowing a run on two hits with two strikeouts in the ninth.
Tacoma was leading 1-0 when catcher Austin Hedges and Decker drew back-to-back, bases-loaded walks in the third. Hedges was 0-for-2 with two walks, a run scored and his 10th RBI of the young season. Hedges is hitting .409.
Decker was 1-for-3 with his second homer of the season and three RBIs as El Paso improved to 5-4 with a third straight win.
Earlier Friday, the Chihuahuas put right-handed reliever Jerry Sullivan on the seven-day disabled list and promoted former Major League reliever Daniel McCutchen from the roster of short-season Single-A Tri-City.
Around the Farm
DOUBLE-A SAN ANTONIO (3-5): Tulsa 14, MISSIONS 3
2B Casey McElroy (.476) was 3-for-5 with an RBI for the Missions and SS Trea Turner was 2-for-3 with two walks, a run scored and a RBI. Starting RHP Bryan Rodriguez (0-2, 10.00 ERA) allowed seven runs on 11 hits in four innings. RHP Luis De La Cruz struck out two in two perfect innings.
HIGH SINGLE-A LAKE ELSINORE (3-6): RANCHO CUCAMONGA 9, Storm 2
CF Auston Bousfield (.323) was 2-for-4 with a solo homer and two RBIs. 1B Marcus Davis was 2-for-4. Starting RHP Rafael De Paula (1-1) allowed seven runs (four earned) on six hits and two walks with three strikeouts in two innings. RHP Kyle Lloyd (1.50 ERA) allowed a hit with four strikeouts in three scoreless innings.
LOW SINGLE-A FORT WAYNE (2-4): South Bend 11, TIN CAPS 3
LF Nick Torres (.458) was 2-for-5 with a double and drove in all three Fort Wayne runs. 2B Felipe Blanco (.412) was 3-for-4. SS Franchy Cordero was 3-for-5. Starting RHP Danielson Lamet (0-2) allowed three runs (two earned) on two hits and three walks in 2 2/3 innings. LHP Taylor Aikenhead allowed eight runs on nine hits and four walks in 2 1/3 innings. The most effective Fort Wayne pitcher was first baseman Trae Santos, who allowed a hit and two walks with a strikeout over two scoreless innings at the end of the game.