Norris' defense providing good early returns
Entering Saturday's game against Cubs, catcher had thrown out six runners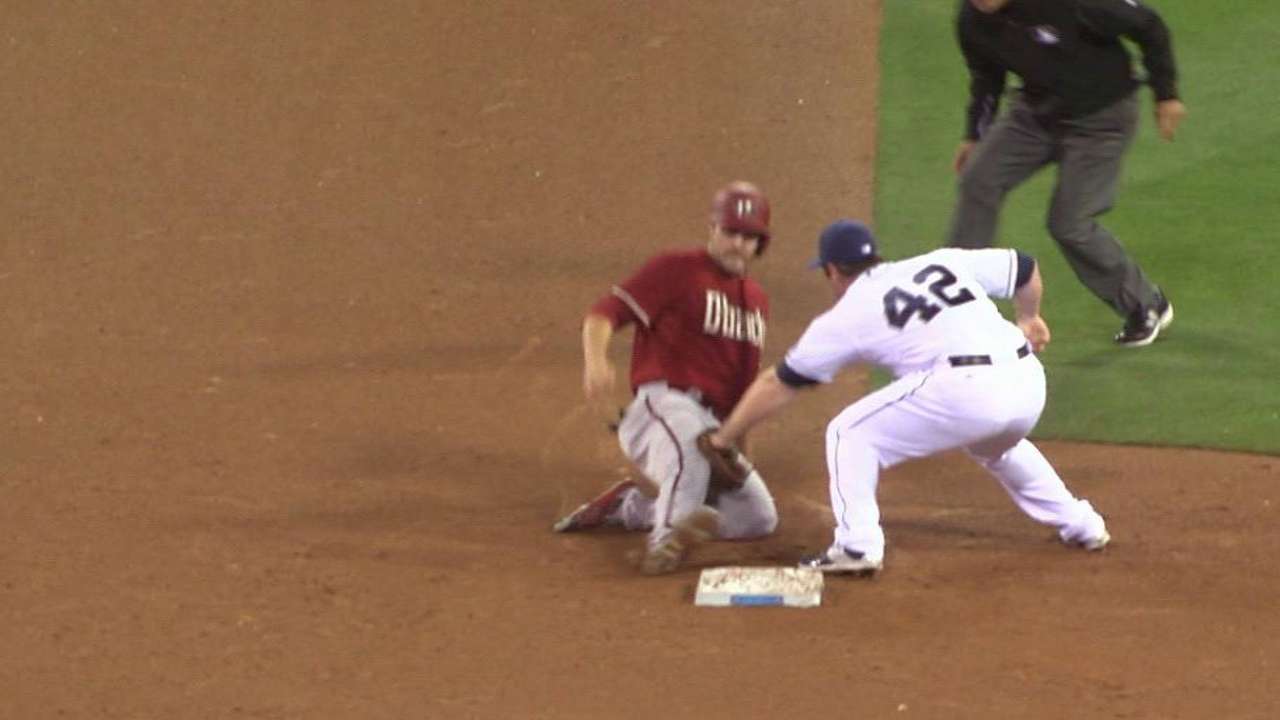 CHICAGO -- Chances are that no matter how much time passes, Padres catcher Derek Norris will always remember that American League Wild Card game last October when, playing for the A's, the Royals ran wild on him and the Oakland pitchers.
Norris, who entered that game after Geovany Soto left with a thumb injury, was witness to the speedy Royals swiping seven bases, six while Norris was in the game. The Royals won, 9-8, a victory that kick-started Kansas City's run to the World Series.
"I got worn out a little bit [by the media], how I had only thrown out less than 20 percent of guys last year," Norris said. "It gets to your head and you start to think it's you when in reality ... you could have thrown a 1.9 pop time to second and on the money and it might not have mattered.
"It's really easy to sit there, and say, I was in the bottom tier of catchers on throwing out basestealers. But I'm not one to dwell, I want to get better. I think that's helped me this year."
That much has been evident as Norris, entering Saturday, had thrown out six would-be basestealers, which is the most in baseball. In 10 games, Norris had caught nearly as many guys on the bases as he did all of last season (eight in 114 games).
"For me, it was clearing my mind in the offseason, watching some film, breaking it down, figuring out I could only control what I could control," Norris said. "Set your feet, make a strong throw staying within yourself and making good, solid throws. That's what I've been focusing on this year, and it is working.
"It's something I take a lot of pride in, something I work hard on. I feel if they [pitchers] give me enough time, and give me a good enough pitch, I should be able to execute and make a play."
San Diego manager Bud Black has been impressed by Norris' arm in the early season.
"This guy is athletic. The agility, the body control, the coordination, the athletic movements, he has them. He has quick feet and good hands. His release times are fine," Black said.
"He's been pretty accurate so far this year. There have been a couple of good runners he's thrown out. On balance, the throwing, we're very happy with. He's been good."
Corey Brock is a reporter for MLB.com. Keep track of @FollowThePadres on Twitter. This story was not subject to the approval of Major League Baseball or its clubs.