Statcast showcases Simmons' ability to anticipate
Braves shortstop's great plays against Mets' d'Arnaud provide an interesting study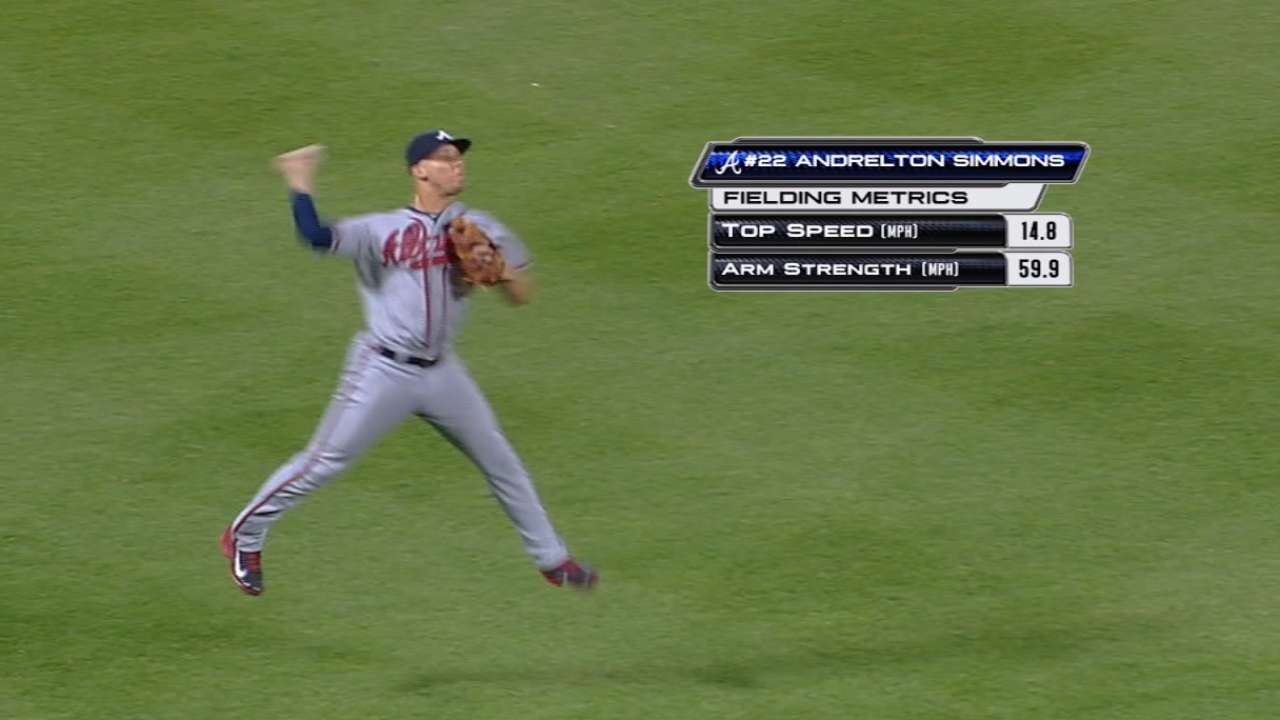 It's no secret by now that Braves shortstop Andrelton Simmons has seemingly made a habit out of taking hits away from opposing batters -- specifically Mets catcher Travis d'Arnaud.
Simmons made an outstanding play on April 10 to rob d'Arnaud of a base hit and, while it may have appeared at the time to be a near-mirror image of a play Simmons made against d'Arnaud last Aug. 27, Statcast shows everyone why this year's version was even better.
Statcast, a revolutionary player-tracking technology that allows players to be evaluated using never-before-seen metrics, will be making its 2015 television debut during Tuesday's MLB Network Showcase game between the Cardinals and Nationals.
As for Simmons' play, Statcast will help us separate the two plays that left d'Arnaud staring across the diamond in a state of disbelief.
For starters, both plays involved Simmons racing to his right and making a backhanded stop on the outfield grass before pushing off his left foot to jump and fire a throw across the diamond to nail d'Arnaud. During this year's play, Simmons reached a top speed of 14.7 mph -- not all that different from the 14.8 mph speed he reached during last year's version.
The key difference between the two is that Simmons mustered a 68.5-mph strike across his body this year, compared to a 59.9-mph throw that bounced into first baseman Freddie Freeman's glove back in August. Thanks to Statcast, however, we know not only that he made an even stronger play this time around, but also why he was able to add that extra 8.6 mph to his throw this year.
Having robbed d'Arnaud on multiple occasions in the past -- note that he also took another hit away from the Mets catcher earlier in that Aug. 27 contest -- Simmons was able to anticipate moving to his right based on d'Arnaud's past tendencies. While broadcasters and fans alike often talk about a player getting a great jump on the ball, Statcast can provide actual evidence to support such claims.
On last year's jaw-dropping play, Simmons' first step took him a respectable 0.33 seconds. This time around, it took him only a mind-blowing 0.11 seconds to take that first step. Taking that first step in one-third the time allowed Simmons to cover just a bit more ground and get slightly further behind the ball, thus allowing for an even stronger throw in his latest thievery.
"These are the little things you can get from Statcast that you don't just get from the normal metrics when you say, 'Oh, look at his range and his angle,'" said MLB Network analyst Harold Reynolds. "Now, you can also know that he's learning the hitters, because he's anticipating. I love it."
Paul Casella is a reporter for MLB.com. This story was not subject to the approval of Major League Baseball or its clubs.
This story was not subject to the approval of Major League Baseball or its clubs.