Bryant's former team believes in his success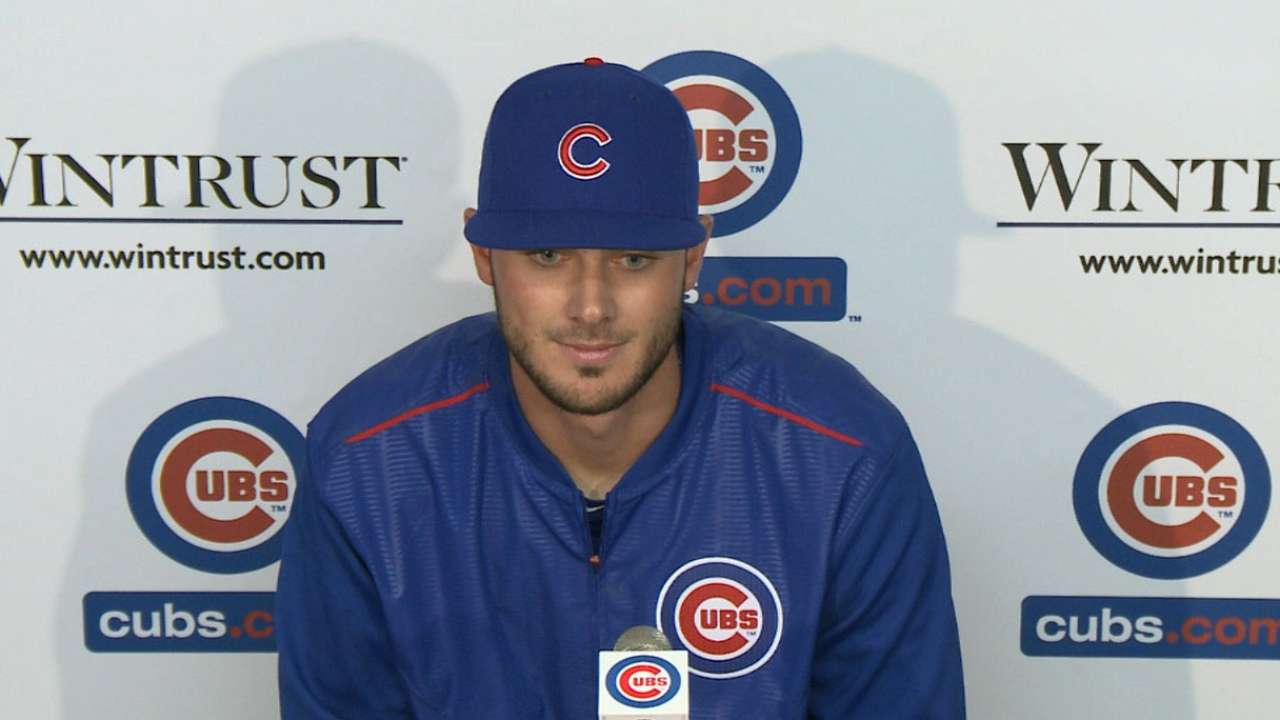 DES MOINES -- Triple-A Iowa played its home opener Friday night, and the hot topic was the one player who wasn't there.
Kris Bryant began the season in Iowa, but Friday he made his big league debut for the Cubs at Wrigley Field.
Iowa infielder Chris Valaika talked to Bryant before he left for Chicago, and Valaika has no doubts the 23-year-old third baseman will succeed.
"When we spoke, it was about just handling the moment, calm it down and let it happen," said Valaika, who make his big league debut with the Reds in 2010. "He's a great ballplayer. He won't have to do anything different. ... Just trust your instincts, and he will do what he did at every level."
Valaika does see challenges ahead for Bryant, but believes the rookie can handle them.
"Everything's escalated, the media presence doesn't go away, and the game is crisper -- it's the big leagues for a reason," Valaika said. "[Major League pitchers] are the best of the best. They find a weakness and they exploit it until you close that hole. [Bryant] will make adjustments, they will find a new one, and he will close it again. He's a professional. I'm really happy for him."
Bryant discovered just how nasty big league pitching is -- James Shields' changeup, in particular -- striking out three times in his four at-bats in his debut, and grounding out in his final appearance in the Cubs' 5-4 loss to the Padres.
Iowa manager Marty Pevey, who told Bryant he was being promoted Thursday night in New Orleans, said the biggest challenge for the talented infielder will be living up to expectations.
"The hype -- that's the biggest obstacle -- and he's handled it great," Pevey said. "He's jumped five levels in a year and a half. They've piled it all up on him and it has continued to stay piled, but he's so level headed that he can still handle it."
Who's next? It could be shortstop Addison Russell, who was the top-rated prospect in the Athletics organization before he was traded to the Cubs last July. Russell, who is ranked behind only Bryant among Cubs prospects, believes the pressure to succeed in Chicago is even greater than in Oakland.
"I've been the No. 1 prospect in Oakland before, and its nothing like it is compared to here, because ... there's a lot more fans and it's just a great organization as well," Russell said.
The Iowa Cubs believe Bryant is ready.
"He will do just fine," Pevey said. "I have no doubt."
James Hilchen is a contributor to MLB.com This story was not subject to the approval of Major League Baseball or its clubs.