Mariners find themselves stuck in early funk
'Our guys are built for this,' says McClendon after 4th loss in a row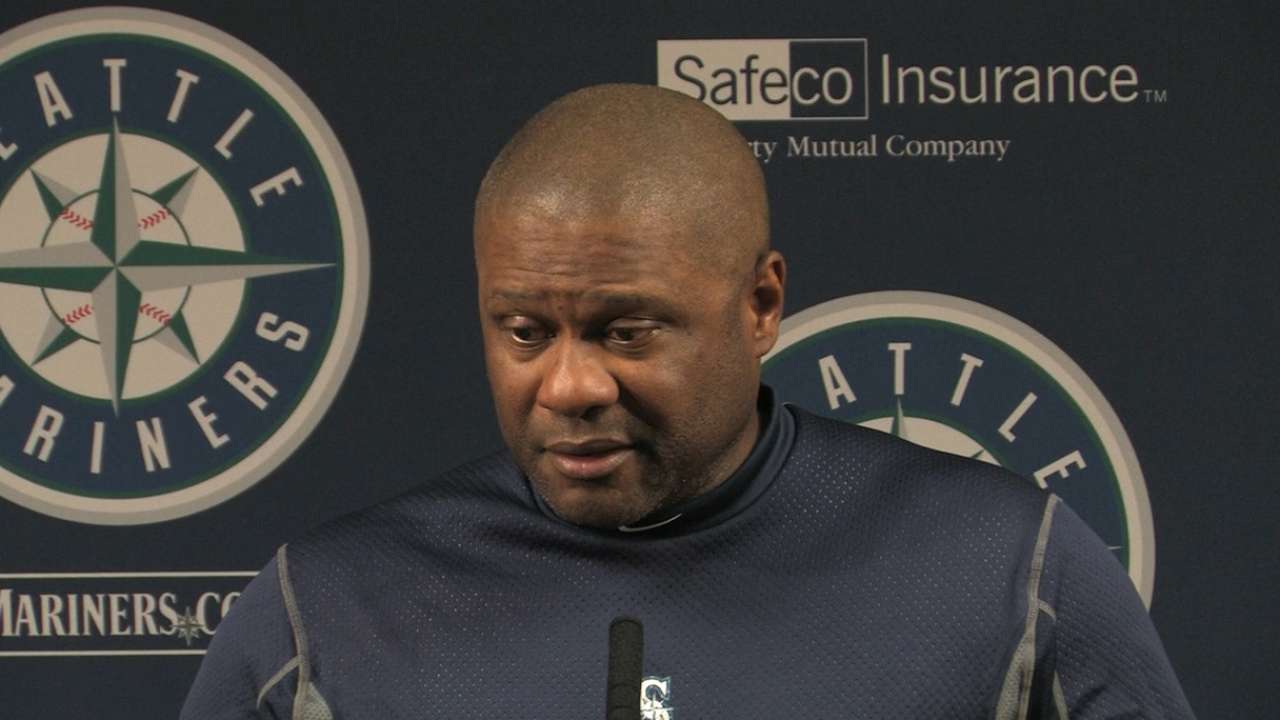 SEATTLE -- It was another one of those nights. There have been quite a few of them for the Mariners lately.
Logan Morrison hit a ball on the screws in the bottom of the ninth inning, the Safeco Field crowd got loud, the ball soared high above right field, and Rangers outfielder Shin-Soo Choo jumped at the wall and hauled it in.
It was another frustrating almost in a week full of them, and the Mariners' fourth consecutive loss continued the funk that the team many picked to contend for the American League West title and beyond finds itself in. Seattle is 3-7 and in last place in the division, but they know what they need to do.
"Our guys are built for this," Seattle manager Lloyd McClendon said. "They're built for the grind. One thing I expressed to them is … you've got to continue to grind it out. There are going to be good moments, bad moments, tough moments, and moments that want to make your manager cry.
"But we've got to fight our way through it."
The Mariners tried to do that on Friday and came up mostly empty. Inning after inning, they got runners on base but couldn't sustain a rally or cash in with a huge hit. And it wasn't for lack of effort, either. In the bottom of the seventh, trailing 2-0, Nelson Cruz led off with a single and Kyle Seager worked a walk to chase Texas starter Yovani Gallardo.
Reliever Shawn Tolleson came in and was greeted with a bullet of a ground ball by Morrison, but first baseman Adam Rosales dove to his right to field it and threw to second to get the lead runner. Tolleson cleaned up with two consecutive strikeouts to squelch that threat.
And this all came after three consecutive innings -- the second, third and fourth -- in which baserunners and possible rallies were erased by Texas double plays.
"It doesn't matter what we do the day before," Cruz said. "You've got to come and play. If you win 10 in a row, you've got to come in the next day and win and play. If you lose five in a row, you've got to come back the next day and play. So you've just got to keep your head up and go out there and battle."
McClendon said he didn't sense much frustration in the dugout, which he credited to his team's character. Shortstop Brad Miller said there's a give and take that the younger players have learned from the veterans and that it should serve the team well moving forward.
"As much as you have confidence, you want to win," Miller said. "So it's a balance of wanting to win but realizing that sometimes you put a great swing on the ball and there's nothing you can do. So I think we're right there."
Doug Miller is a reporter for MLB.com. Follow him on Twitter @DougMillerMLB. This story was not subject to the approval of Major League Baseball or its clubs.