Collmenter's shutout a big relief for D-backs
Arizona starter tosses four-hitter after entire bullpen used in 12-inning game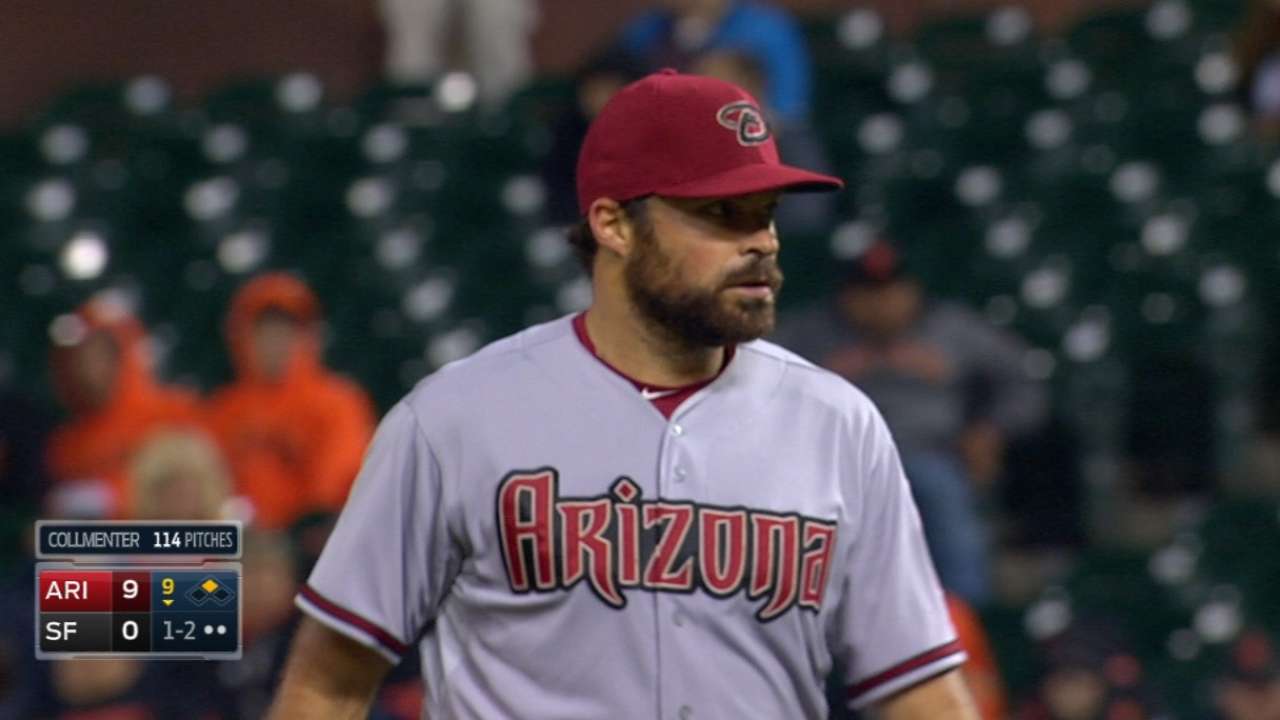 SAN FRANCISCO -- After using every one of their relievers in a 12-inning win the night before, the D-backs were hoping Friday's starter Josh Collmenter would be able to pitch deep into the game.
Collmenter did better than that, tossing a complete-game four-hitter and contributing three hits himself as the D-backs beat the Giants, 9-0, at AT&T Park.
"He was unbelievable," D-backs manager Chip Hale said. "He did a good job. So we were extremely happy with what he did, not only with the pitching, but with the bat; it was incredible. He just had an overall great game. It was exactly what we needed with our bullpen the way it was."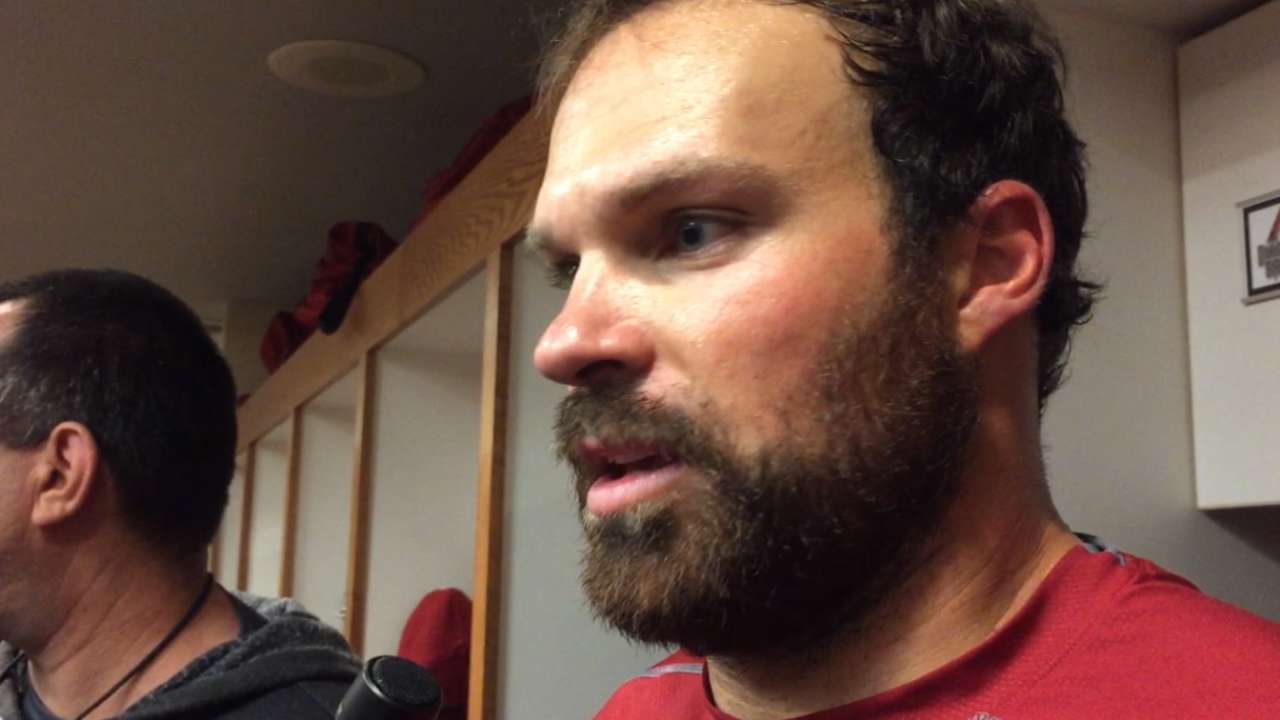 Collmenter (1-2) has been around long enough to not panic after just two starts, but Friday's success certainly helped his confidence after he struggled in his first two outings of the year.
"I think I was really trying to force some pitches and my mechanics then suffered," Collmenter said of his first two starts, during which he had a 6.52 ERA. "I wasn't staying on top and through the ball to get that cut. It was kind of running and I was flying open. Tonight I did a much better job of pitching down in the zone. If I can pitch down in the zone, that's when I get a lot of those fly balls and even ground balls. When I'm up in the zone, the pitches just become so much easier to hit."
Collmenter might want to think about relocating to the Bay Area at some point, given his success at AT&T Park.
In his last three appearances at the home of the Giants, he has thrown 19 scoreless innings, and in seven career games there, he has a 0.96 ERA.
"It's fun when you have stuff working like that," Collmenter said. "For me, it was the fastball command. It was huge for me. I was able to move the ball in and out. Everything for me plays off of that."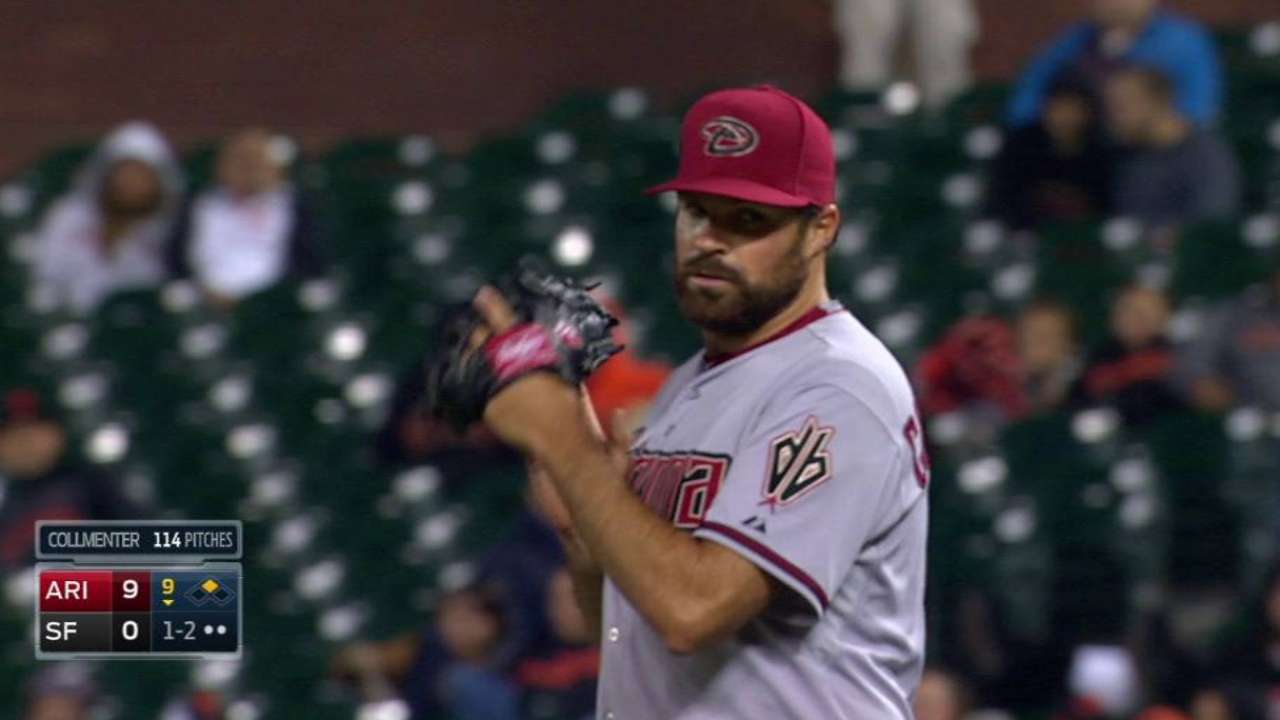 Collmenter is not going to light up the radar gun. His velocity topped out at 86 mph in the ninth inning, but with the deception his unique over-the-top delivery provides, he's able to get away with it.
If Thursday's game had gone on another batter or two, Collmenter might not have been available to start Friday. With Randall Delgado on the mound in the 12th inning working for the third straight night and no one else left in the bullpen, Collmenter began to play catch.
Had Delgado not retired Joe Panik to end the game, Collmenter likely would have been called on. After having success in this start, Collmenter joked that he might have to make that part of his routine.
"I was kind of getting my arm a little bit loose, just if something happened, in a pinch I could get going," he said. "It was mainly because I hadn't done much since we did stuff before the game. I wanted to loosen up a little bit in case something needed to happen."
Steve Gilbert is a reporter for MLB.com. Read his blog, Inside the D-backs, and follow him on Twitter @SteveGilbertMLB. This story was not subject to the approval of Major League Baseball or its clubs.