Astros look back on missed chances vs. Angels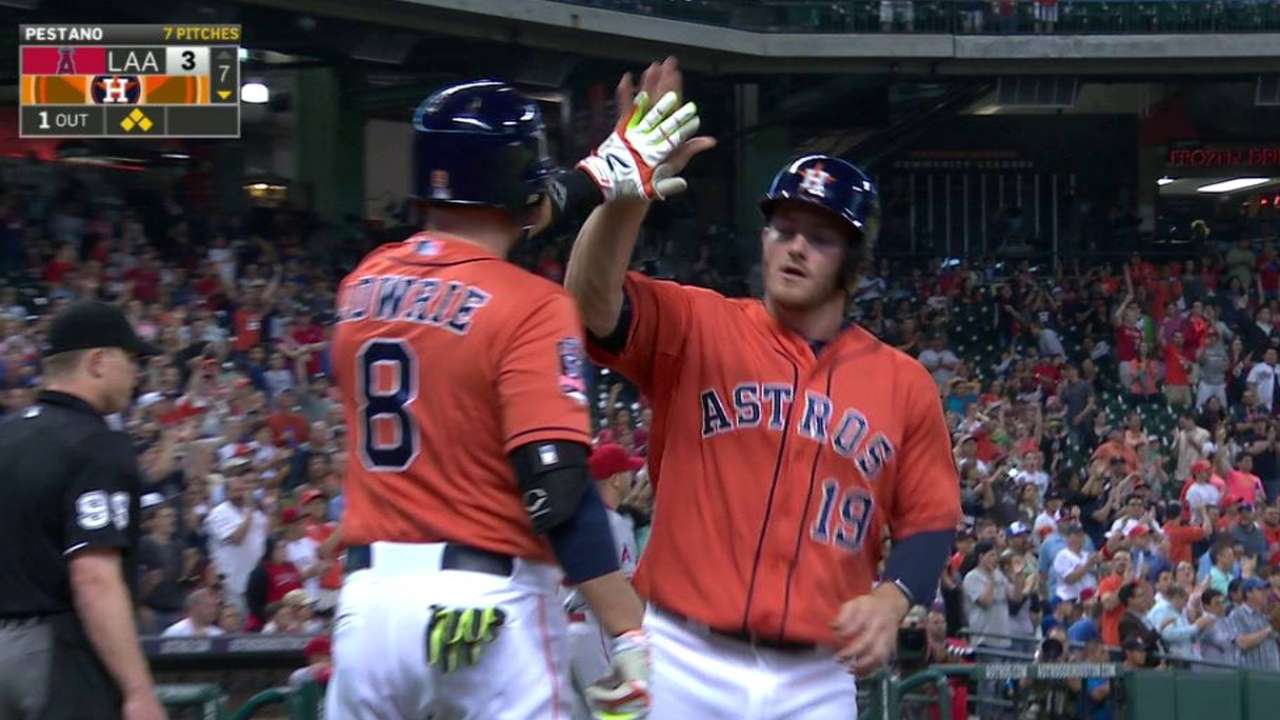 HOUSTON -- Despite an early Mike Trout home run, the Astros had recovered, and even battled back to tie the Angels with single runs in the fifth, sixth and seventh innings.
But that was the problem for the Astros. They couldn't muster the big inning to keep pace with Trout, who later in the eighth inning, blasted his second home run of the game at Minute Maid. This time it was a three-run shot from Trout, who had five RBIs in the Angels' 6-3 win on Friday night.
"We seemed to scratch and claw a couple runs, or one run at a time, but never got multiple hits in a row when we needed them," Astros manager A.J. Hinch said. "We got runs to get back in the game, but got a double-play ball.
"We had some opportunities to get at them a little bit, but they made some pitches."
The Astros tied the game 3-3 in the seventh, but scored only one run after loading the bases with no outs.
The inning began with pinch-hit singles from Robbie Grossman and Jonathan Villar. Jose Altuve walked to load the bases, bringing up George Springer.
Springer flied out deep to right fielder Kole Calhoun, scoring Grossman. The Astros had the momentum, but Cesar Ramos came in and got Jed Lowrie to hit into a 6-4-3 inning-ending double play.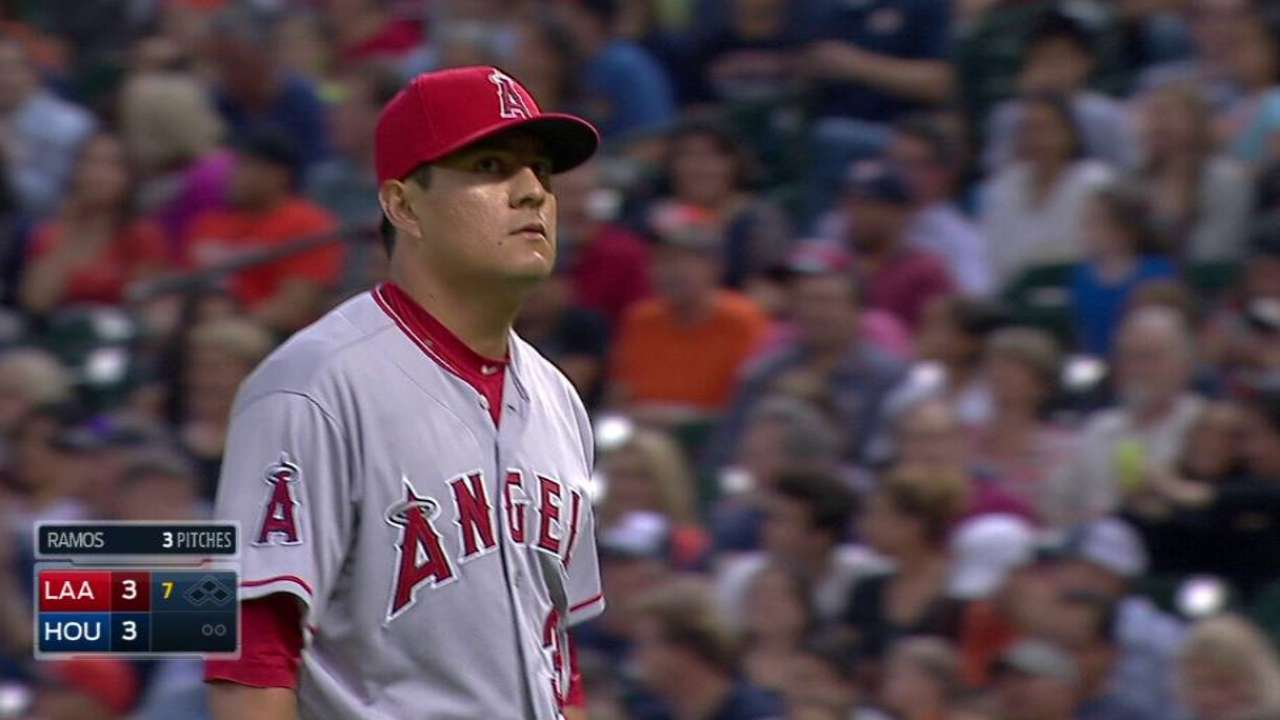 "The sacrifice fly, a little bit more on the barrel, then we're talking about a home run for George Springer," Hinch said. "It's a tough one to lose because we tied it up.
"We got the matchups we wanted. We got the base runners we wanted. We scored in that inning. We just didn't get the breakaway hit. At the end of that inning, we were happy that we were back in the game."
It was a good inning for the Astros, but it could have been so much more. And they needed big innings trying to combat Trout, who hit his 100th and 101st career home runs.
"We put pretty good swings on the ball. Sometimes it goes right at people," Grossman said. "If we had hit a double in the gap, we would be talking about that. We stayed ready and are happy to contribute."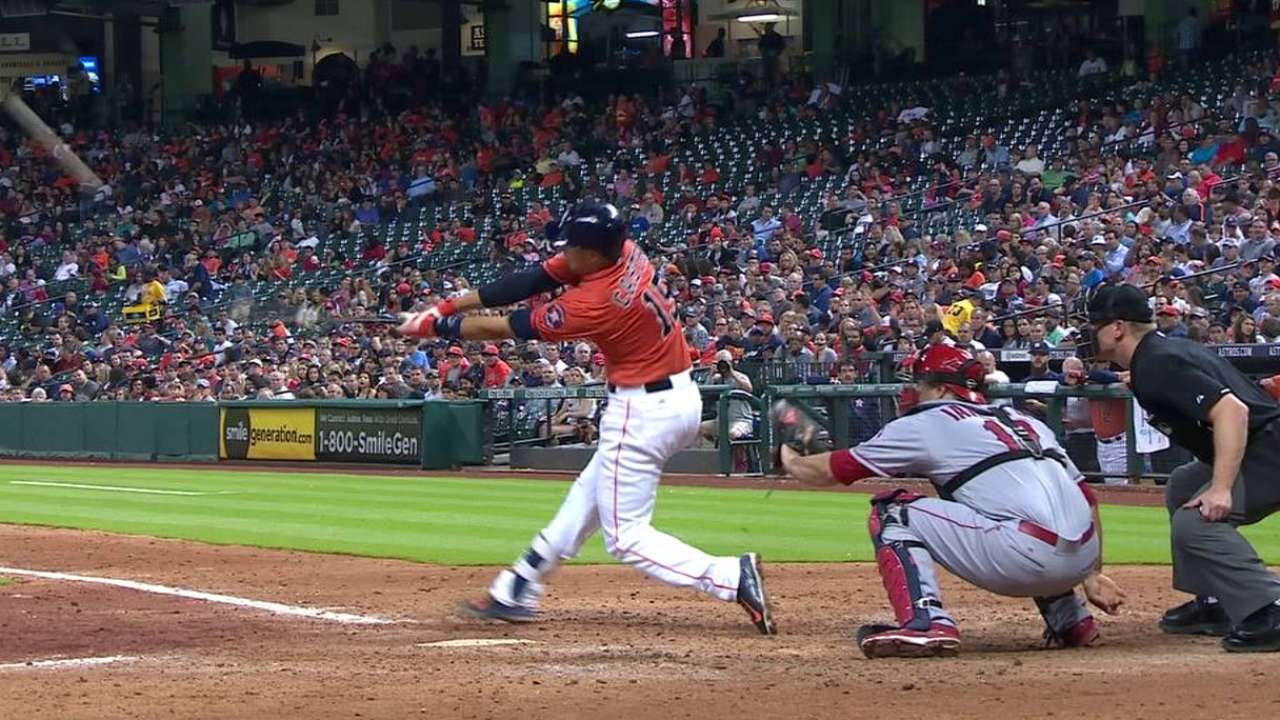 Astros catcher Jason Castro hit his first home run of the season, a solo shot off Jered Weaver in the sixth inning that cut the Angels' lead to 3-2.
"Definitely some missed opportunities," Castro said. "We had some scoring opportunities that we would have liked to capitalize on. But that happens. We swung the bats better tonight."
Richard Dean is a contributor to MLB.com. This story was not subject to the approval of Major League Baseball or its clubs.