Extra hitting work pays off for Plouffe
Third baseman shakes off slow start to season, swats walk-off homer in 11th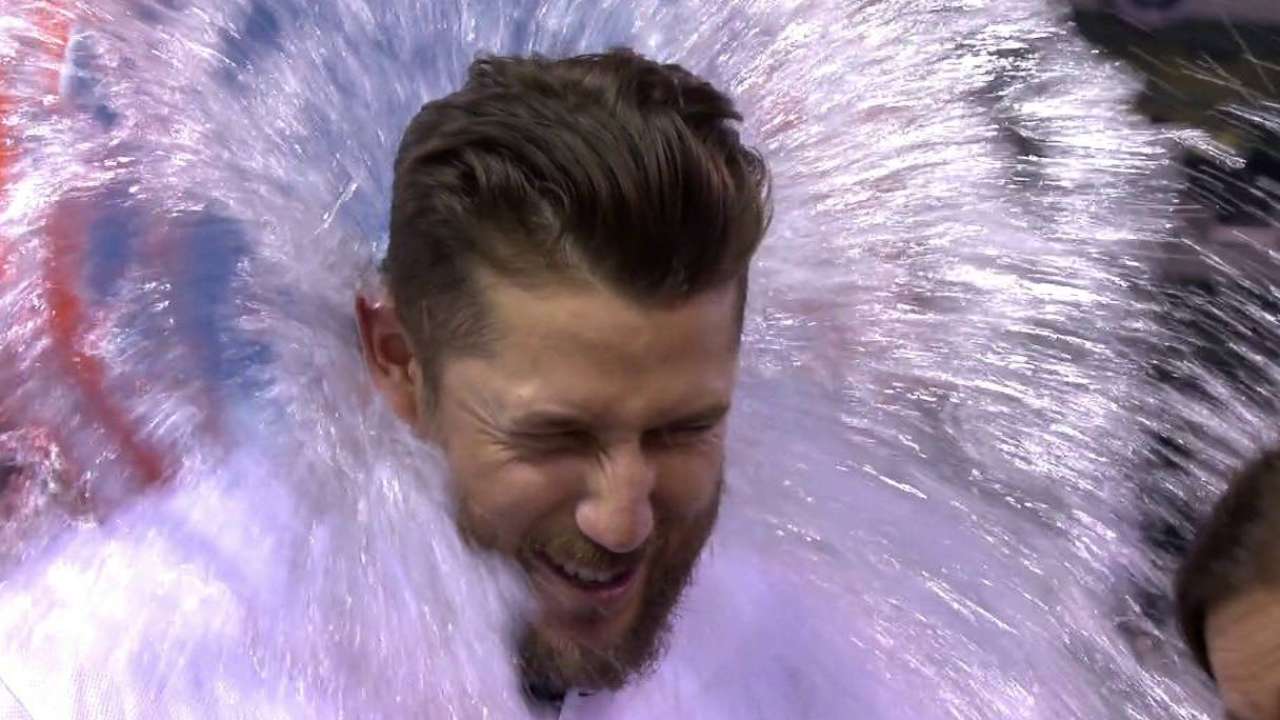 MINNEAPOLIS -- As Trevor Plouffe walked up to the plate in the bottom of the 11th inning against Indians reliever Bryan Shaw on Friday night, all he had to do was look up at the scoreboard to see how much he's struggled in the early going this year.
Plouffe entered the at-bat hitting .118 with one homer and one RBI in 34 at-bats, but with just one swing, he gave the Twins a 3-2 win with a walk-off homer. It was the third career walk-off hit for Plouffe and gave the Twins their third straight victory.
"I knew I got it," Plouffe said. "There was a lot of frustration that came out of me right there in that swing."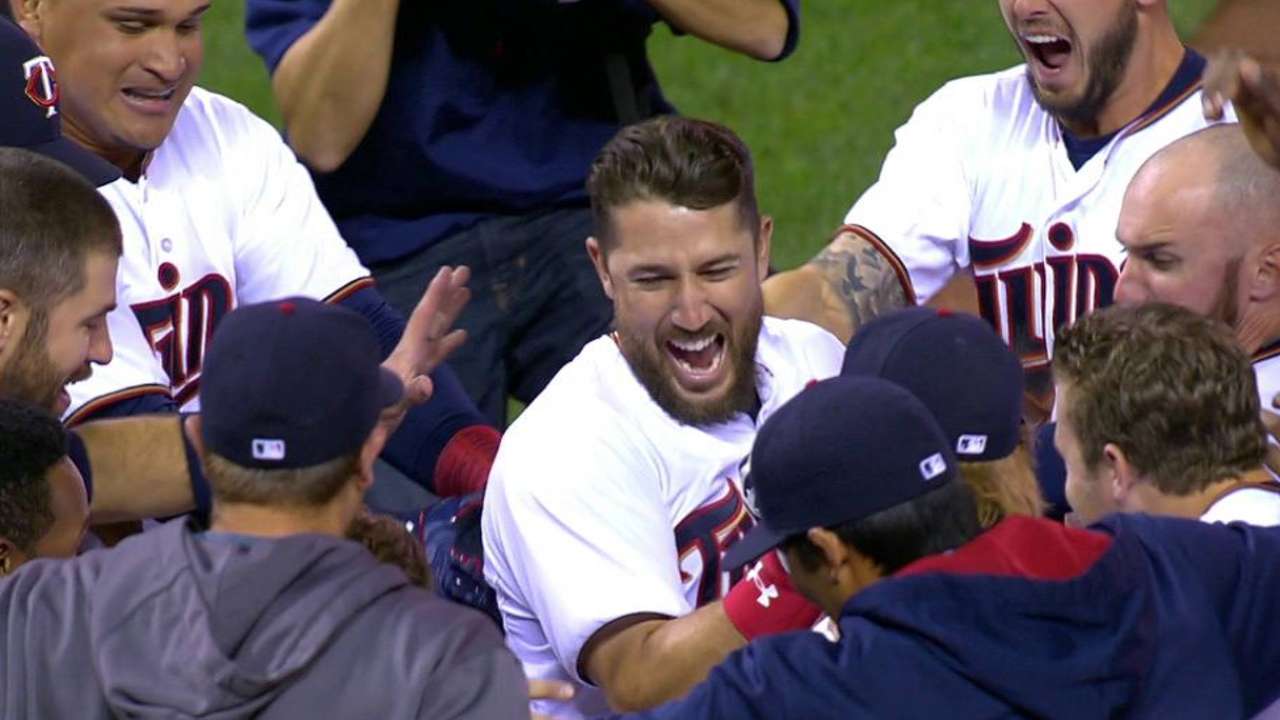 So while Plouffe admitted he's been frustrated by his play this season, he said he never let it get him down. He spent extra time working with hitting coach Tom Brunansky before games this week, including on Friday, and it appeared to pay off with the no-doubter to left field.
"It's a process," Plouffe said. "I was never not confident. Frustrated? Yes. But we have a great coaching staff. I know there are going to be struggles, but you have to trust the process. Hopefully a swing like that will get me going."
Twins manager Paul Molitor was happy to see Plouffe come through, as the third baseman was one of the club's better players last year. Plouffe hit .258/.328/.423 with 14 homers, 40 doubles and 80 RBIs in 136 games last season, so Molitor said it was just a matter of time before Plouffe found his swing.
"He's been keeping a good attitude," Molitor said. "Obviously, poor starts have a tendency to affect the mindset because it's the beginning. But he was out early, like he does a lot, working on his swing, but it didn't work out for him until that last swing. But you get that big home run like that, it takes the pressure off."
Plouffe also made sure to credit his teammates for making it happen, as they got the win on the same day they faced reigning American League Cy Young Award winner Corey Kluber. Right-hander Mike Pelfrey kept the Twins in the game by allowing one run over five innings, while the bullpen gave up just one run over six innings.
"It was a great game for us against a great pitcher," Plouffe said. "We were able to hang in there. Our bullpen kept us in the game long enough. If it wasn't me, it was going to be somebody else."
It also helped move the Twins into third place in the AL Central despite their 1-6 start, and their three-win stretch is the longest active streak in the AL.
"We just stayed confident," Plouffe said. "There was never any panic. Obviously, we wanted to come out of the gate hotter and we could've let that overtake us, but we stayed loose, and these three games are more like the team we think we are."
Rhett Bollinger is a reporter for MLB.com. Read his blog, Bollinger Beat, and follow him on Twitter @RhettBollinger. This story was not subject to the approval of Major League Baseball or its clubs.