Like his pal Stairs, Gomes delivers in clutch spot
Braves outfielder comes off bench late in tie game, swats big homer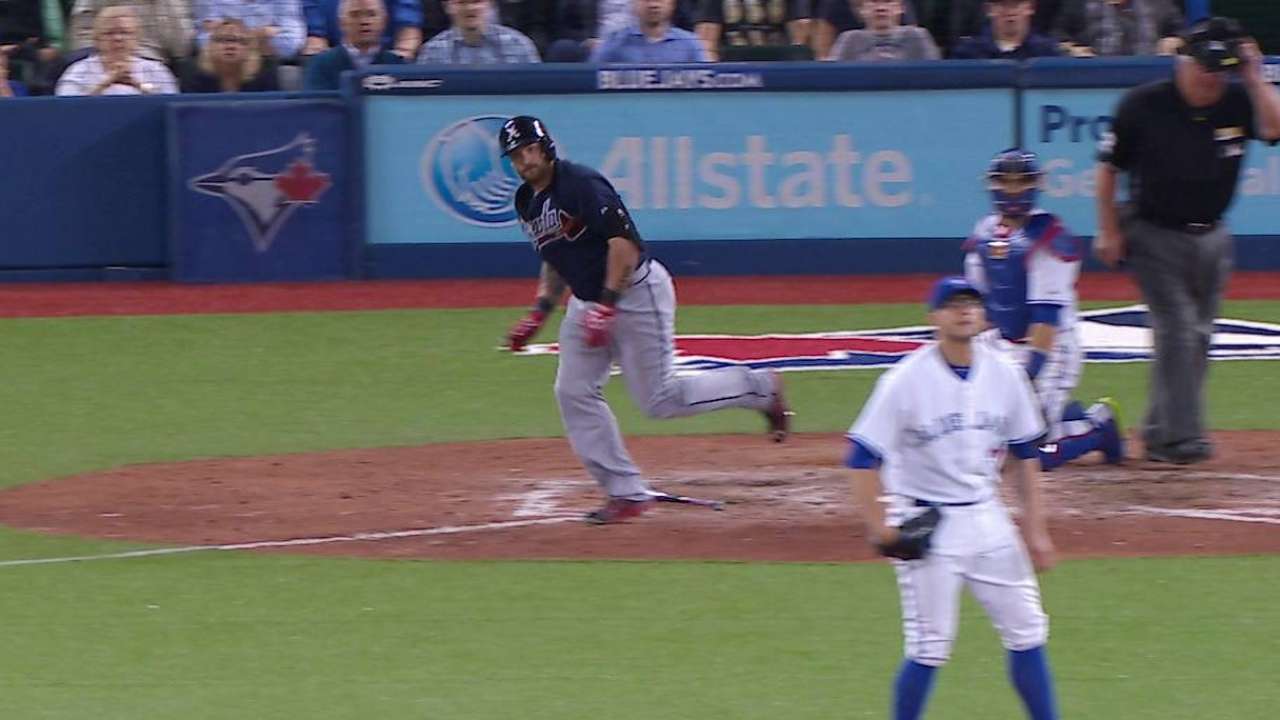 TORONTO -- Jonny Gomes channeled his inner Matt Stairs when he stepped to the plate, letting loose his 10th career pinch-hit home run in the top of the eighth inning of the Braves' 8-7 win over the Blue Jays on Friday.
"That's great company, love that guy," Gomes, the active pinch-hit home run leader, said of Stairs, the retired Canadian slugger who holds the all-time record of 23. "If the book could be written on how to DH and how to pinch-hit, it would be out there. But it's not, which means the formula is not yet written."
Gomes was called upon late in a 5-5 game to face Blue Jays reliever Brett Cecil. To that point, Gomes had enjoyed considerable success against the lefty in his career, going 5-for-8 in 12 plate appearances.
It was a tense moment in a game that had swayed back and forth in favor of both sides.
Gomes watched a fastball go by him for strike one. He then waited on a curveball and launched it over the center-field wall to break the stalemate and pave the way for Freddie Freeman's two-run shot four batters later, which produced the eventual winning run.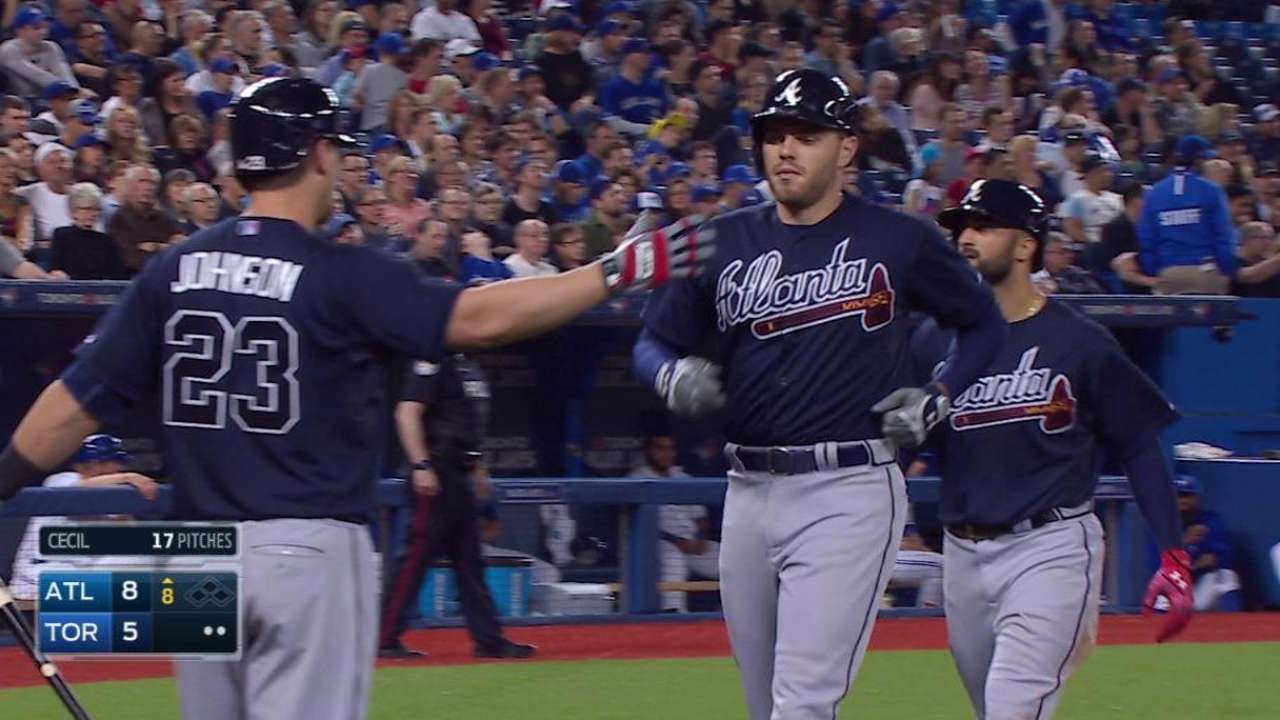 "You've got this weapon sitting in the dugout, Jonny Gomes, who traditionally wears out left-handed pitchers," Braves manager Fredi Gonzalez said. "You get an opportunity to get the matchup that I want in that situation and we used it, we took advantage of it."
Coming off the bench is a role that Gomes has come to embrace over his 12-year career. His teammates say you'll never find him sitting in the dugout, and that he's ready to grab a bat at a moment's notice. It's an infectious enthusiasm, according to Freeman.
"He's awesome," Freeman said. "He's always fired up, it doesn't matter if we give up a couple of runs, he's out there yelling to get some runs and when we score runs, play defense. He's always screaming in the dugout, he's always keeping us loose, keeping us fired up."
Gomes said he learned the tricks of his trade from several seasoned DHs and pinch-hitting counterparts he's encountered over the years. Players like Stairs, Frank Thomas, Paul Konerko, Gary Sheffield and David Ortiz, to name a few, would connect and discuss the challenges of being, for lack of a better term, professional hitters.
"It was early on in my career. But it was funny, the older guys, pinch-hit, DH guys, it's kind of like a little cult," Gomes said. "We would always reach out to one another…and discuss success, what works, what doesn't."
Jamie Ross is an associate reporter for MLB.com. This story was not subject to the approval of Major League Baseball or its clubs.