Hanigan 'happy to contribute' with first Fenway homer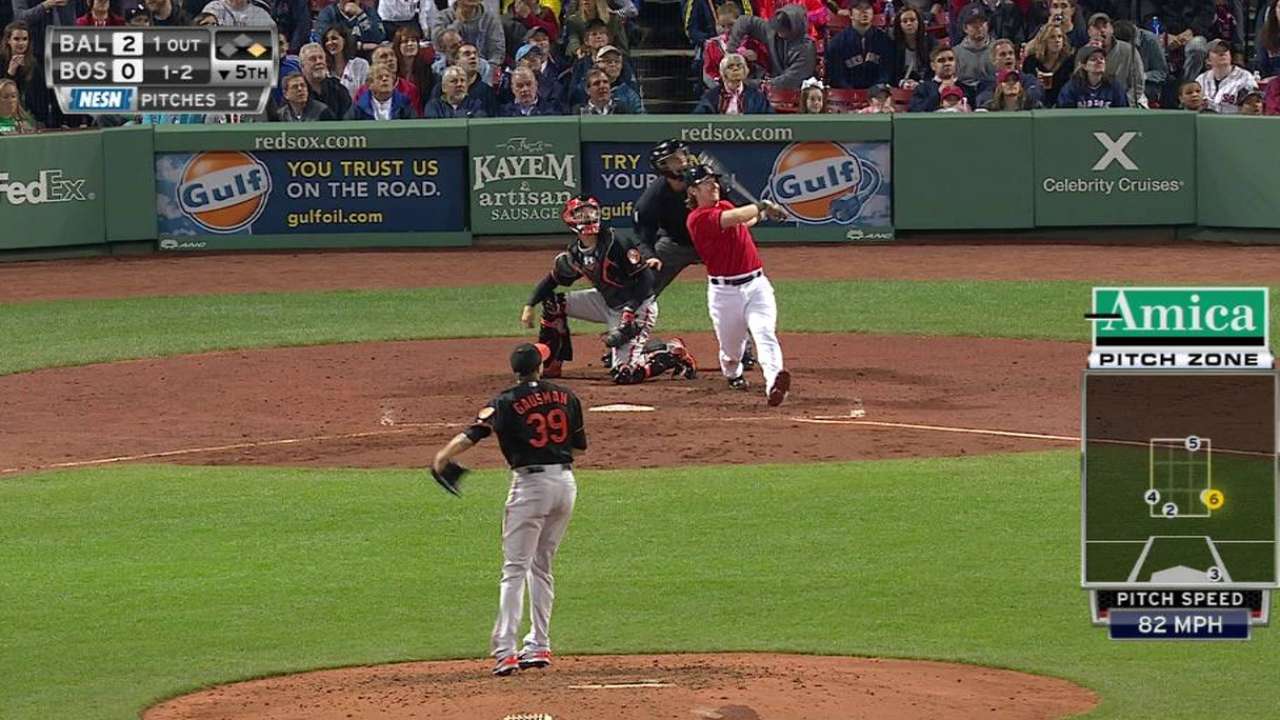 BOSTON -- As Ryan Hanigan faced a barrage of fastballs from Orioles pitcher Kevin Gausman, fouling off a pair of them to stay alive in the at-bat, the Red Sox catcher was still sitting on the righty's high-90s heater as the fifth inning reached its boiling point Friday night.
With a mighty stroke, Hanigan launched the next pitch onto an awning behind the seats atop the Green Monster and watched it bounce back onto the field as he trotted the bases.
"I felt like my timing for the fastball was there," Hanigan said. "Then he threw a breaking ball, I saw it up and I was back, and I just put a good swing on it."
The two-run, game-tying home run proved a pivotal turn in the Red Sox's 3-2 win over the Orioles on Friday night. The deep shot was not only the veteran backstop's first with the Red Sox, but also his first at Fenway Park.
"It was fun. I felt good, man," Hanigan said. "Happy to contribute. It was kind of a big hit in that game to get us in the game again. A team win."
Growing up a mere 25 miles away from Fenway in Andover, Mass., Hanigan always relished the thought of going deep in the Major League stadium closest to his home, but the moment had eluded him until he pulled Gausman's slider into the seats.
"I hit one off the wall last year against the Red Sox," said Hanigan, who went 3-for-12 in four games at Fenway with the Rays last season. "Nice to have one for the home team."
Since coming to the Red Sox via trade last offseason, Hanigan was expected to receive significant playing time as a backup to Christian Vazquez. With Vazquez out for the year following Tommy John surgery, Hanigan's role has become even more prominent.
Though the 34-year-old will be counted on more for his defense, he has still been a stabilizing presence at the bottom of the batting order, highlighted by his seven walks in 30 plate appearances.
"It's been great," first baseman Mike Napoli said of Hanigan's offense. "[He] sees a lot of pitches, battles. That at-bat tonight where he got the mistake was a good at-bat. He fouled some tough pitches away. The guy was throwing 98, 99 [mph]. Got a hanging breaking ball, and that was huge for us."
Alec Shirkey is an associate reporter for MLB.com. This story was not subject to the approval of Major League Baseball or its clubs.