Slumping with bat, Napoli helps with legs
Red Sox slugger scores game-winning run after great read on blooper to outfield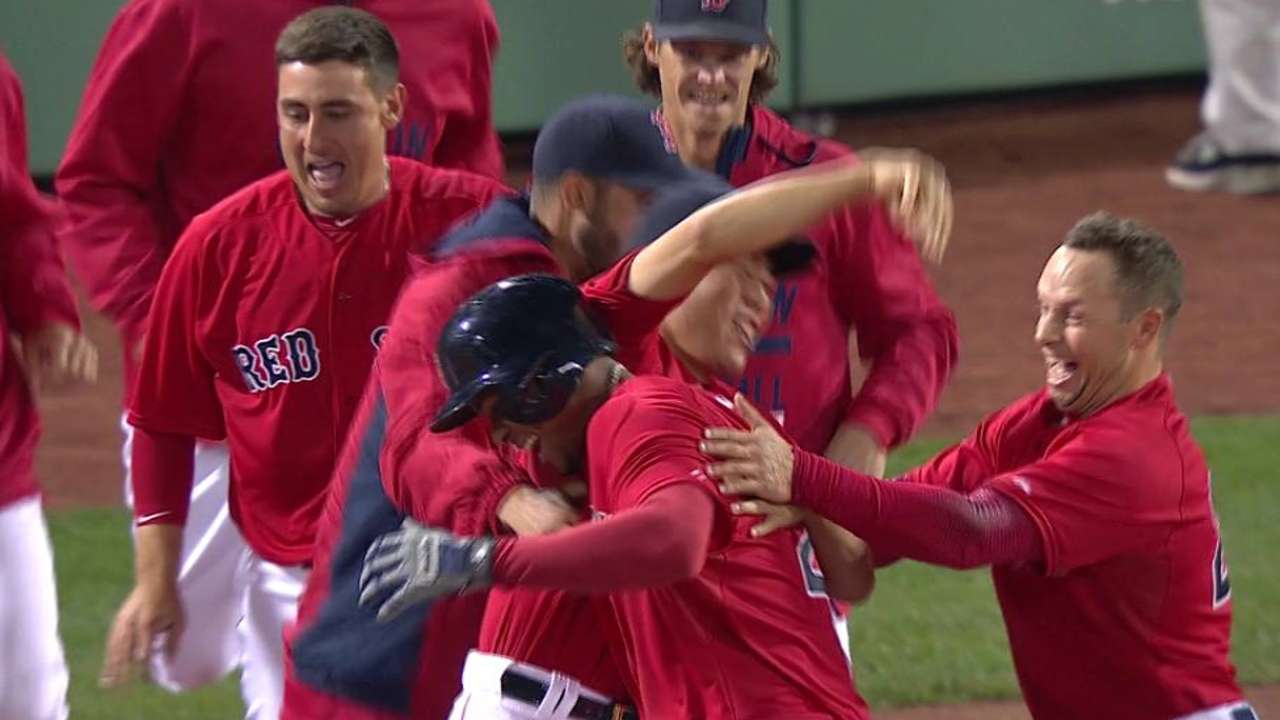 BOSTON -- At some point soon, Mike Napoli (.118 average, no homers) will rediscover his stroke. But in the meantime, the first baseman will find other ways to help his team win. In Friday's 3-2 victory over the Orioles, Napoli used the most underrated aspect of his game to score the game-winning run.
Though Napoli is known for his power, his on-base skills and defense, he doesn't get enough credit for being one of the smartest baserunners on the Red Sox.
When Xander Bogaerts hit his flair into right with one out in the ninth, Napoli could have stayed close to second base to make sure he didn't get doubled off. Instead, he knew it was going to drop and never hesitated, roaring in to score easily.
"I got a read on a ball, and I knew we had to score in that situation," said Napoli. "I checked my outfielders and saw where the infielders were, and I reacted."
The ball didn't go that far past second baseman Jonathan Schoop or in front of right fielder Travis Snider, but Napoli read it perfectly.
"Nap sold out," said Red Sox catcher Ryan Hanigan. "He read it awesome. I was telling him, 'Man, you knew it was going to drop, huh?' He gave me the nod."
Though he came up as a catcher, Napoli has always taken pride in his baserunning.
"I owe that to the Angels' organization, I think," said Napoli. "It's the way we were taught. I'm just a guy who pays attention to detail. I want to be able to do stuff like that and help my team in any way. I learned at a young age."
Though some players let offensive slumps affect other aspects of the game, Napoli has always managed to avoid doing that.
"That's just who I am," said Napoli. "It doesn't matter how bad it's going at the plate. I'm going to find a way to impact the game. I take my baserunning serious -- and my defense."
Ian Browne is a reporter for MLB.com. Read his blog, Brownie Points, and follow him on Twitter @IanMBrowne. This story was not subject to the approval of Major League Baseball or its clubs.