McCutchen's patience pays off against Brewers
Cleanup hitter's nine-pitch at-bat shifted momentum for Bucs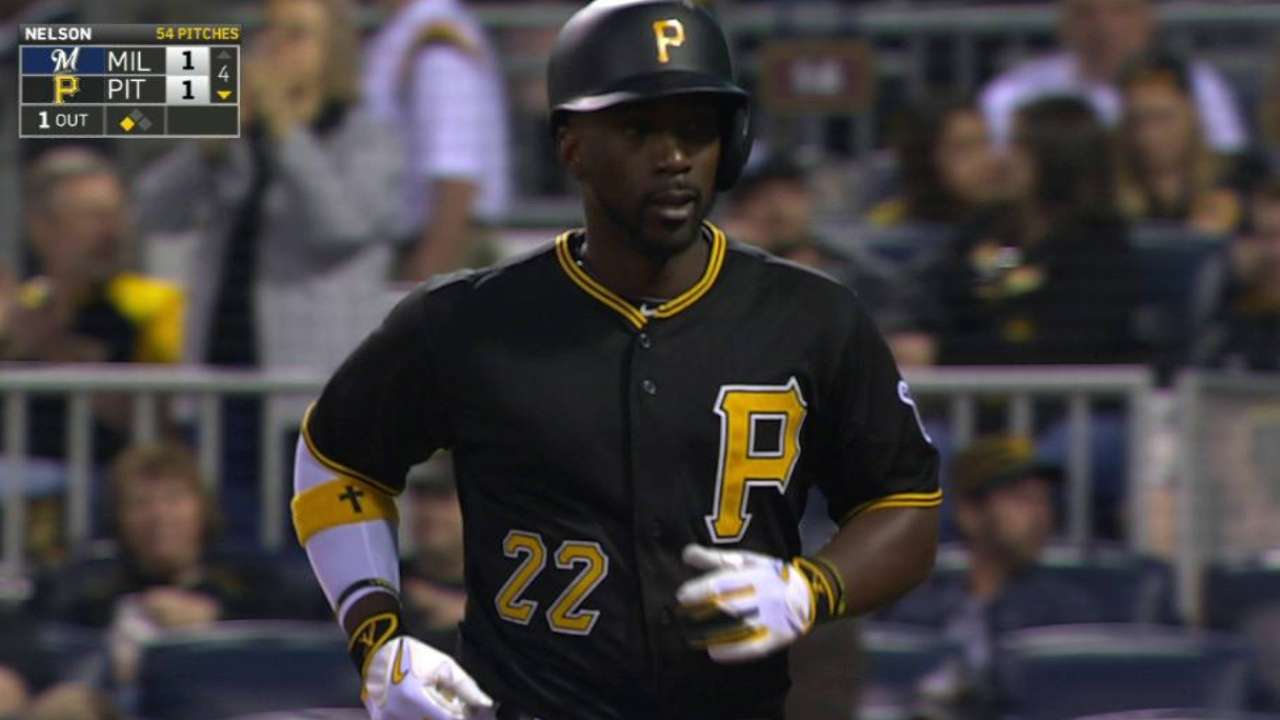 PITTSBURGH -- For the first time since 2011, Andrew McCutchen did not come to bat in the first inning of a Pirates game. When he did get into the batter's box, he was sure to make the most of it.
McCutchen batted cleanup for the Bucs for the second time in four years. When he last did so in 2013, he still got his first-inning ups amidst a rally.
Not Friday night. Jimmy Nelson continued toying with the Bucs, retiring them in order in the first. Six days earlier, he had pitched seven innings of two-hit shutout ball against the Bucs -- minus McCutchen, who had sat out that game with a sore left knee.
Time for the lead Pirate to strip away Nelson's invulnerability. McCutchen dragged Nelson through a nine-pitch at-bat, ending it with a ringing double into the left-field corner.
"There's no advantage either way," McCutchen said of such extended battles after the Pirates' 6-3 victory. "I just like winning the battle."
Two innings later, the Pirates ended Nelson's shutout hold on them -- McCutchen delivering the run with a scoring infield grounder. An inning after that, they had enough runs to beat him.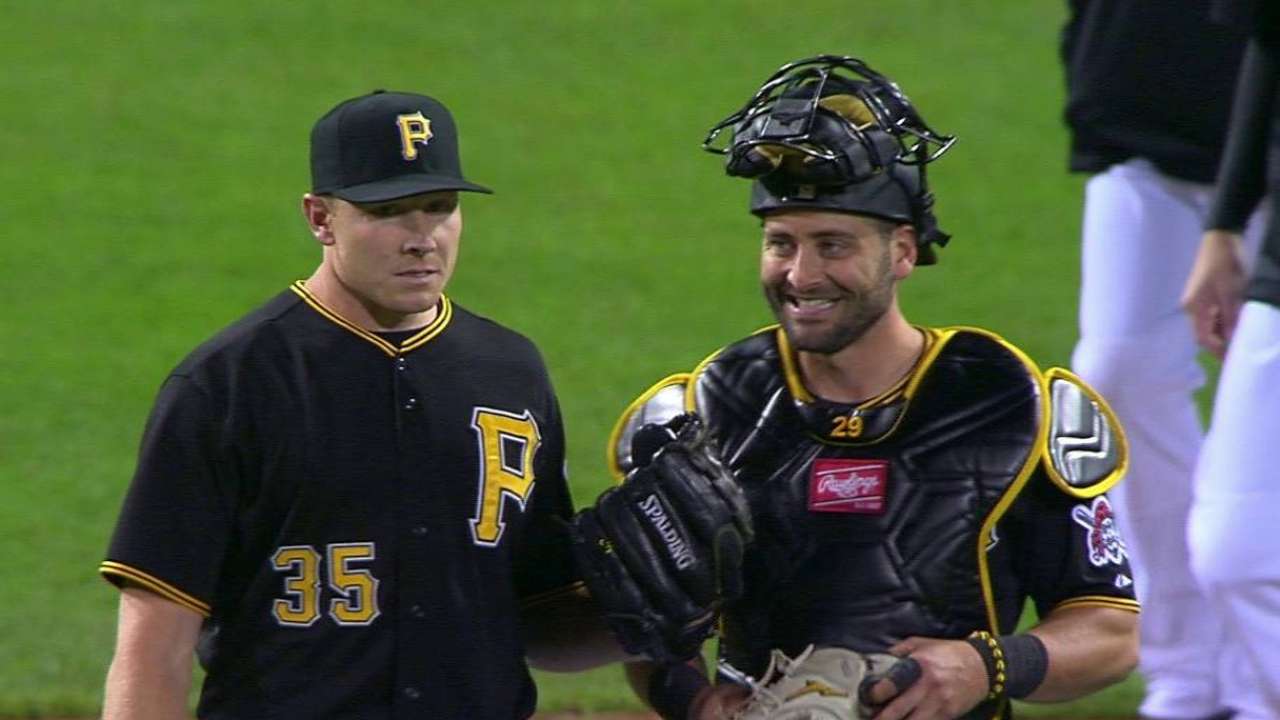 "A lot of things in this game can be contagious," manager Clint Hurdle said. "We're facing a guy who made pitches (Saturday) when he wanted to make pitches, without too much resistance. We were able to make him work in a different fashion -- and that (McCutchen) at-bat I believe played in all of it."
Having McCutchen bat cleanup wasn't an experiment, but an exception, afforded by a scheduled day off for Neil Walker.
"With the absence of Walker," Hurdle said, "I thought we'd rearrange things a little bit to see how it plays out."
On Walker's rest days in 2014, Gaby Sanchez and Ike Davis, both gone from the club, divided cleanup duties.
McCutchen had last batted cleanup on June 2, 2013. Prior to that, he did so 27 times in 2011.
"The lineup was just made out," said McCutchen, having no voice in it. "It's not a big deal."
Touching all the bases
• First: The win was Hurdle's 337th as Pirates manager, breaking a tie for ninth place on the club's all-time list he had shared with Lloyd McClendon.
• Second: Pedro Alvarez was walked intentionally in the sixth inning -- snapping a stretch of 44 innings without a walk by Pirates batters.
• Third: The Pirates remained without a fielding error through 62 innings, already exceeding the longest flawless stretch of 2014 (54 innings).
• Home: The Pirates got four hits with men in scoring position Friday; in the three games of the preceding Tigers series, they had only three men even get into scoring position.
Tom Singer is a reporter for MLB.com and writes an MLBlog Change for a Nickel. Follow him on Twitter @Tom_Singer. This story was not subject to the approval of Major League Baseball or its clubs.