Espinosa rediscovering left-handed stroke
Switch-hitter improves to 4-for-8 as a lefty with second homer in Friday's win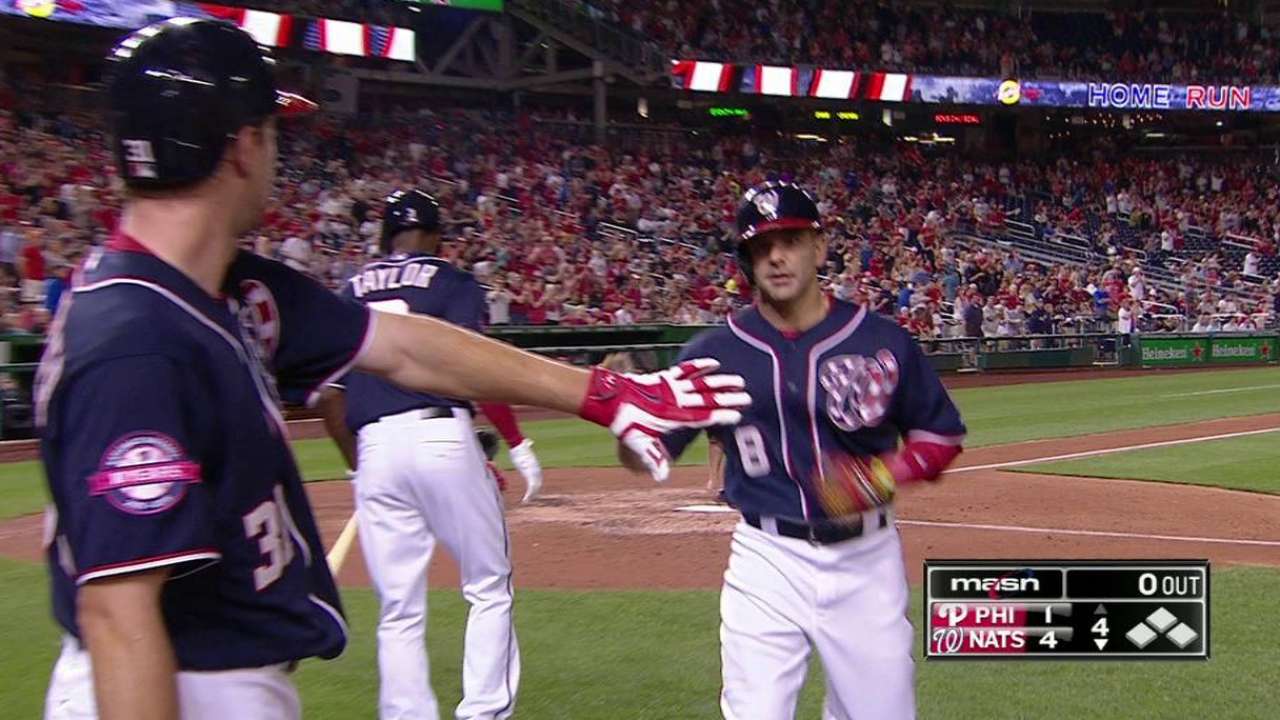 WASHINGTON -- Just a couple of weeks ago, before the Nationals left Spring Training and headed north, Danny Espinosa's switch-hitting days were supposed to be on hold. After two years of severe struggles as a left-handed hitter, Espinosa was batting exclusively right-handed during the Grapefruit League season.
Yet once the regular season began, Espinosa returned to his switch-hitting ways, and although the sample size remains tiny, the results certainly are intriguing. Espinosa went 1-for-2 with a walk and a huge solo home run as a lefty in Friday's 7-2 win over the Phillies, improving to 4-for-8 with a double, two homers and two walks from that side of the plate.
Beyond the stats, however, manager Matt Williams is encouraged by the way Espinosa is swinging the bat as a southpaw.
"Well, I just think he's smooth," Williams said. "I think he's recognizing pitches. I think he's got a good approach at the plate. His [batting practices] have been good from both sides, really.
"It's quiet, and it's compact, and that's what he can do when it's right. He's got power from both sides of the plate. It's special talent when it's right, and when he's easing into it, he's got plenty. I like where he's at."
From 2013-14, Espinosa hit a combined .177/.222/.281 with 132 strikeouts in 356 left-handed at-bats. Meanwhile, as a right-hander against lefty pitchers, Espinosa hit .290/.367/.467, contributing to the decision to experiment with a righty-only approach this spring.
But on Friday, he drew a walk off Phillies starter Sean O'Sullivan in the first inning. Leading off the fourth, he got a sinker up and out over the plate and blasted it well over the center-field wall with a clean, direct swing.
"It's short and it's quiet, and he's recognizing and he's waiting for the ball to get to him and simply laying the head of the bat on it, and he can do that," Williams said. "When he does that properly, the results are there."
Andrew Simon is a reporter for MLB.com. Follow him on Twitter @AndrewSimonMLB. This story was not subject to the approval of Major League Baseball or its clubs.