Hutchison again exits before finishing five innings
Blue Jays righty gets support from bats, but unable to harness command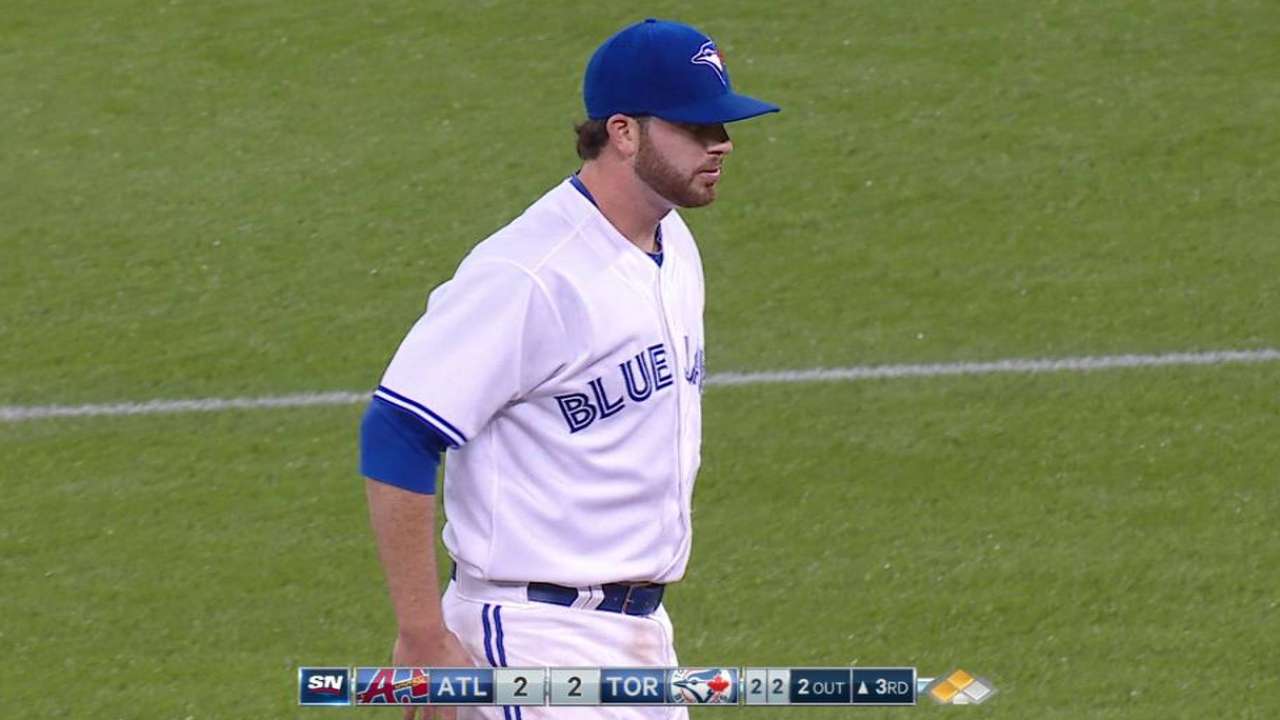 TORONTO --- For the second time in as many starts, Blue Jays right-hander Drew Hutchinson couldn't get out of the fifth inning.
Hutchinson allowed five runs (four earned) on seven hits over 4 2/3 innings while striking out six and walking three. He picked up a no-decision in his second straight start in the Blue Jays' 8-7 loss to the Braves on Friday night.
It's the first time in his career that Hutchinson hasn't recorded at least five innings in consecutive starts.
The right-hander allowed seven earned on seven hits over 4 1/3 innings on Sunday in Baltimore.
"Obviously [I] want to go deep in the game," he said. "Our offense scored seven runs. To not win that game is embarrassing, to be honest."
For manager John Gibbons, Friday's outing was about command for Hutchinson, who is is 1-0 with a 7.20 ERA in three starts.
"He was kind of in and out. At times he was popping that fastball and locating it… it's really what happens to him all the time," Gibbons said. "He starts scattering it. It's pretty unanimous what happens to most pitchers. The game is being able to locate pitches, fastballs with some offspeed stuff when you get behind in the count.
"There's very few guys that can go out there and just overpower you whether they're on or not. When they're not, it just doesn't happen."
Hutchinson hasn't gone at least six innings in four of his last five starts. The 24-year-old's three walks against Atlanta was his highest total at Rogers Centre since May 26, 2014 -- a span of nine home starts.
"It looked like he had an aggressive mindset, just wasn't commanding the ball like he wanted to out there," Toronto catcher Russell Martin said. "I thought he did a good job of keeping us in the game, but his pitch count got up there, they were battling at the plate and they got him out of there early."
Dhiren Mahiban is a contributor to MLB.com. This story was not subject to the approval of Major League Baseball or its clubs.