Dominant Scherzer finally gets first win with Nats
Right-hander strikes out nine and allows one run over eight in win over Phillies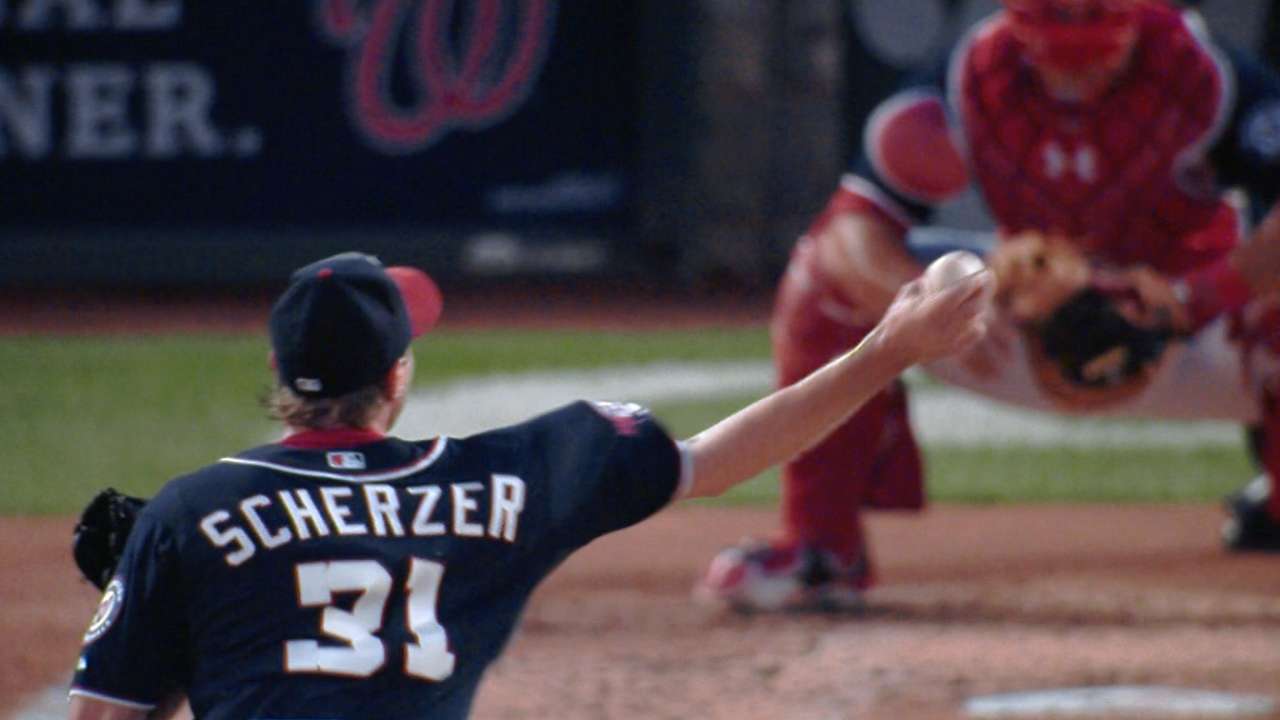 WASHINGTON -- As Nationals manager Matt Williams watched Max Scherzer pitch on Friday night against the Phillies, he didn't see his ace right-hander firing his best fastball. But Scherzer did just fine without it.
Compensating with his changeup, slider and curveball -- plus an occasional cutter -- Scherzer put up his third highly effective start in a row to begin his Nats career, after leaving the Tigers and signing a seven-year, $210 million deal with Washington. This time, he got enough offensive support to pick up a victory, as Washington won, 7-2. Scherzer's ERA now stands at 0.83, and he has 25 strikeouts and four walks over 21 2/3 innings.
"I'm just glad he's on my team," right fielder Bryce Harper said. "He's one of the best in all of baseball. I've been saying that since Spring Training. Him going out there, being able to go seven or eight strong for us, it's very impressive. He's a bulldog out there, he's got that mentality that he wants to kick your teeth in and really go at it, and he's very, very good out there."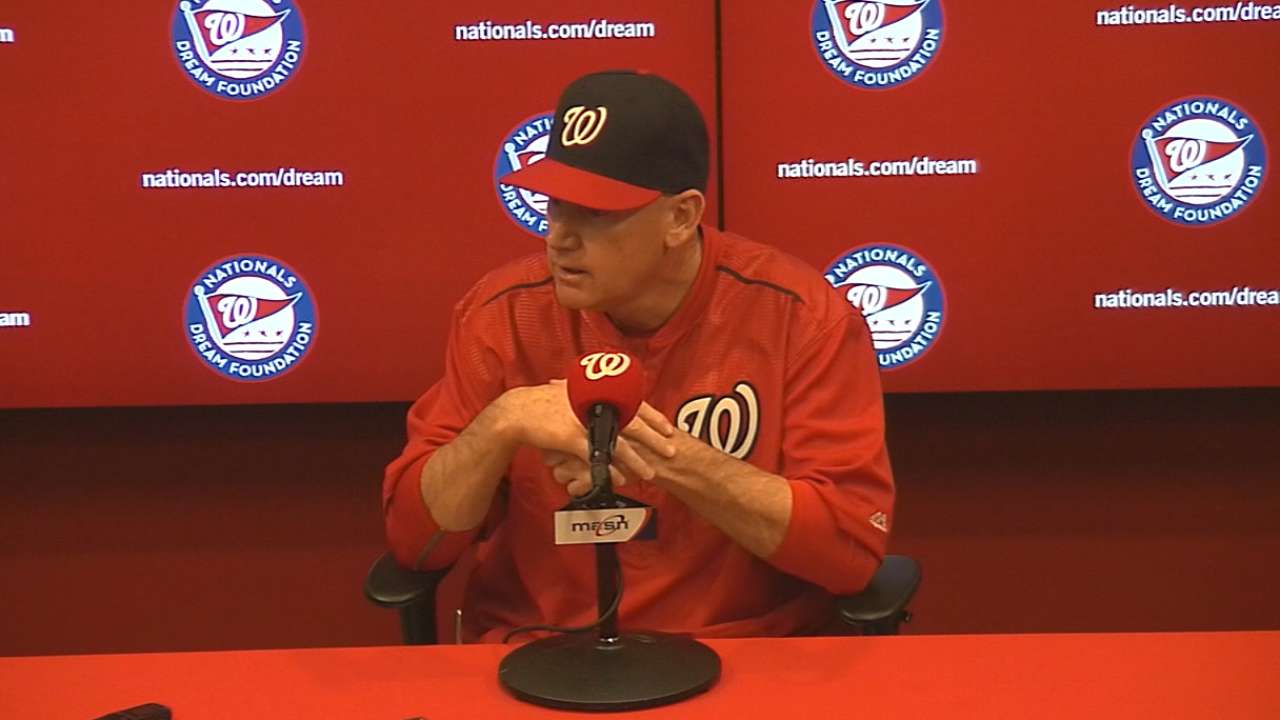 Through 11 team games, Scherzer owns the starting rotation's two longest outings, throwing 7 2/3 innings on Opening Day and then going eight on Friday. He gave up only one run on four hits, striking out nine without issuing a walk and throwing 100 pitches.
"I take a lot of pride in that," Scherzer said. "Especially now when the bullpen gets a little taxed, especially in April because you don't quite have the extended pitch count to go into different situations like you normally would later in the season. So, to be able to get into the eighth inning and give the bullpen really a night off tonight, it really helps us moving forward."
Scherzer was able to control the Phillies throughout his outing, despite his lowest fastball velocity of the season so far. After giving up two singles in the first inning, he allowed only two baserunners the rest of the way, not counting an Ian Desmond error in the seventh.
It helps that Scherzer is quickly developing a good relationship with catcher Wilson Ramos, who guided Scherzer through his second confrontation with the Phillies in the past week.
"Willy and I were on the same page on where to mix and match the offspeed pitches, when to go soft in certain counts and when to stay hard," Scherzer said. "Willy has a good feel for that. And we had a good gameplan of when to do it. When you face a team for the second time in back-to-back starts, they kind of know you a little bit more, they know your pitches. So any time you can execute like that, it's a good sign."
Andrew Simon is a reporter for MLB.com. Follow him on Twitter @AndrewSimonMLB. This story was not subject to the approval of Major League Baseball or its clubs.