Homers continue to be problem for Phillies' pitchers
Philadelphia has allowed 15 long balls in 11 games this season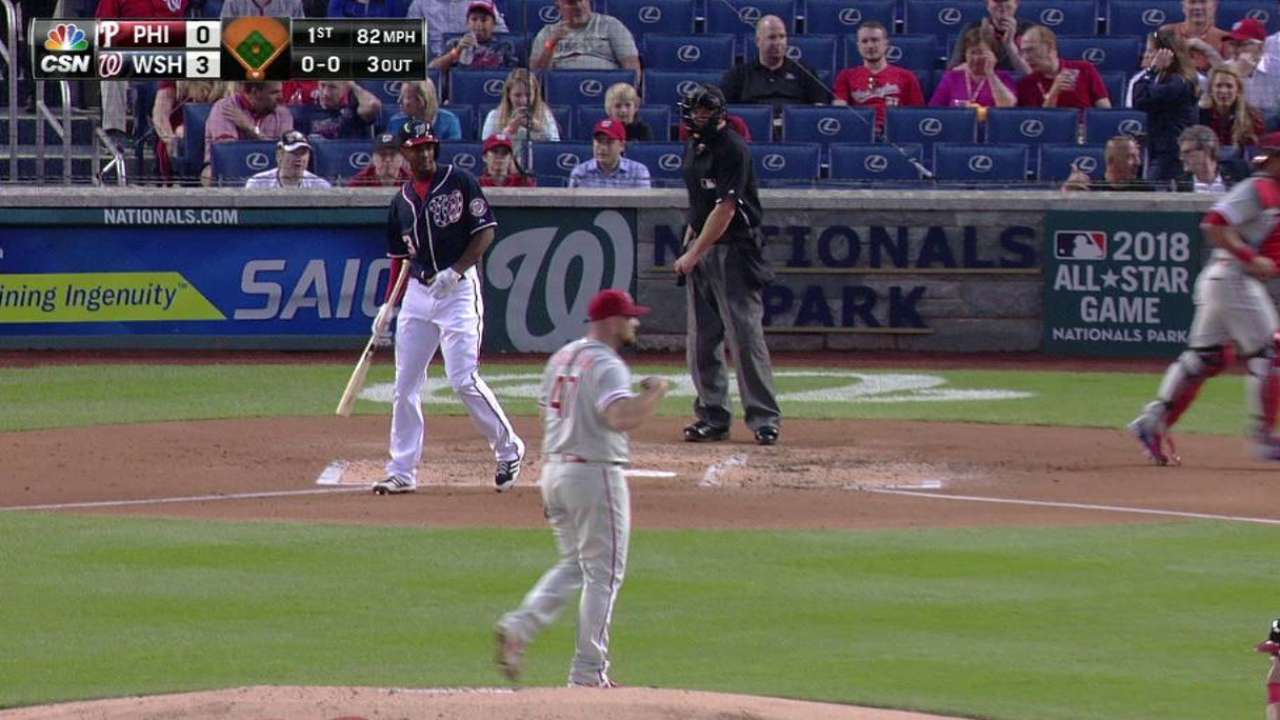 WASHINGTON -- Phillies starter Sean O'Sullivan pitched effectively for most of his five-inning stint Friday night against the Nationals. There were just two pitches he'd love to have back.
The first came in the first when Bryce Harper smacked a 1-2 pitch over the center-field fence for a three-run homer. O'Sullivan wasn't as disappointed with the other pitch he'd like to have back, a solo homer to Danny Espinosa in the fourth, but those pitches were big reasons that Washington handed the Phillies a 7-2 loss, the team's sixth consecutive defeat.
Harper crushed a curveball that hung and deposited it over the fence in center. That gave the Nationals a quick 3-0 lead, and the slumping Phillies (3-8) never drew closer than two after the Harper blast.
"For me, it was just a matter of not getting that pitch where I needed to get it," O'Sullivan said. "I felt like I had him set up for the pitch and didn't execute."
Manager Ryne Sandberg said the pitch, which O'Sullivan (0-1) was trying to throw down and in, didn't break sharply enough.
"The three-run homer was a big blow," Sandberg said. "That was kind of a tumbler of a breaking ball. It wasn't his hard one at all. It was right in the zone. That was one pitch he'd like to have back, for sure."
The second homer gave the Nationals a 4-1 lead in the fourth. But homers have been a problem for the Phillies' staff throughout this young season, as they've now allowed a National League-high 15 already.
The Phillies have allowed four in the first two games of this weekend series. Cole Hamels gave up two in Thursday's loss, and he's surrendered seven himself in 2015.
O'Sullivan said he could only speak for himself, but plans on trying to correct his problems in this area during his next bullpen session. For now, he said the main thing that all the pitchers can do is simply keep working.
"We've got to keep grinding as a pitching staff, you know, put as many zeroes as we can up, and on the offensive side, scrap as many runs together as we can," he said. "Just keep grinding it out."
Jeff Seidel is a contributor to MLB.com. This story was not subject to the approval of Major League Baseball or its clubs.