Boston walks off on Bogaerts' blooper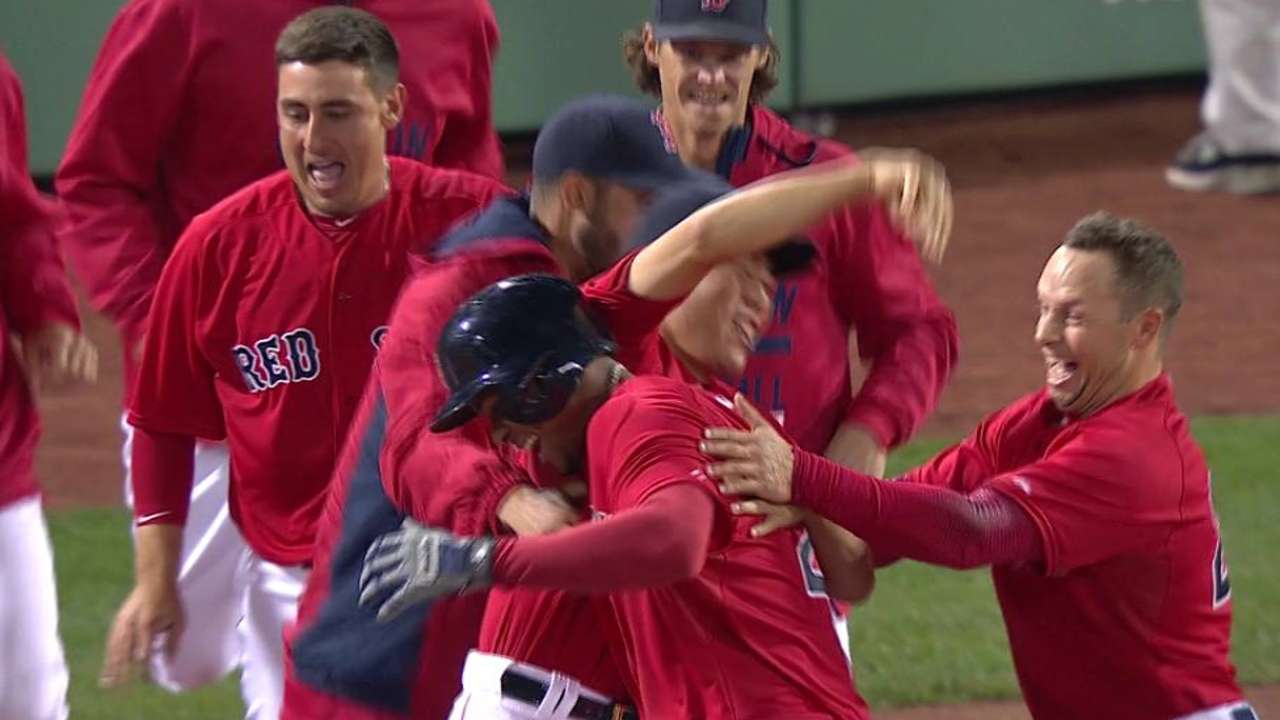 BOSTON -- It came down to a little flair from Xander Bogaerts just over the second baseman's head and into short right field, allowing the Red Sox to pull out a 3-2, walk-off win over the Orioles on Friday night at Fenway Park. It was the first career game-ending hit for Bogaerts, and it came against right-hander Tommy Hunter.
Mike Napoli started the winning rally with a walk. Daniel Nava moved him to second on a sacrifice bunt. The Orioles then went to Hunter. Bogaerts got just enough of an 0-1 curveball to find a patch of grass, and Napoli scored easily from second.
"He was supplying all the power," Bogaerts said of Hunter. "He's a pretty hard thrower. He got me behind in the count right away, 0-1. I had to stay in there and battle and put the ball in play."
Red Sox right-hander Joe Kelly turned in a strong performance, giving up four hits and two runs over 5 2/3 innings. The Orioles worked Kelly hard, forcing him to throw 118 pitches.
Ubaldo Jimenez (3 2/3 no-hit innings) was dominant in the early innings for Baltimore, but wasn't able to finish what he started. The righty was ejected with two outs in the fourth after plunking Pablo Sandoval.
"It wasn't in the head," Jimenez said of umpire Jordan Baker's quick thumb. "If I hit him in my head, that's a thing you might say, 'OK, it looked like it was on purpose.' But it was in the shoulder. You don't pitch left-handed hitters like Pablo down and in."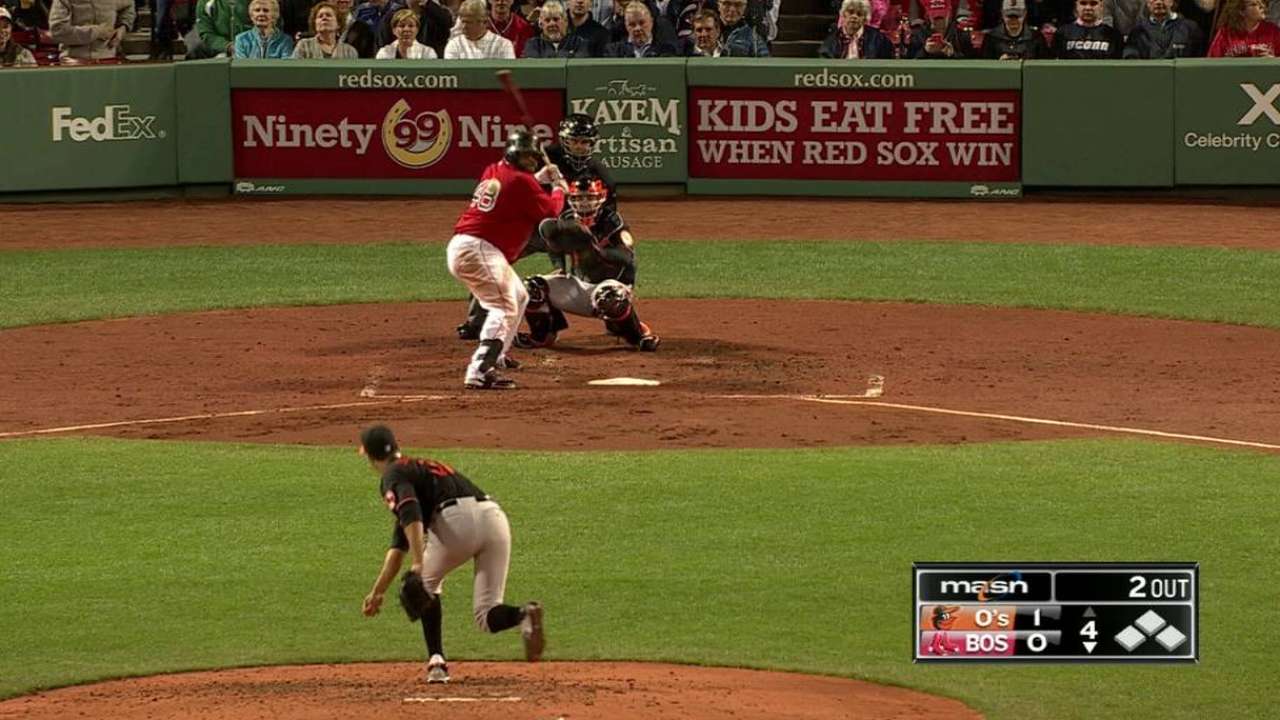 MOMENTS THAT MATTERED
Ubaldo tossed: No one looked more surprised than Jimenez. What made the ejection particularly surprising is that no warnings had been issued to that point. Both teams were warned by Baker following the ejection.
"I was shocked," Jimenez said of his first career ejection. "You don't see that happen every day, without any warning without any history with the player. First game of the series against Boston. There's no history, there's nothing. [Sandoval is] a good hitter and I am trying to go inside. Especially against a left-handed hitter, you aren't trying to go down, you are trying to go up. I had three walks. It's not like I had perfect command of my fastball. I was shocked." More >
Napoli's read helped win game: One of the most underrated aspects of Napoli's game is his baserunning. The slugger got a great read on the blooper by Bogaerts, enabling him to score the winning run. With one out, it would have been understandable had Napoli been more hesitant for fear of getting doubled off. But he went for it, and the Red Sox benefited.
"He's one of our best baserunners we have," said Red Sox manager John Farrell. "His instincts, his awareness, he gets a very good jump. He's just got a great feel for the game, and particularly for a guy that might not have above-average speed, he grades out as an above-average baserunner. A very key decision on his part."
Hanigan hammers one: Hanigan, who grew up a Red Sox fan in Anodver, Mass., clubbed his first career homer at Fenway Park. It was a towering shot that hit a sign behind the Monster Seats to tie the game in the bottom of the fifth. Hanigan came into the game hitting .105. With regular catcher Christian Vazquez out for the season following Tommy John surgery, it will be important for the Red Sox to get at least some production from Hanigan.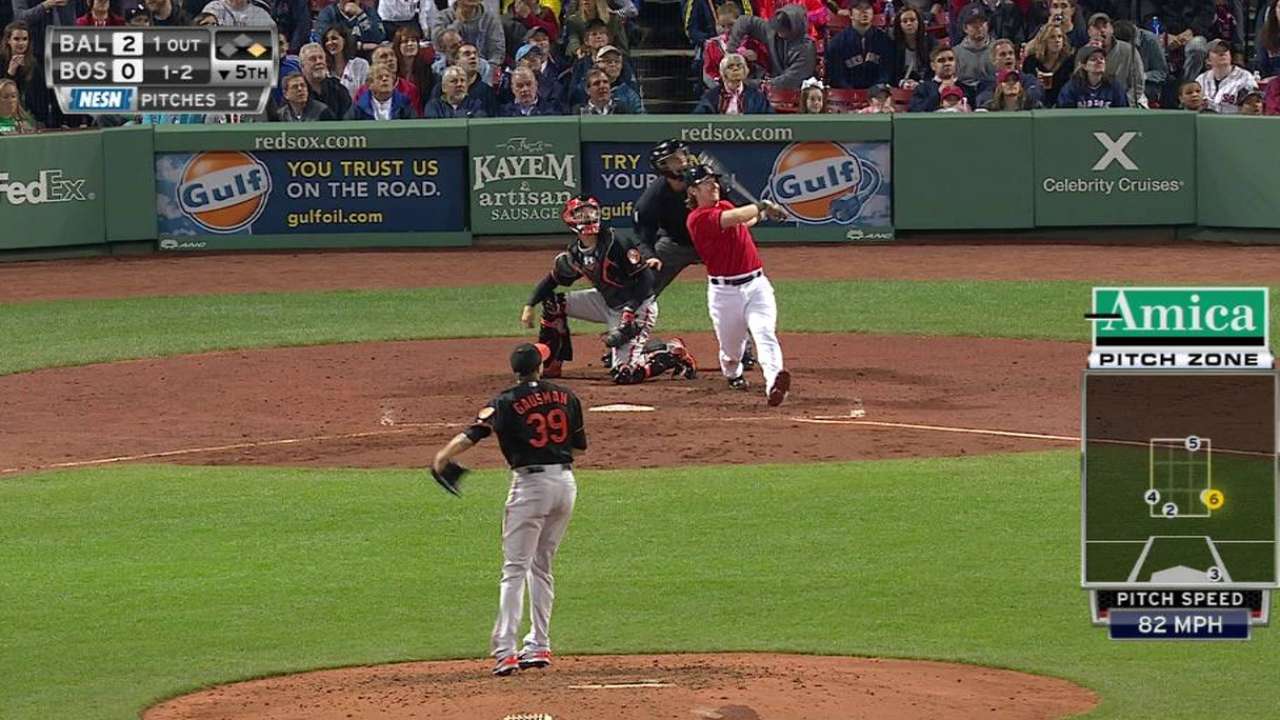 Hunter's hard luck: Entering the game with one out and the winning run on second, Hunter allowed a bloop RBI single to the first batter he faced in Bogaerts. The run was charged to Brian Matusz, as the O's bullpen has allowed runs in all 10 games this season.
"I think we're a pretty confident group. Balls are landing, and some of it is just unfortunate. And the other part is leaving a ball up here and leaving a ball up there," Hunter said. "We're 10 games into the season. I don't think it's any time to push a panic button and anything like that. Just keep going, keep plugging away."
REPLAY REVIEW
Caleb Joseph's fifth-inning home run off Boston starter Joe Kelly -- just past Pesky pole -- was confirmed as a homer. Right fielder Shane Victorino crashed into the wall trying to catch the ball, and Farrell asked the umpires to review whether there was fan interference.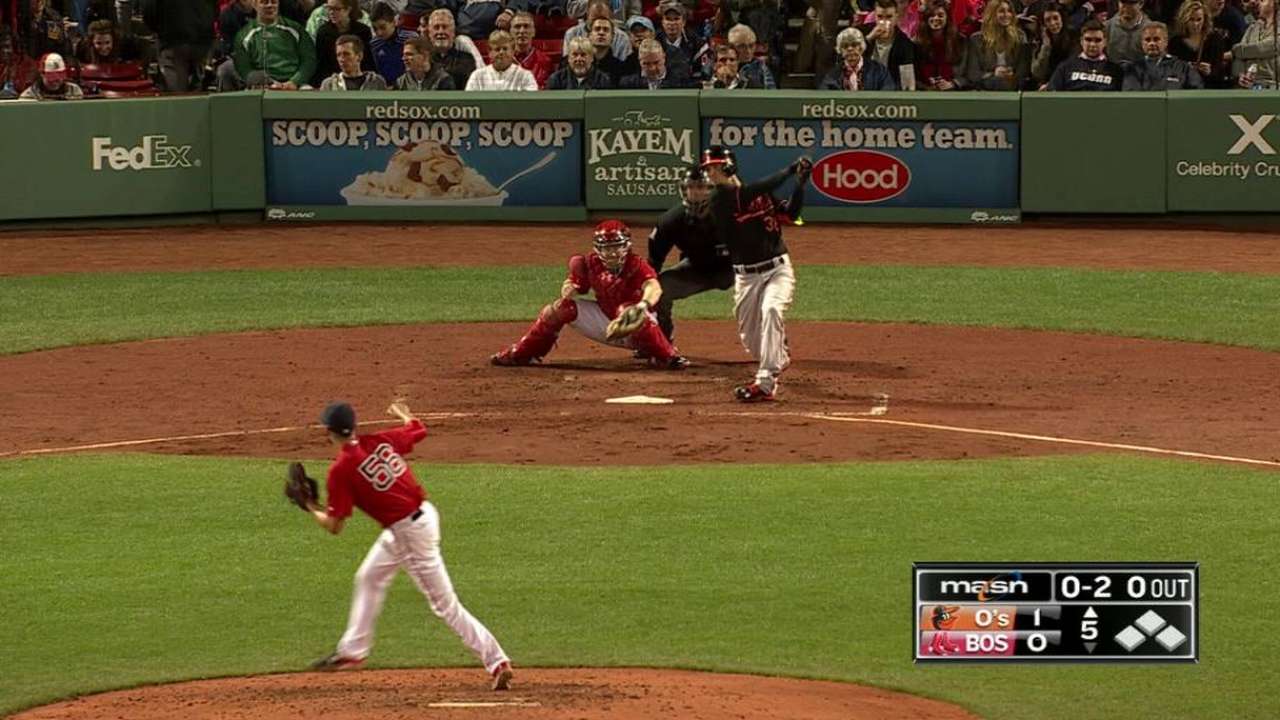 MATCHUP MOVE
Farrell made an interesting decision in the bottom of the sixth inning, when he had Nava pinch-hit for Victorino against side-winder Darren O'Day. The move had nothing to do with Victorino banging into the wall. Instead, Farrell was going with a matchup, feeling the left-handed-hitting Nava would see the ball better against O'Day. Nava flied out to right, but helped the Red Sox win in the ninth with the sacrifice bunt that set up the game-winner by Bogaerts.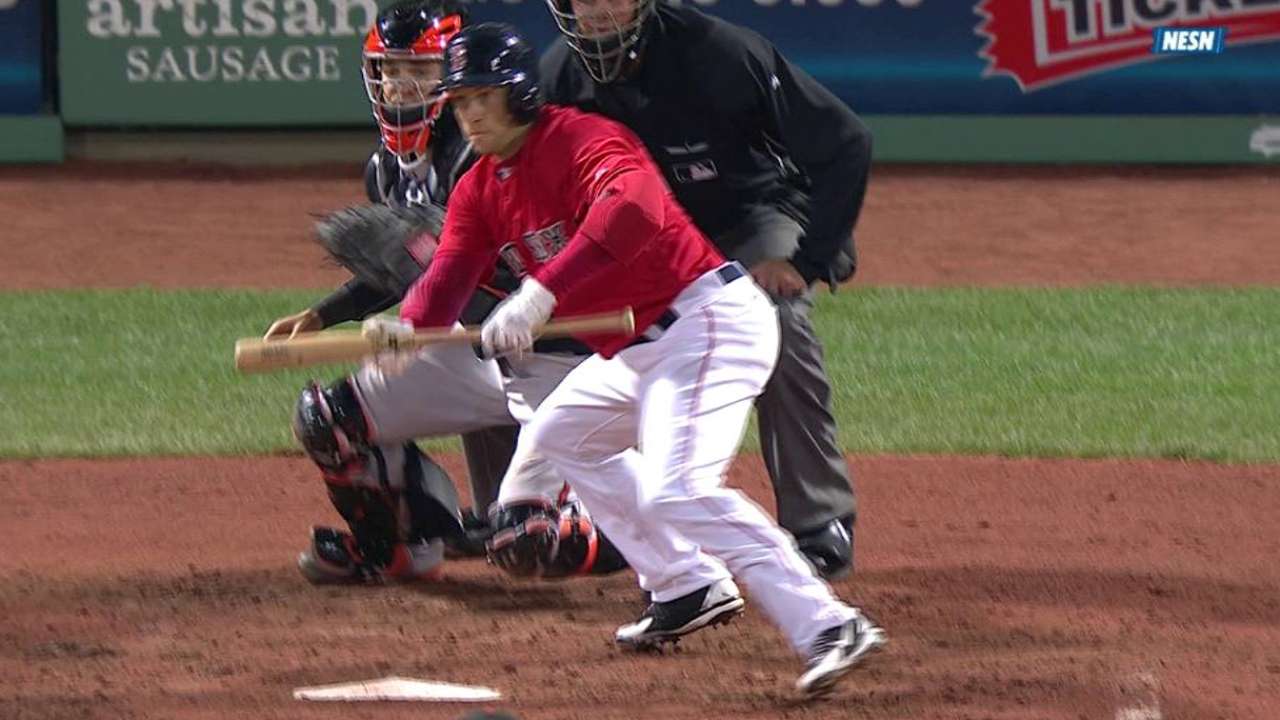 ROSTER MOVE?
With Jimenez's short start, the O's were forced to use four relievers, and Showalter said the team could make a roster move before Saturday's game to help replenish the 'pen.
QUOTABLE
"Ubaldo, the first time up, you try to pitch guys in that get their arms extended and are strong. We threw, I think, three fastballs. We tried to go in the first time up. It's kind of professionally a little embarrassing to see that type of thing have such an impact." -- Showalter, on Baker's decision to eject Jimenez.
WHAT'S NEXT
Orioles: Chris Tillman will take the mound after a rough start to the season, hoping to rebound. With a recent scoring change in his outing, Tillman's early ERA almost doubled. The righty gets a chance to lower that number at Fenway Park on Saturday.
Red Sox: Clay Buchholz will try to recover from a shellacking at Yankee Stadium when he makes his third start of the season on Saturday against the Orioles. Buchholz will try to rediscover the form he had on Opening Day, when he fired a seven-inning gem at Philadelphia.
Watch every out-of-market regular season game live on MLB.TV.
Ian Browne is a reporter for MLB.com. Read his blog, Brownie Points, and follow him on Twitter @IanMBrowne. Brittany Ghiroli is a reporter for MLB.com. Read her blog, Britt's Bird Watch, and follow her on Facebook and Twitter @britt_ghiroli. This story was not subject to the approval of Major League Baseball or its clubs.