Royals-A's benches clear after Esky's injury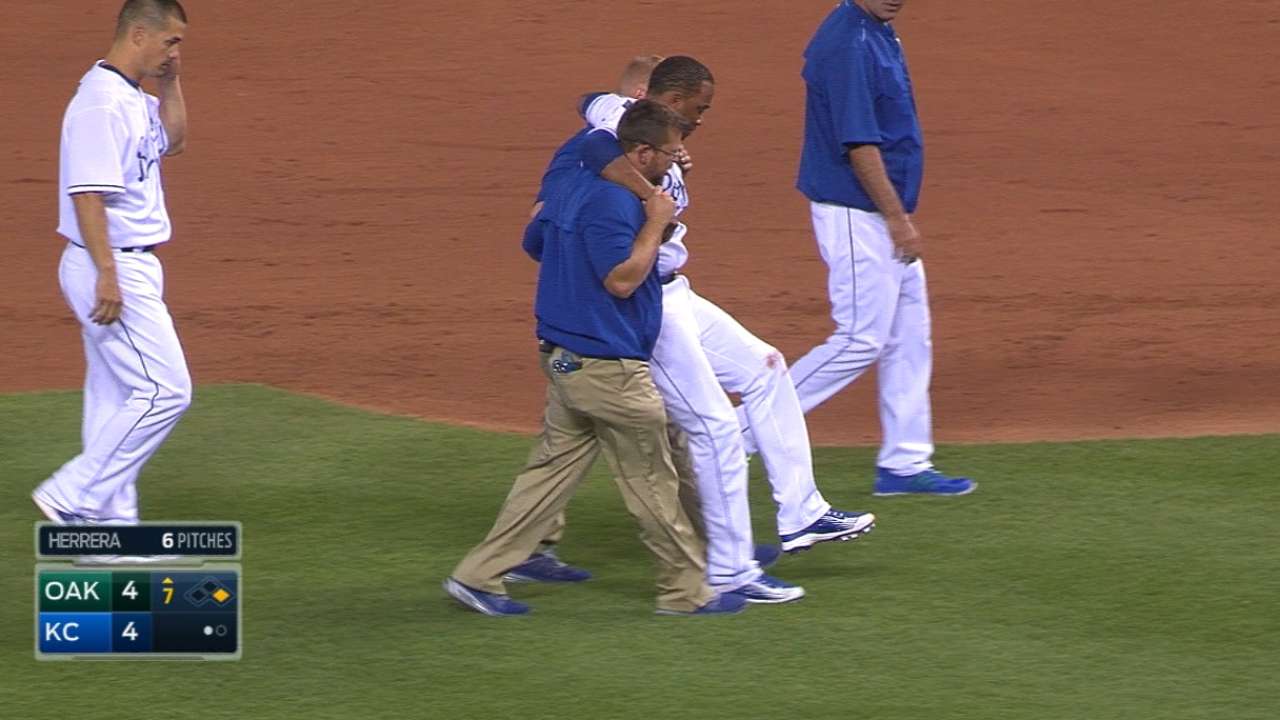 KANSAS CITY -- The benches cleared during the Royals' 6-4 win over the A's in the top of the seventh inning on Friday after Brett Lawrie slid hard into Kansas City shortstop Alcides Escobar.
Escobar sustained a mild sprain to his left knee on the play and had to be helped off the field. He is listed as day to day.
"More of a bruise than anything else," Royals manager Ned Yost said. "It looks like just a couple of days hopefully."
The Royals likely will make a roster move, however, and call up an infielder to back up Christian Colon, who will take over at shortstop.
"Even if it's just a couple of days," Yost said, "we'll probably have to do something."
That could mean that outfielder Reymond Fuentes, just called up on Friday, could be sent back to the Minors.
Meanwhile, inside the Royals' clubhouse there was debate about whether Lawrie's slide into Escobar was intentional.
Josh Reddick hit a hard grounder back to the mound that bounced off Royals reliever Kelvin Herrera and caromed to third baseman Mike Moustakas, who flipped the ball to Escobar.
Lawrie slid hard and was ruled out, though the A's challenged the play and lost as it was ruled as stands. The review lasted 2:27.
"Iffy," said Colon, who sustained a broken leg while enduring a similar slide years ago while playing for Team USA.
Yost said, "It was a hard slide, but I don't think Lawrie anticipated a Moose throw on the play, and when he saw the throw, he kind of shuffled late [into Escobar]."
Royals first baseman Eric Hosmer agreed that Lawrie may have thought Moustakas would throw to first and was startled by the flip to Escobar, so the slide came late.
"I just don't think it was intentionally trying to hurt anyone," Hosmer said.
Said Lawrie, "I know [Escobar]. He was in the Brewers' organization when I was, a couple levels ahead of me. That's a guy I always say, 'What's up?' to. When we're out there, we always [talk] and wish each other the best of luck. No one's trying to hurt anybody. That's a situation in the sixth or seventh inning, in a tight ballgame, no one's trying to hurt anybody there. I'm just trying to break up a double play."
Jeffrey Flanagan is a reporter for MLB.com. Follow him on Twitter at @FlannyMLB. This story was not subject to the approval of Major League Baseball or its clubs.