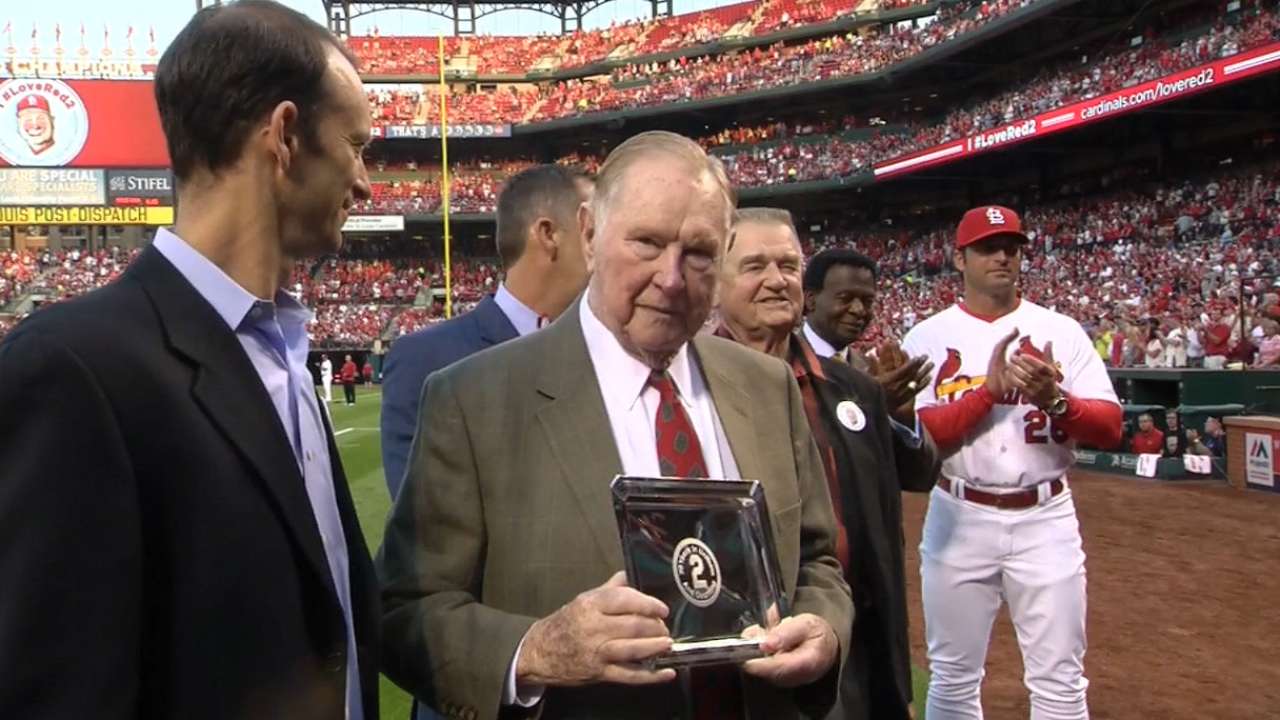 ST. LOUIS -- Seventy years before Kris Bryant made his much-anticipated debut at Wrigley Field, the ballpark on Chicago's north side served as the setting for the debut of a future Hall of Famer.
Batting fourth for the visiting Cardinals, Red Schoendienst went 1-for-4 with a triple in a loss to the Cubs that day. What he remembers, though, was the error he committed in left field, just as he had committed an error in his first professional game for Class D Albany (Ga.) some three years earlier. Sitting in a Union City, Tenn., clubhouse after that debut, Schoendienst was approached by then-Cardinals executive Branch Rickey.
"Young man," Schoendienst recalled Rickey saying, "You're a great ballplayer. I know you made some errors, but you're going to make a lot more errors before you get out of this game.' He made me feel pretty good. I thought I was going back home, but I stayed. And I'm still here."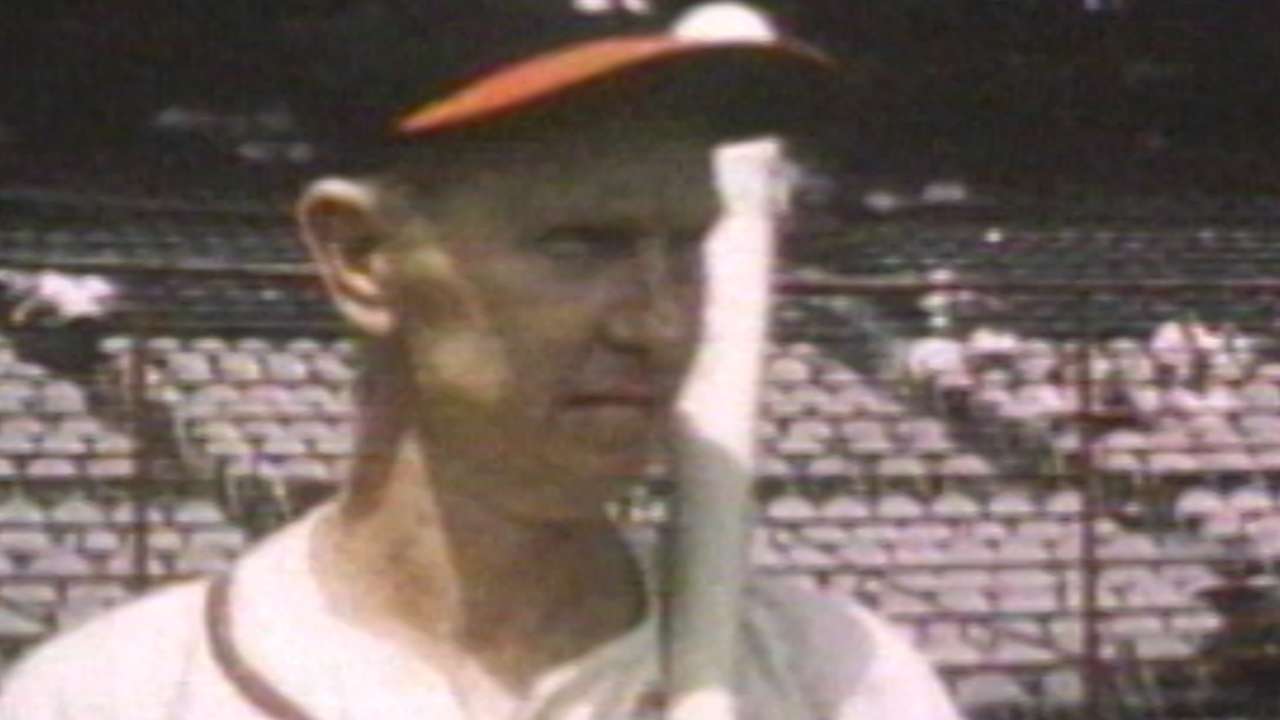 Still here, indeed, some 73 years after signing his first contract with the Cardinals. The last 70 of those years have been spent in a Major League uniform, with Schoendienst transitioning from player to coach to manager to front-office special assistant. Using the anniversary of his big league debut as an opportunity to recognize Schoendienst's tenure with the organization, the Cardinals held a pregame ceremony for him on Friday at Busch Stadium.
Schoendienst entered in a convertible and received a standing ovation as he circled the field. Players and staff from both the Cardinals and Reds lined their respective dugouts to applaud Schoendienst as he passed by. He was then joined by family members and various Cardinals executives behind home plate, where Schoendienst was presented with a sterling silver tray that had his uniform No. 2 engraved on it.
All Cardinals uniformed personnel wore a similar No. 2 patch on their sleeves for the game. The grounds crew sketched a large "2" onto the infield dirt behind second base, the position Schoendienst played for most of his 19 Major League seasons.
"I'm not much for big [productions] or anything such as this, but it's a big thrill today and, of course, it's a big thrill to have my family there on the field," said the 92-year-old Schoendienst. "Baseball has been so good to me. I don't know how to express myself to thank them for everything that has happened to me."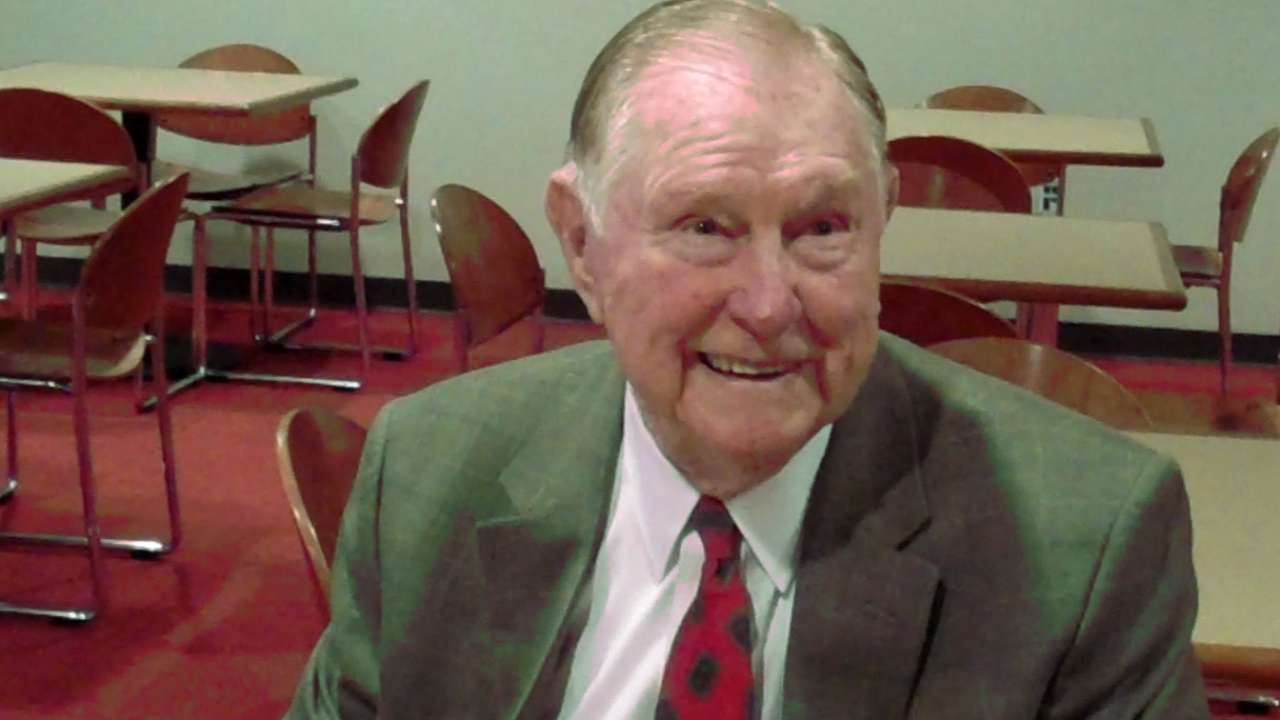 In addition to the pregame fanfare, the Cardinals showed photos and video clips of Schoendienst throughout the game, along with taped messages from current Cardinals. Hall of Famers Lou Brock and Whitey Herzog were among those who attended Friday's game with Schoendienst.
They, along with all club employees, sported "I #LoveRed2" buttons to commemorate the occasion and encourage fans to submit video clips to Schoendienst via social media using that hashtag.
"The fans, I see they have a button on them -- I love Red," Schoendienst said. "Well, I love you all, too. The fans have always been great. I want to thank the organization for this great day."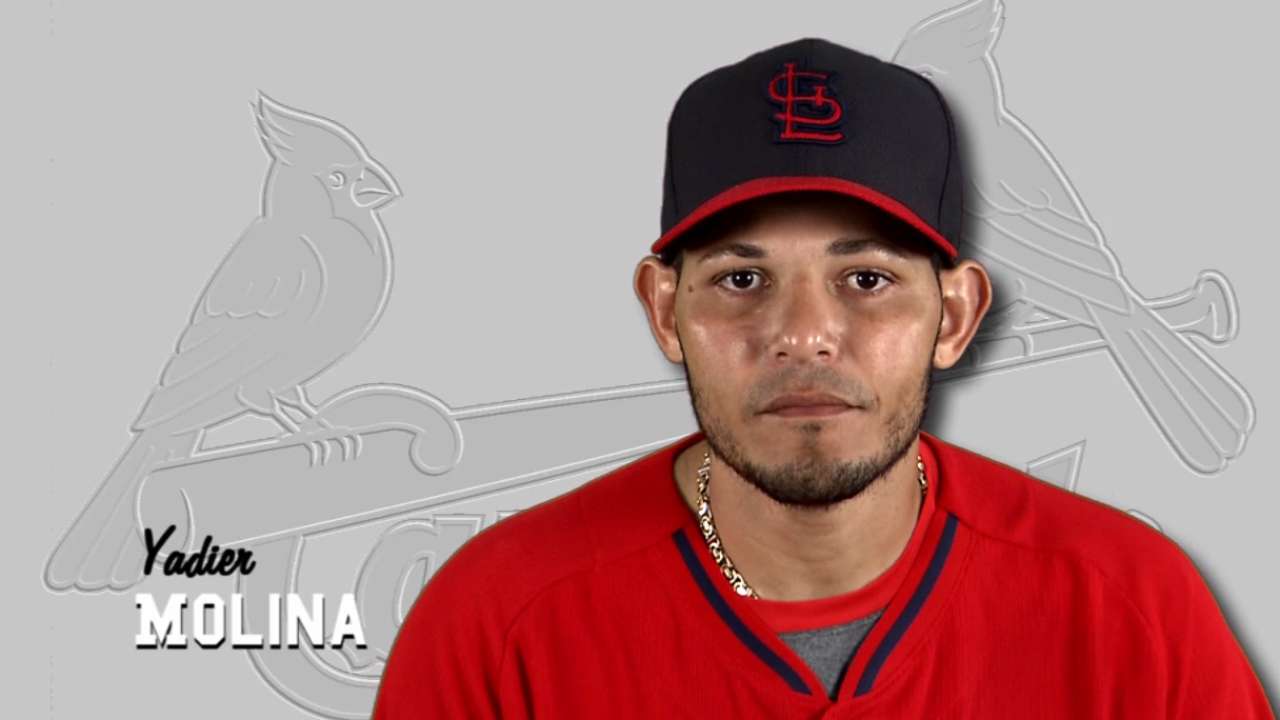 Jenifer Langosch is a reporter for MLB.com. Read her blog, By Gosh, It's Langosch, follow her on Twitter @LangoschMLB and like her Facebook page Jenifer Langosch for Cardinals.com. This story was not subject to the approval of Major League Baseball or its clubs.