Axford may need to extend emergency family leave
Rockies pitcher's son still hospitalized after rattlesnake bite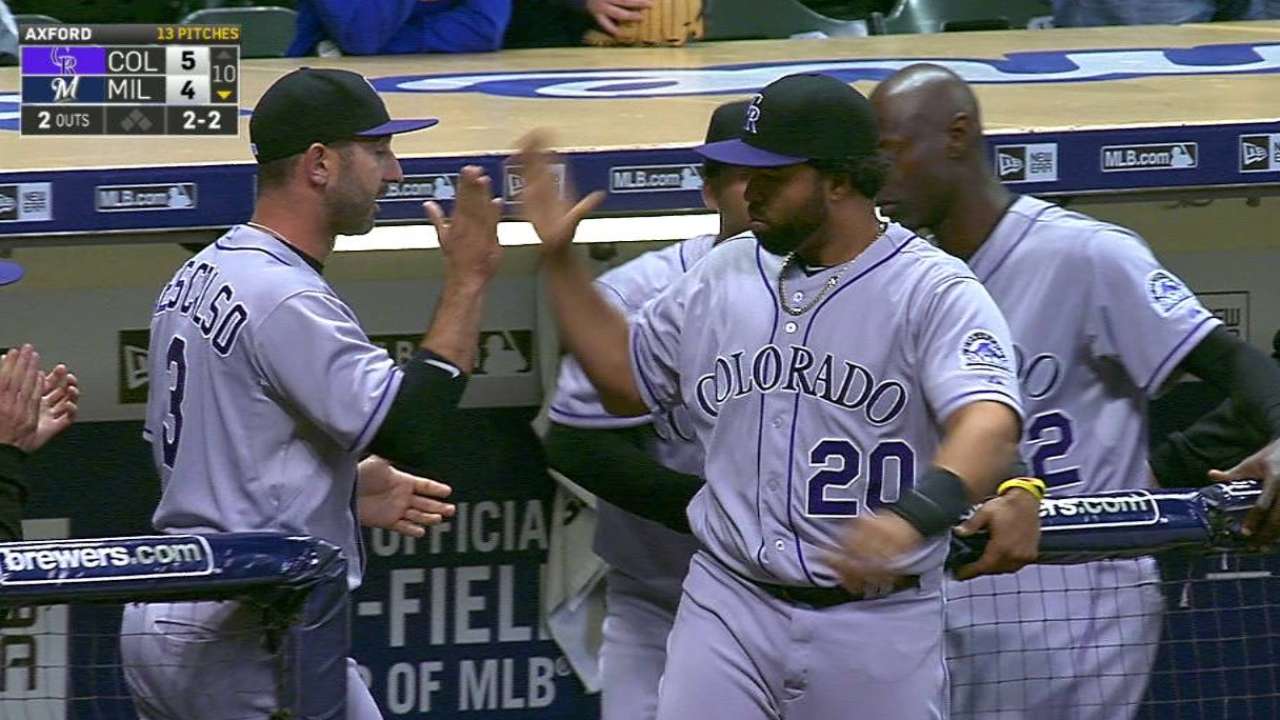 LOS ANGELES -- Rockies right-handed pitcher John Axford's family medical emergency leave expires Sunday. Manager Walt Weiss said Friday the club will be in contact with the Commissioner's office if it is determined that Axford needs more time.
Axford's 2 1/2-year-old son, Jameson, was bitten twice on his right foot by a rattlesnake during Spring Training. The plan was to move Jameson from a Phoenix-area hospital to one in the Denver area so Axford can be with his family as arrangements are made for additional surgery.
On Friday, Axford tweeted: "3 weeks & 3 days later Jameson is finally out of the ICU. Still in the hospital & still has a long road ahead #ButAStepInTheRightDirection!"
3 weeks & 3 days later Jameson is finally out of the ICU. Still in the hospital & still has a long road ahead, #ButAStepInTheRightDirection!

- John Axford (@JohnAxford) April 18, 2015
On Sunday, the Rockies placed Axford on the family medical emergency leave list. A player must be on the list for at least three days and no more than seven.
"That's something we have to deal with through the Commissioner's office if we felt it [an extension] is needed," Weiss said. "I'm still not sure on that yet."
Righty Scott Oberg is 1-0, with a scoreless inning in his only appearance in Axford's stead.
Worth noting:
• Wilin Rosario relished being in the starting lineup Friday night for more reasons than the obvious. In a lot of ways, his day is easier when he starts than when he sits.
After being the main catcher the last two seasons, Rosario has become a pinch-hitter (2-for-4) and first baseman. Friday was his third game at first (second start) and he hasn't caught.
"I work on throwing to bases at the start of the series if I'm not playing first base, so tomorrow I'll work on throwing," Rosario said. "Also, I do some catching for the bullpen or the starters in their bullpen [sessions] if they need me. In Denver, I work on blocking two days a week and work at first base every day.
"It's a lot of work, but I like what I'm doing. I think I'm working more when I'm not playing. You've got to be ready all the time, keep your body in shape, and you take more swings in the cage, because I have to get ready a couple innings before I have to pinch-hit. When I'm in the lineup, it's, 'Let's play.'"
Thomas Harding is a reporter for MLB.com. Read his blog, Hardball in the Rockies, follow him on Twitter @harding_at_mlb, and like his Facebook page, Thomas Harding and Friends at www.Rockies.com. This story was not subject to the approval of Major League Baseball or its clubs.