Butler happy to receive AL championship ring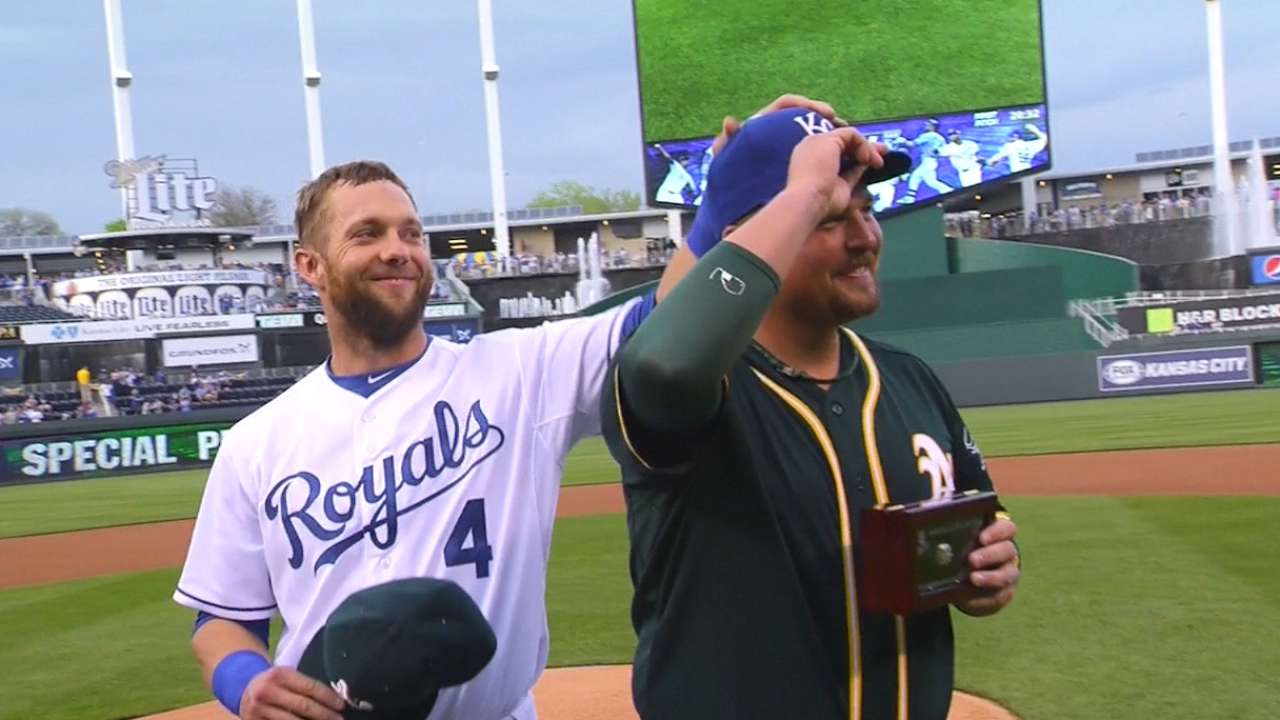 KANSAS CITY -- One of the first things former Royals designated hitter Billy Butler did when he got to Kansas City on Thursday, an off-day for his new team, the A's, was check out some serious barbecue.
"I went to Oklahoma Joes yesterday," Butler said, grinning. "I thought it was superstitious in the World Series, too. I went there way more than you should. But I thought it was the reason we were winning. It just didn't work out in Game 7. I thought it was superstition to have good ribs."
Butler, who went 1-for-4 in Friday's 6-4 loss to the Royals, would have preferred to spend his off-day here catching up with his old teammates, such as close friend Greg Holland, but the Royals had a game in Minnesota.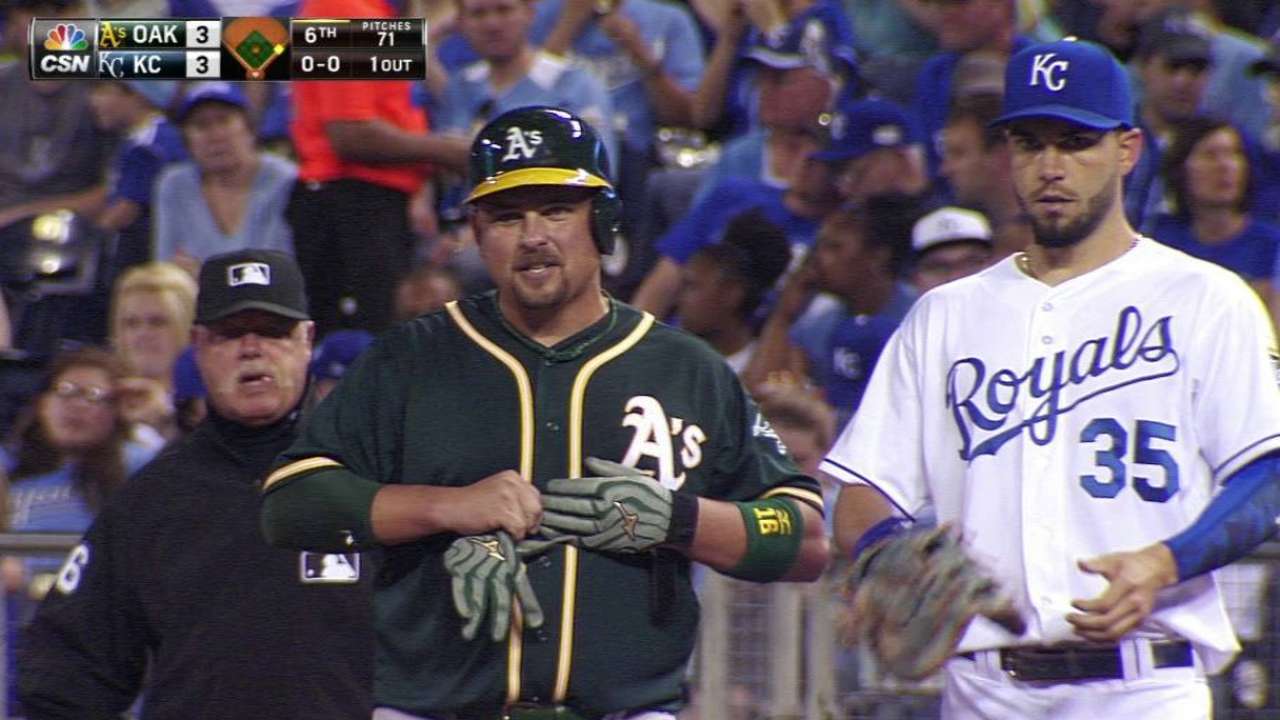 So Butler had to wait until Friday to see some old pals, whom he plans to hang around with after Saturday's game, which happens to come on his birthday.
But one of the many things Butler looked forward to this weekend was getting his American League championship ring, which was presented to him during pregame ceremonies -- Butler received a loud ovation and familiar chants of "Billl-eee Butler" rang out during the ceremony, which included club president Dan Glass, general manager Dayton Moore, manager Ned Yost and left fielder Alex Gordon.
"I'm excited to get the ring for sure," Butler said before the series opener. "Why wouldn't I be? It's something we earned as a team and the only thing I regret is that I wasn't there on Opening Day to get it with them. It would've been great to all be there and get it at the same time.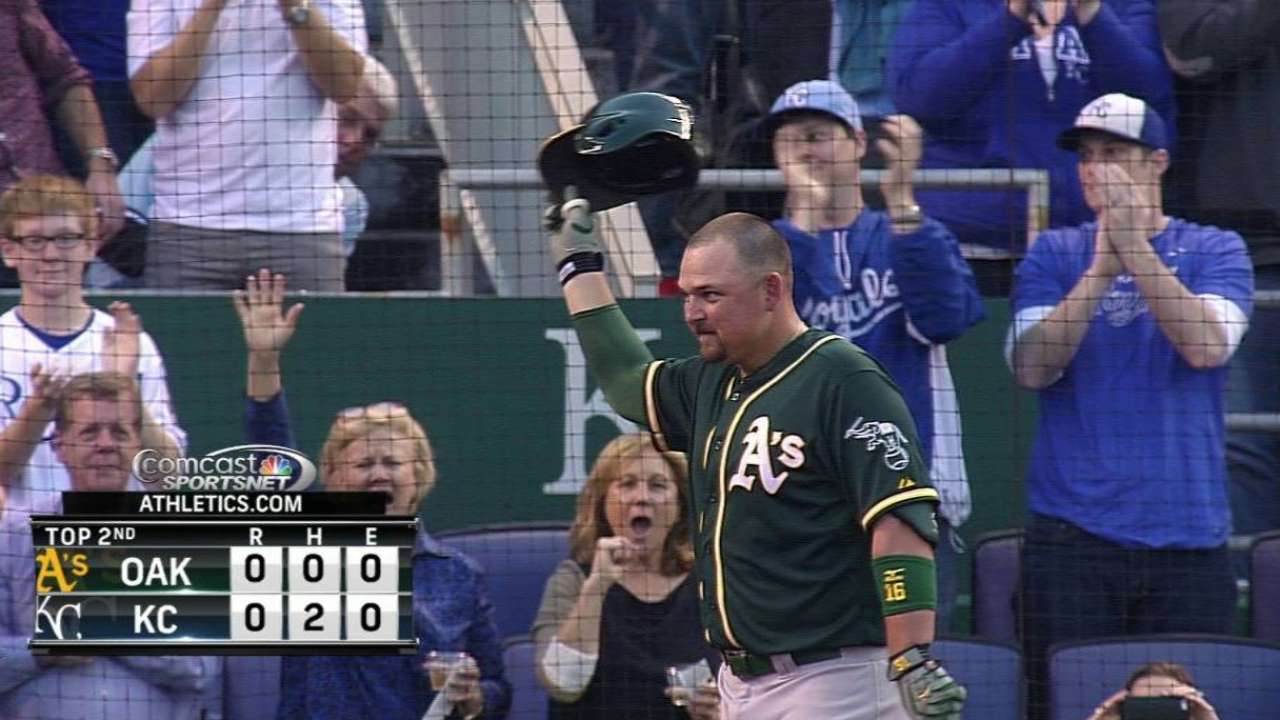 "I'll definitely have some happy moments, getting the championship ring, I'll definitely enjoy it and savor the moment, and then when the games starts, it's time to do business. It's very special. It's something that I accomplished with these guys over there that not many people get to do. I'm going to enjoy that with them out there as much as I can and talk to them."
Butler also got to see the AL championship pennant wave from the top of the Royals Hall of Fame.
"It means more to me because me, Alex [Gordon] and Luke [Hochevar] were the longest-tenured guys, and we stuck it out a long time," Butler said. "There were a lot of growing pains, a lot of tough years, and we just kept battling. Very awesome to me to see a process like that having progressed because there was definitely more than one phase to seeing that happen. Being here from the start is something I'll always remember and something I'll obviously always be a part of."
Jeffrey Flanagan is a reporter for MLB.com. Follow him on Twitter at @FlannyMLB. This story was not subject to the approval of Major League Baseball or its clubs.