Cueto falls to 0-2 after risky move goes Cards' way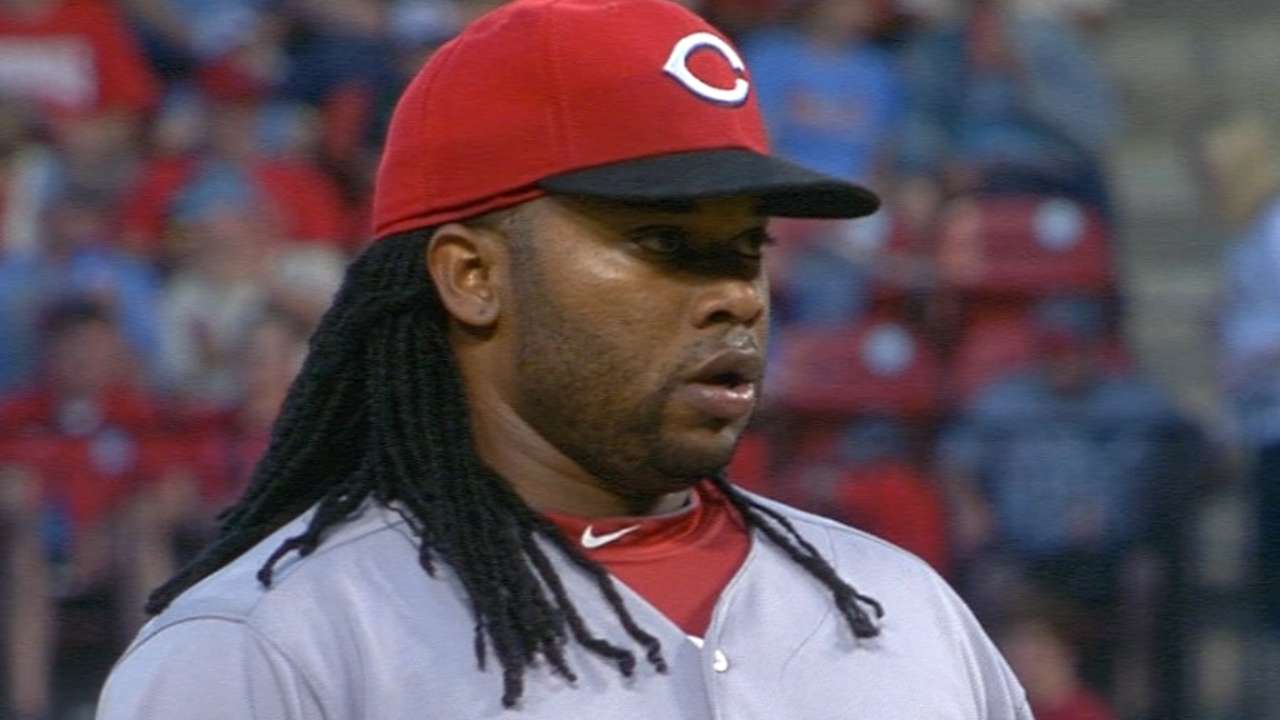 ST. LOUIS -- Cardinals catcher Yadier Molina knows a few things about hitting in clutch situations and Reds ace Johnny Cueto has never feared pitching in jams. On Friday during a 6-1 Cincinnati loss to St. Louis, Cueto and manager Bryan Price did something that might seem counter-intuitive.
The score was 1-1 with runners on second and third and one out in the bottom of the seventh inning, and Price had Cueto intentionally walk Jon Jay to load the bases and face Molina. The Cardinals' perennial All-Star entered the game a .298 hitter with three home runs when the bases are loaded, and a .308 hitter with runners in scoring position. But there were other numbers that jumped off the page to the Reds' manager.
Jay isn't as prolific as Molina offensively, but he entered the night a .444 hitter with three homers in his career vs. Cueto, compared to Molina's .265 with two homers.
"One of the few guys who hits Johnny pretty good, with Molina on deck," Price said of Jay. "It seemed to me to make sense to walk Jay to get to Molina, who is a guy who hits well in the clutch, but had to set up the double play and have the better matchup. He doesn't hit Johnny as well as Jay does."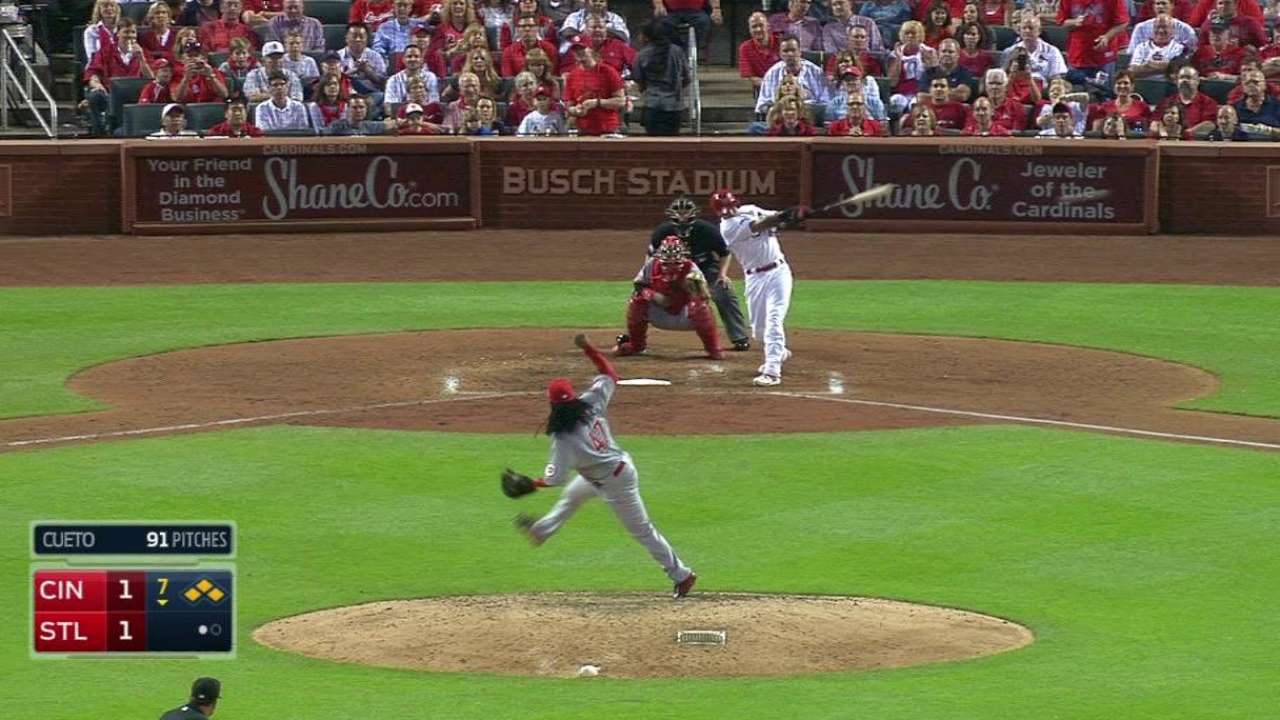 The decision backfired. On the first pitch, Molina lined a three-run double near the left-field line.
"That's baseball," Molina said. "Try to get a good pitch to hit and try to make good contact. Everybody knows I've been in the league 12 years and I'm an aggressive guy. It was special, a good moment. Glad we got the win."
Before Jay came to the plate, Price visited the mound. Cueto, speaking through translator Tomas Vera, had no regrets on the choice to face Molina.
"Yes, I was looking for a double play," Cueto said. "I was trying to end the inning with a double play, but the pitch stayed over the middle too much. He beat me.
"You know what? He's the manager. He's the one who knows."
Price said he got Cueto's input but made it clear the choice was his to make.
"There's really no reason to get beat right there by Jay," Price said. "He's disciplined enough to not chase pitches if we decide to pitch around him and let him get himself out. In the end, the best decision is to walk Jay and go after Molina and have an idea of how we want to get the ball on the ground. It just didn't happen."
Cueto finished with four earned runs and six hits over seven innings. He walked one and struck out 10. Although he has a 2.14 ERA in three starts, he is 0-2. The Reds have scored just one run in each of the righty's last two outings -- both vs. the Cardinals. On Opening Day vs. the Pirates, Cueto's good start was rendered moot by a blown save.
"I know we ran into trouble that inning," catcher Brayan Pena said. "Yadier got a sinker up. Then he hit that double off the line. Other than that, I thought he threw the ball like he always does."
Mark Sheldon is a reporter for MLB.com. Read his blog, Mark My Word, and follow him on Twitter @m_sheldon. This story was not subject to the approval of Major League Baseball or its clubs.