Royals revel in memories of Wild Card Game
KANSAS CITY -- As the A's returned to Kauffman Stadium for the first time since the crazy American League Wild Card game last year, the Royals themselves tried to remember all the details of that night.
"Just too many things happened to remember them all," manager Ned Yost said.
Added first baseman Eric Hosmer, "The moments all kind of blur together."
But one thing is certain, Hosmer noted, regarding the Royals' come-from-behind 9-8 win in 12 innings: "It's kind of hard to imagine our lives without winning that game. I can't imagine not having that October we did."
Right-hander Jason Frasor, who got the win (a trivia question for the future for Royals fans), agreed.
"It's something we'll never forget," Frasor said.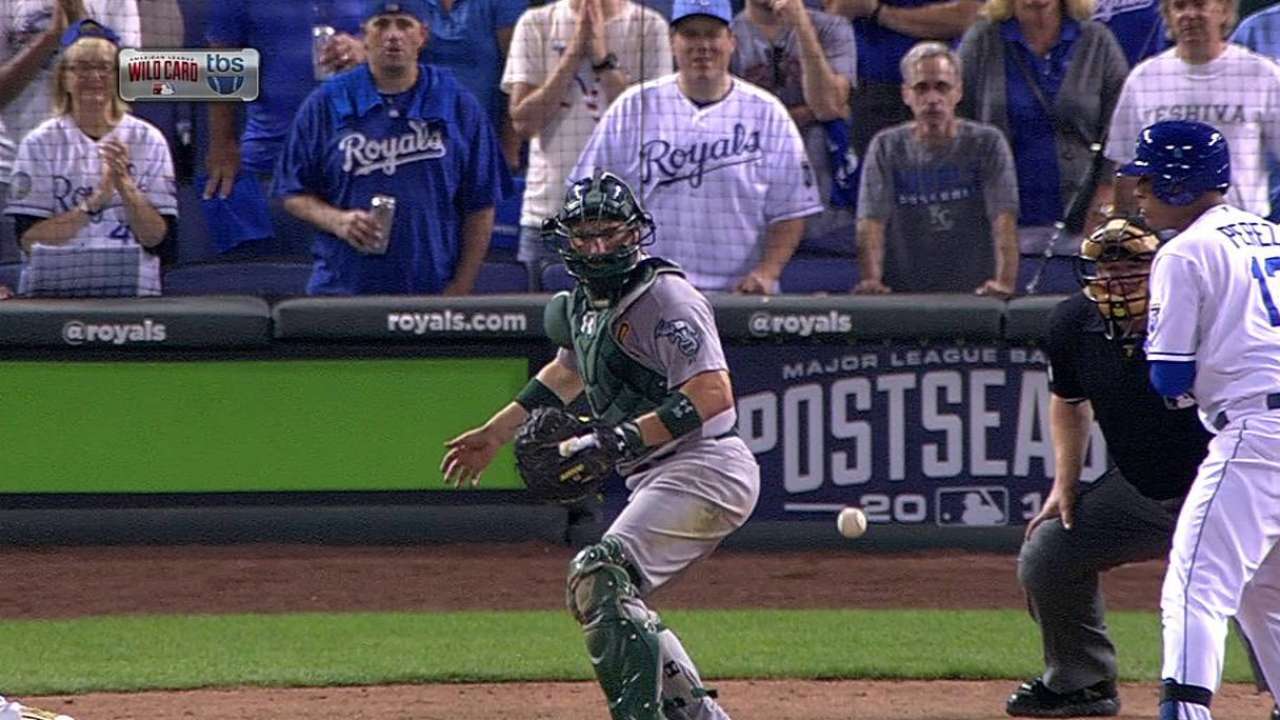 While it will always be Salvador Perez's two-out walk-off single down the left-field line that will dominate the highlights, Royals players have always pointed out the contributions of infielder Christian Colon that inning.
With the Royals down, 8-7, and one out, Hosmer belted a deep drive to left-center that nearly left the park. Hosmer settled for a triple after the ball caromed off the wall.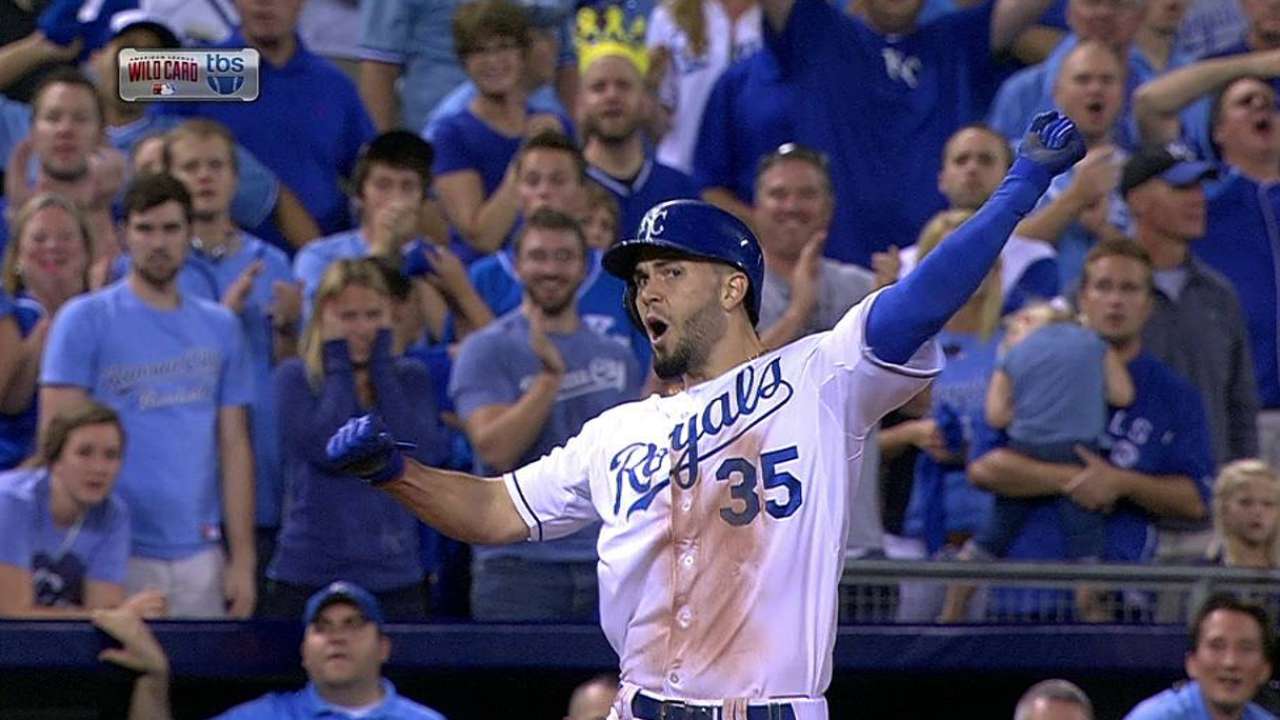 Up next came Colon, who hit a high chopper toward third. Hosmer instinctively raced for the plate.
"He hit it so high, I knew I had a chance," Hosmer said. "When I saw it hit the ground and pop up in the air, I was going to go. I had a good secondary [lead] and my front foot was just hitting down when he hit it. I had to go for it there."
Hosmer made it easily and Colon was aboard with an infield single. Then came Colon's best play as a Royal: After Alex Gordon fouled out, Colon took off trying to steal second. The A's pitched out and catcher Derek Norris dropped the pitch. Colon had such a great jump that he likely would have beat the throw anyway.
"I remember when Colon got on, I was thinking, 'If we could just get him to second base,'" Yost said. "And then boom, there he goes, stealing on the pitchout. Just huge. And that set up Salvy's big hit."
Perez won it with a base hit to left, scoring Colon.
"That's the thing: We never let up," Hosmer said. "We just decided to keep running."
A's manager Bob Melvin was philosophical about the game.
"The longer you're around, there are a lot of those places you go, whether it's Detroit or wherever, there's been some disappointment," he said. "Anytime that you're in the postseason like we were last year, it's nice to be there. If you don't win the World Series, it ends in disappointment, and certainly that was the case last year."
Jeffrey Flanagan is a reporter for MLB.com. Follow him on Twitter at @FlannyMLB. This story was not subject to the approval of Major League Baseball or its clubs.