Harper, Espinosa power Scherzer to first win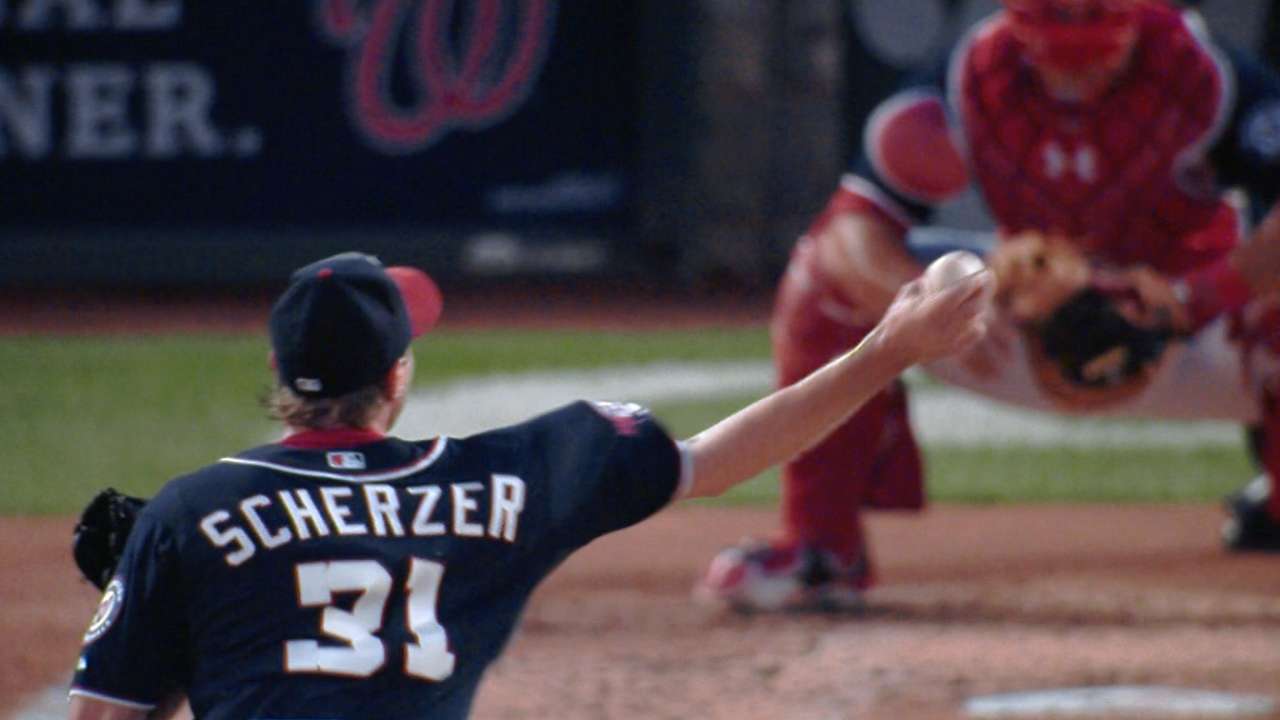 WASHINGTON -- Max Scherzer earned his first victory in a Nationals uniform on Friday night, leading the club to a 7-2 victory over the Phillies. It was the third consecutive win for the Nats after a 2-6 start and set them up to clinch their first series win on Saturday afternoon.
After signing a seven-year, $210 million contract this offseason, Scherzer posted a 0.66 ERA through his first two outings but was 0-1. This time, the Nats backed up his stellar pitching with ample run support and solid defense.
"I feel like I'm pounding the zone," said Scherzer. "As long as you pound the zone and don't allow any free passes, it's usually a good sign of what you're doing. Fortunately tonight I had some great defensive plays behind me, and we had a great team win."
Bryce Harper provided some early cushion with his third home run of the season, a three-run shot in the first inning off Sean O'Sullivan. Danny Espinosa added a solo shot in the fourth, and in the seventh, Ryan Zimmerman drove in two with a double before aggressively scoring on Wilson Ramos' infield single and a Chase Utley throwing error.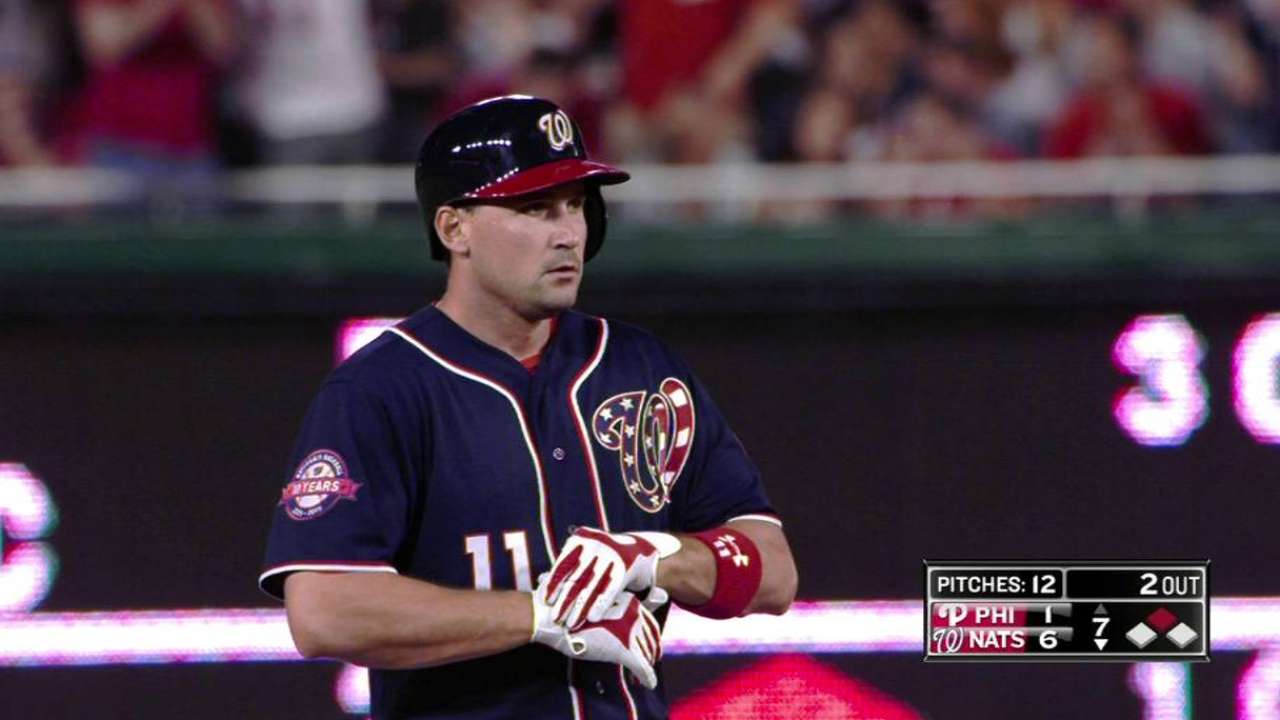 Scherzer tossed his third straight quality start to open the year, going eight innings and giving up one run on four hits, with no walks and a season-high nine strikeouts. The Phillies' first run came in the third, when rookie Odubel Herrera tripled off the right-field wall and scored on Freddy Galvis' groundout. Ryan Howard added an RBI single in the ninth for the Phillies. More >
"He understands how to pitch," manager Matt Williams said. "He's got a game plan going in and adjusts during the course of a game if it's not there for him in a certain inning or if he just doesn't have what he wants that night, he can go to other pitches That's experience and understanding how to pitch."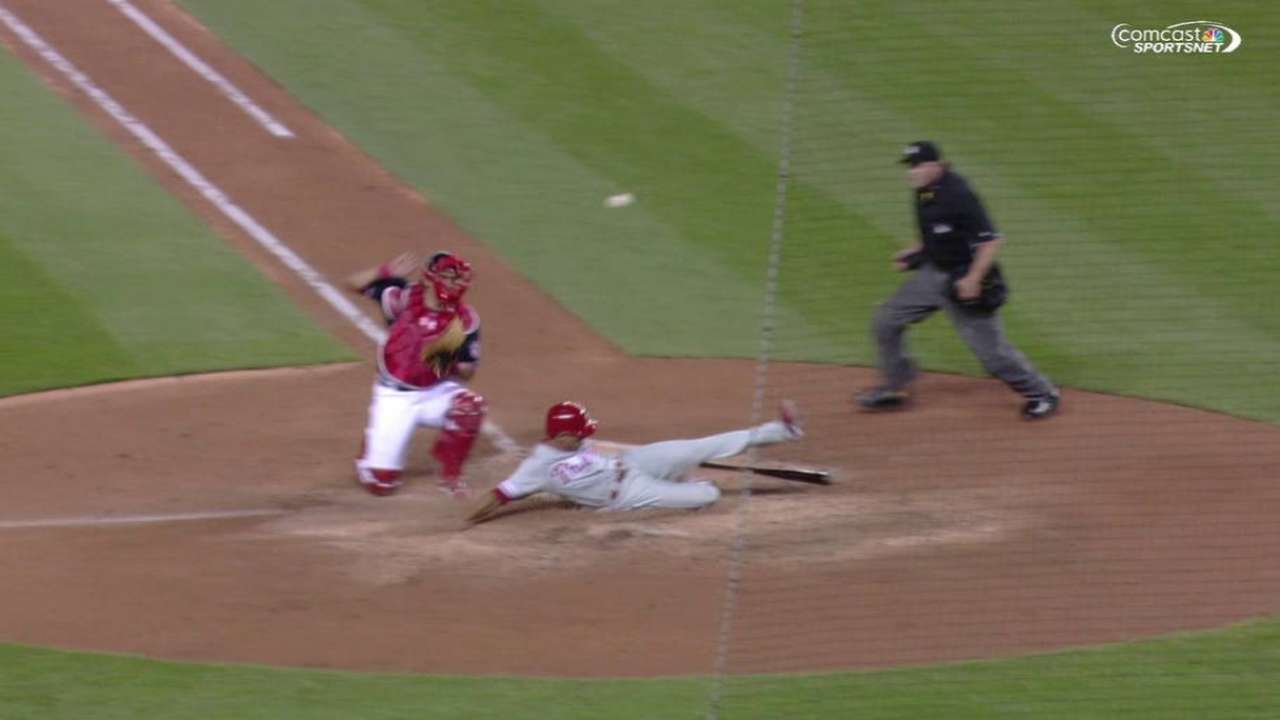 O'Sullivan had held the Nats to two runs over six innings on Sunday in Philadelphia, but this time Washington reached him for four runs over five frames. The Phillies couldn't fight out of the early hole and lost their sixth straight game, matching their longest slide since June 27-July 2 of last year.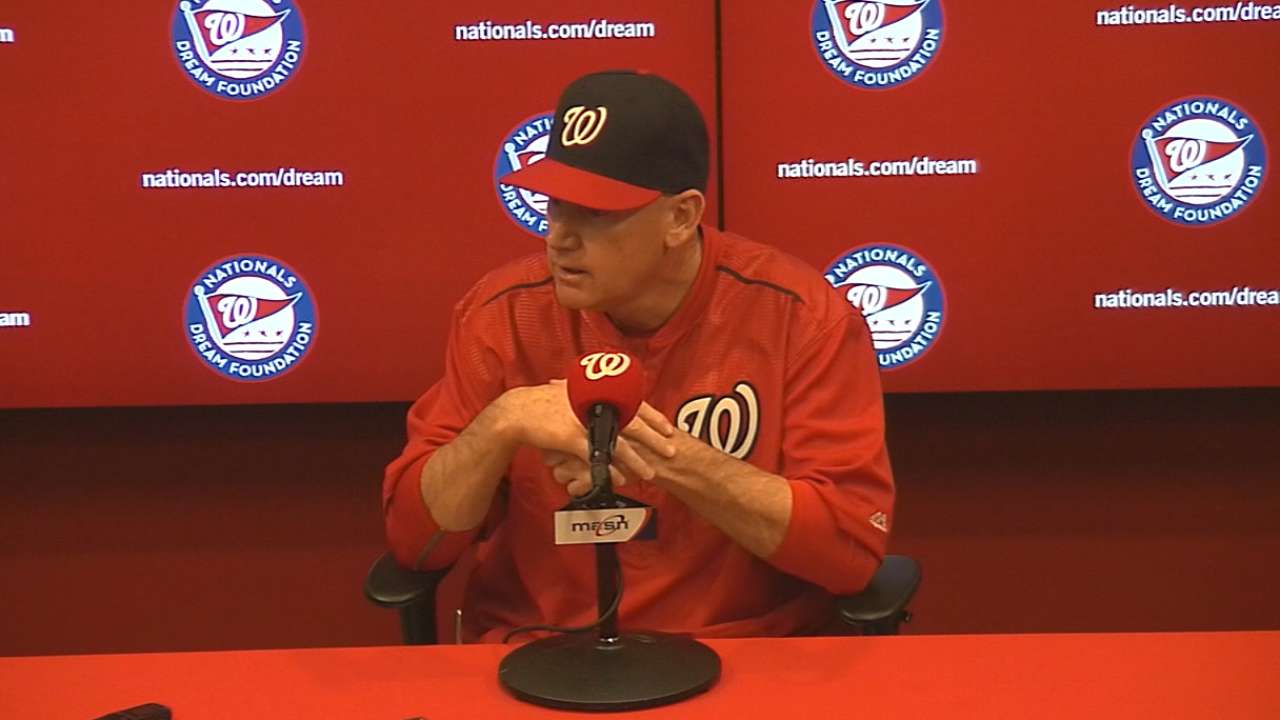 MOMENTS THAT MATTERED
Harper blasts off: Harper had three RBIs this season as he stepped to the plate in the first inning. He doubled that total with one mighty swing against O'Sullivan, waiting on a hanging curveball over the middle and swatting it well over the center-field wall. It was only Harper's third career three-run shot, and first since April 9 of last year.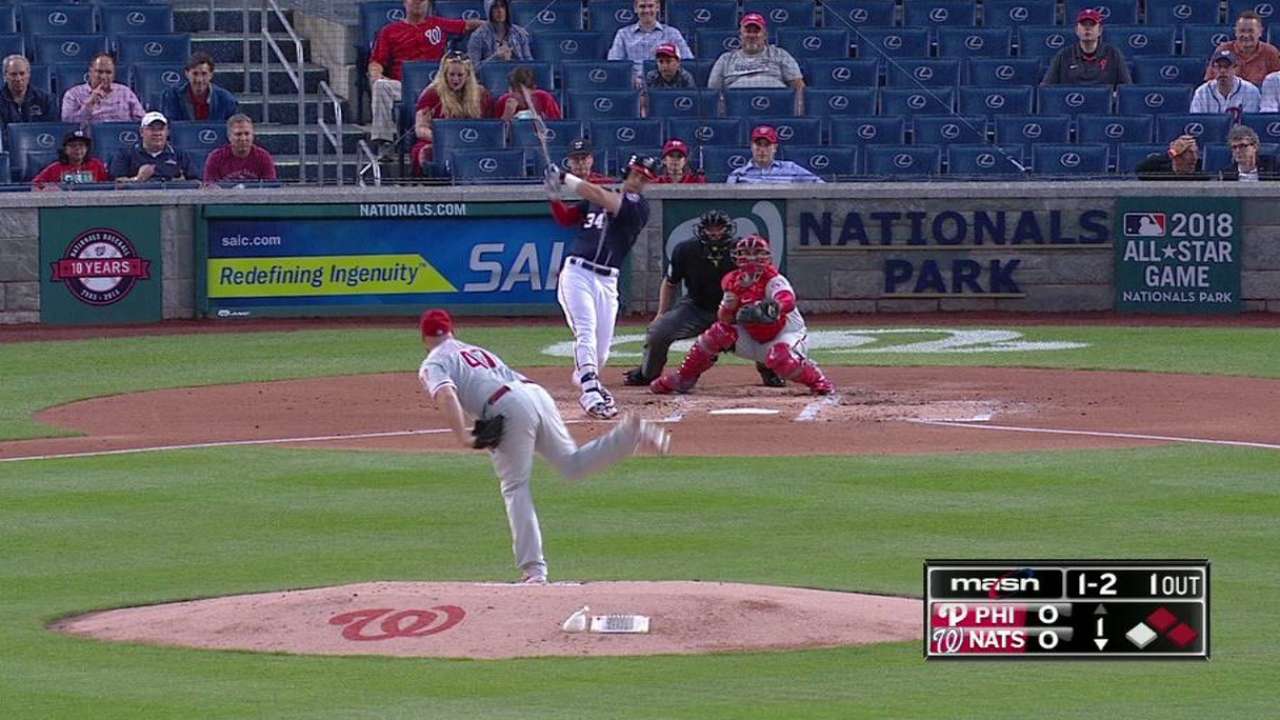 To the left: During Spring Training games, Espinosa ditched switch-hitting to bat exclusively from the right side. The move made sense after Espinosa hit .177/.222/.281 with 132 strikeouts in 356 left-handed at-bats from 2013-14. But once the regular season began, Espinosa returned to switch-hitting, and while it's still early, the move is paying dividends. Batting lefty against O'Sullivan, Espinosa walked in the first and crushed a solo homer to center leading off the fourth, making him 4-for-8 with a double, two homers and two walks from that side of the plate this season. More >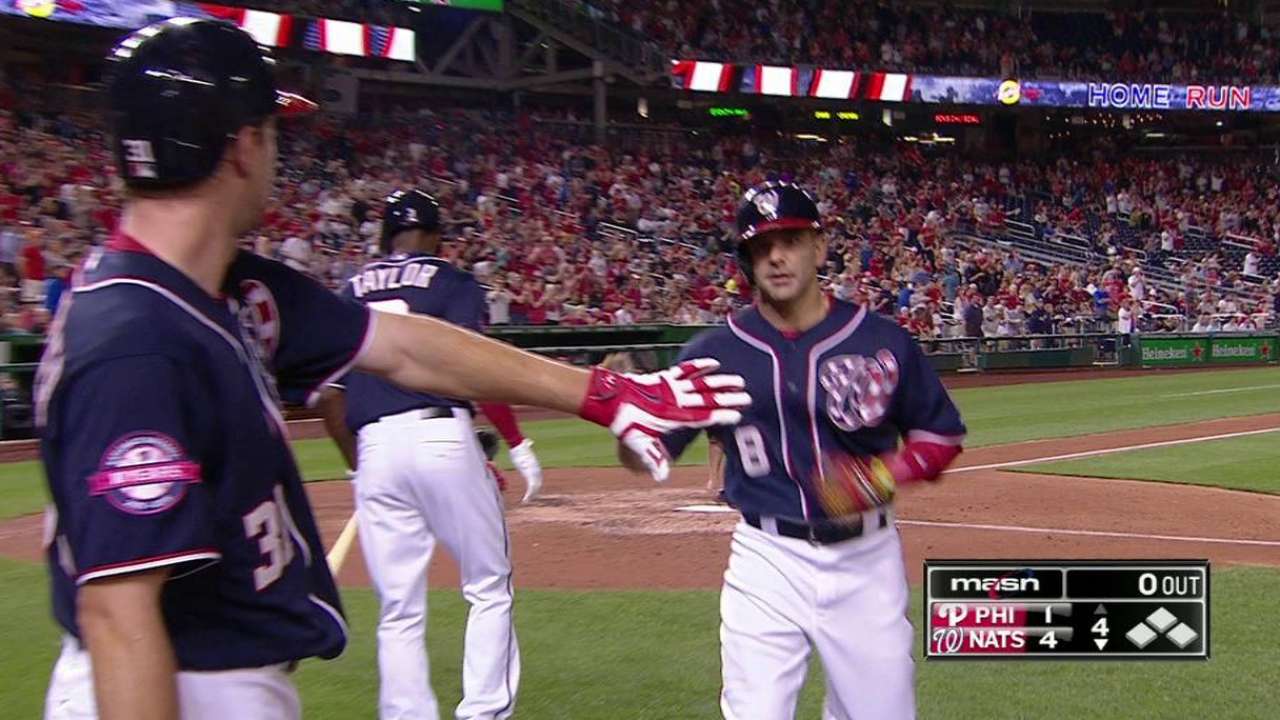 Too much power: The Phillies gave up two more homers in this game and already have allowed 15 in the first 11 games this season. O'Sullivan gave up a three-run homer to Harper in the first inning and Espinosa's solo shot in the fourth. Cole Hamels has given up seven himself already this season. They led the National League in homers allowed before this game, and it's something their pitchers will need to get under control. More >
Long inning: O'Sullivan's struggles began in a 31-pitch first inning where the right-hander gave up three runs -- all on the Harper homer -- and three hits. He threw only 16 strikes and faced eight batters, leaving two. The little mistakes also hurt O'Sullivan. He hit Ian Desmond to put runners on first and second with one out for Harper, who crushed a pitch far over the center-field fence. O'Sullivan (0-1) later walked Espinosa to put two on with two outs but escaped that jam.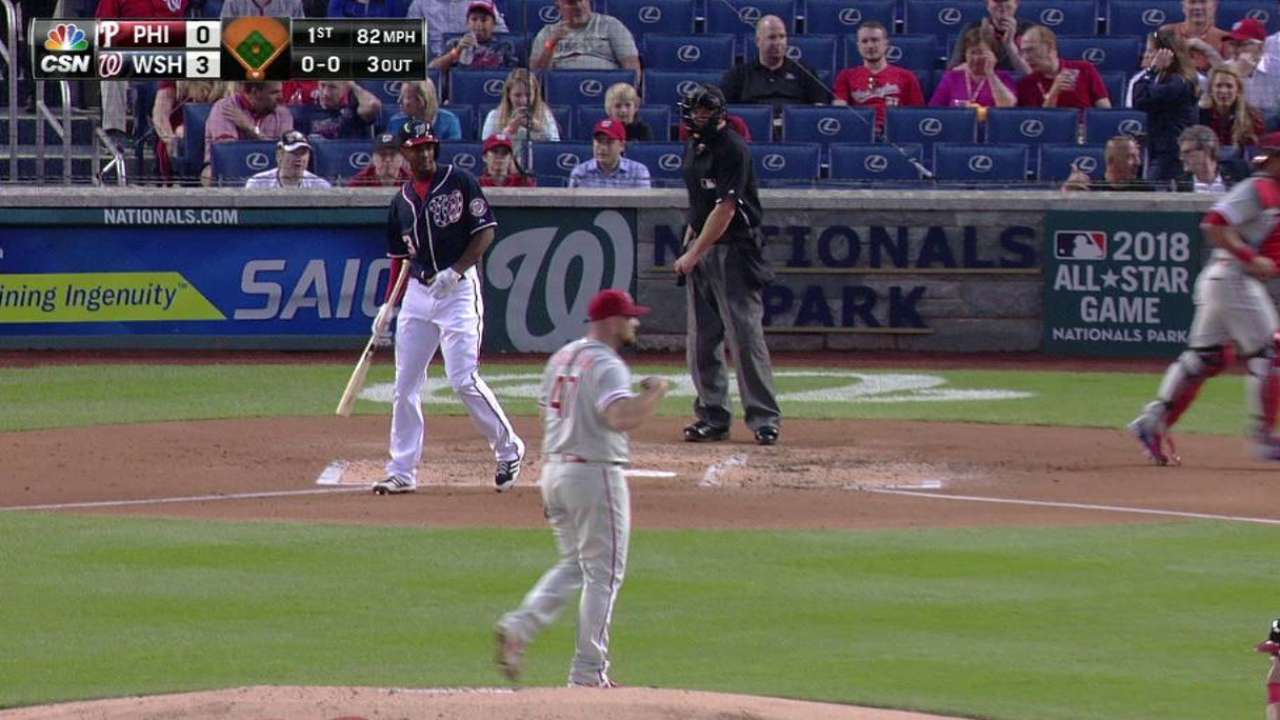 QUOTABLE
"We need a big hit. I'll say this, we're fighting. I doubt if there's anybody in baseball that's probably faced the starting pitching we have coming out of the block this year. We've faced some damn good pitching. We need to have a hit in the first inning or second inning that [will] make us breathe a little bit ... and get a three- or four-run lead." -- Phillies outfielder Jeff Francoeur on the team's offensive struggles
"I was trying to look for a pitch over the plate and not miss. I've missed so many good pitches. I've only seen about half a pitch to one pitch an at-bat. I was trying to not miss pitches and I finally connected with something and I put a good swing on it to dead center." -- Harper on his first-inning home run
SOUND SMART WITH YOUR FRIENDS
The Phillies aren't hitting as much these days, but Friday was the 39th anniversary of a day when Mike Schmidt sure did. The Hall of Fame third baseman blasted four straight homers to give the Phils a wild 18-16 victory over the Cubs at Wrigley Field. He homered in the fifth, seventh, eighth and then 10th inning that day.
WHAT'S NEXT
Phillies: Aaron Harang has given the Phillies two very strong starts this season. He threw 6 ⅓ shutout innings in a 4-2 victory over Boston his first time out. After that, Harang gave up just one run on four hits in six innings, but the Phillies gave himself no offensive support in a 2-0 loss to the Mets.He comes into this game with a 1-1 record and an 0.73 ERA.
Nationals: Jordan Zimmermann is coming off one of the toughest starts of his career, on Monday at Boston, when he tied a career high by giving up eight runs (seven earned) on nine hits over 2 1/3 innings. He will try to bounce back on Saturday against the Phillies, whom he held to four runs in 18 1/3 innings last season, with 17 strikeouts and only one walk.
Watch every out-of-market regular season game live on MLB.TV.
Andrew Simon is a reporter for MLB.com. Follow him on Twitter @AndrewSimonMLB. Jeff Seidel is a contributor to MLB.com. This story was not subject to the approval of Major League Baseball or its clubs.