MLB.com Columnist
Phil Rogers
For Bryant, momentous day bigger than results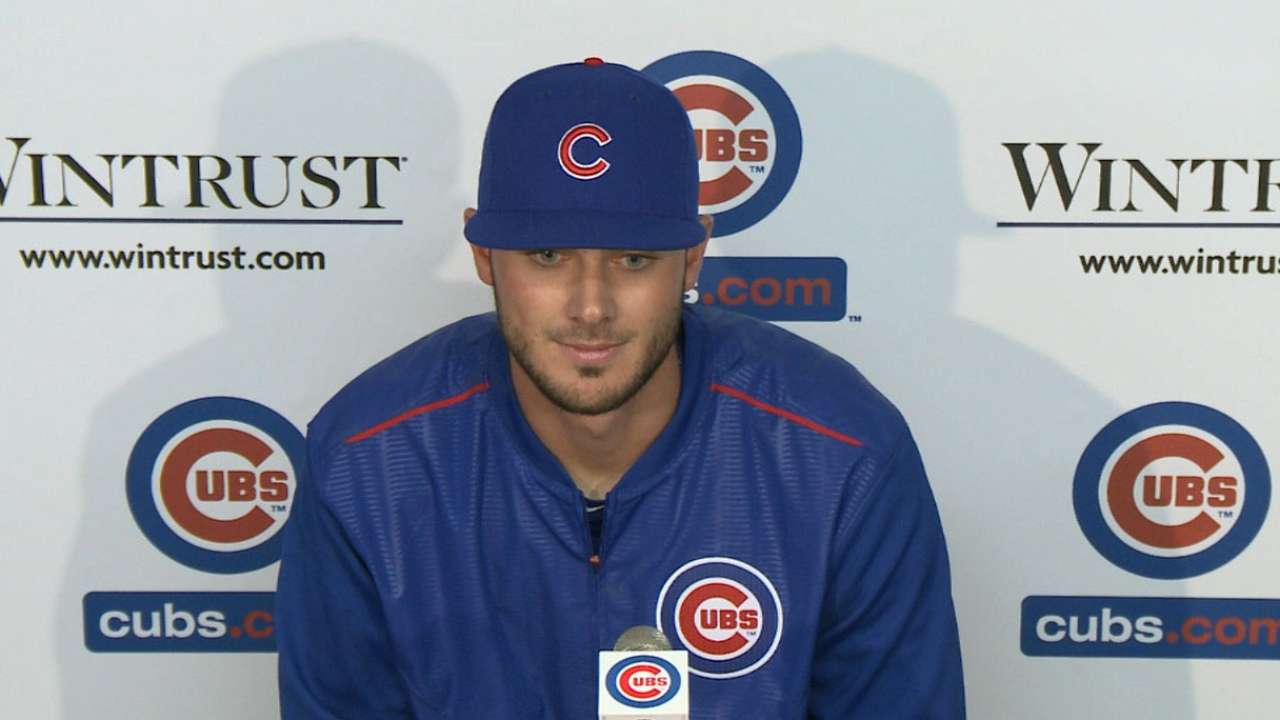 CHICAGO -- Forget the small stuff. The details were minutia, the final result a footnote on Friday at Wrigley Field.
Records will show that the Padres beat the Cubs, 5-4, with Kris Bryant having such an inauspicious debut that Padres manager Bud Black intentionally walked Anthony Rizzo to pitch to him with a seventh-inning lead on the line, but this was Bryant's day from the time he woke up in New Orleans until the minute he went to bed in Chicago.
It was a great day for baseball.
The sport that lost Derek Jeter last year welcomed another bright, talented kid onto its biggest stage, just as it did on Sept. 17, 1953, when Ernie Banks went 0-for-3 in a 16-4 loss to the Phillies, just as it will again when Byron Buxton (for the Twins) and Carlos Correa (for the Astros) follow Bryant's trail to the Major Leagues.
"I try to be as good of a person as I do a player, even a better person,'' Bryant said after a hurried drive across town from O'Hare Airport. "I think that's important. To come in the footsteps of a guy like [Banks], it's a huge honor to wear this uniform he wore before me, and other guys before him. I'm ready to put it on and make him proud.''
Bryant, the Las Vegas native who made a name for himself hitting home runs at University of San Diego, wore No. 17 when he took the field. That's the number his father, Mike, wore when he was playing in the Red Sox's farm system.
Mike and Sue Bryant were faces in the crowd of 32,138 at Wrigley on a sunny afternoon, watching anxiously as their son played the first of what they hope is 2,000 games. Bryant's arrival marked a new change in direction for Theo Epstein's Cubs as much as the hiring of Joe Maddon or the signing of Jon Lester.
But Epstein vowed to stay in the moment as he watched the game that followed his placing Mike Olt on the disabled list and summoning the 23-year-old Bryant from Triple-A Iowa.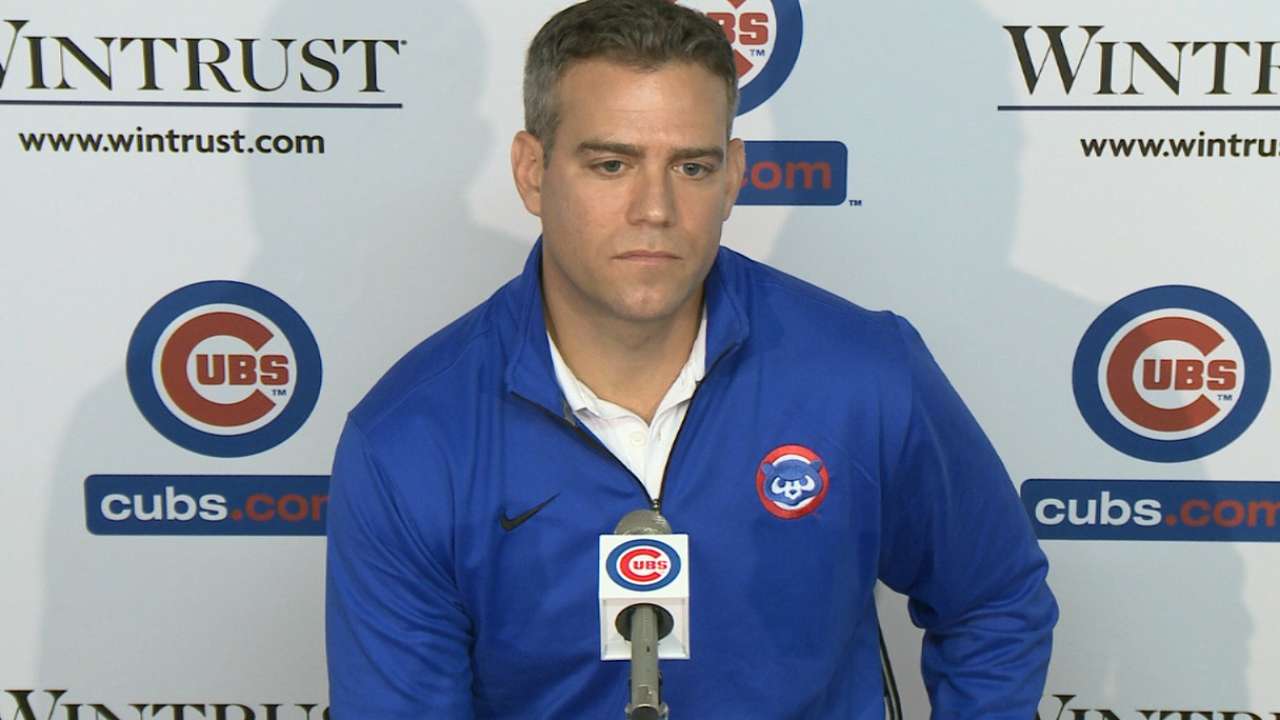 "It's part of the fabric of baseball -- the new player dominates the Minor Leagues, comes up to a lot of attention and goes from there,'' Epstein said. "You just sit back and relax and enjoy it. You don't draw conclusions whether it's good or bad.''
Epstein recalls having traveled to Idaho to watch Bryant's professional debut in 2013. He was 0-for-5 with five strikeouts for the Short-season Class A Boise Hawks, and Epstein admits the team's brass "had to remind ourselves not to overreact to that.''
Against the Padres on Friday, Bryant was 0-for-4 with three strikeouts as San Diego starter James Shields sliced him up with offspeed pitches.
"He may have used his aggressiveness against him,'' Maddon said. "He has the kind of cadre of pitches to do something like that. James is good. I was hoping he would hang a changeup. If he had, it would have gone far, but he kept getting them in good spots for him and bad for us.''
Bryant's best moment at the plate was a seventh-inning grounder to third baseman Will Middlebrooks, and it spared him the ignominy of being the fifth position player since 1914 to fan four times in his debut. It came after Bud Black had ordered reliever Dale Thayer to walk the left-handed-hitting Rizzo to get to Bryant.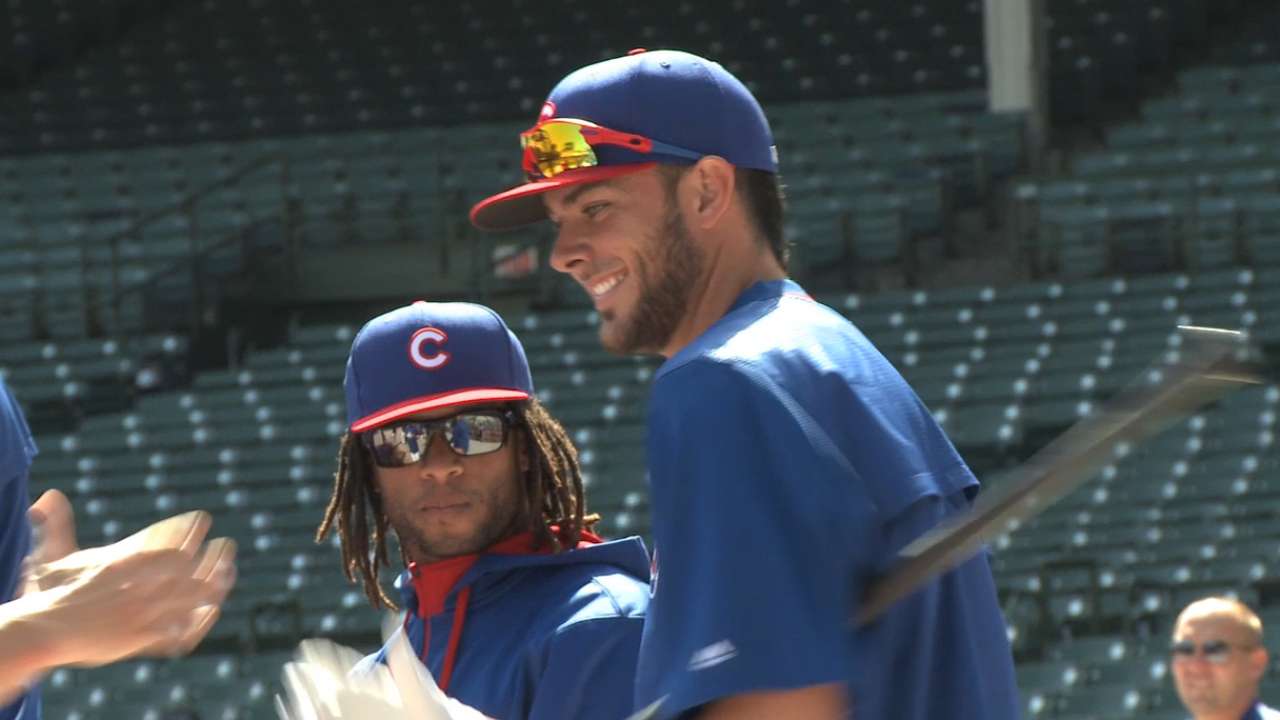 "That's happened before,'' Bryant said of the intentional walk. "I take that as a challenge. He got me that time but, you know, that's a situation you want to be in. I sure hope to be in that situation again throughout my career, as many times as I can, and I hope next time I get him.''
Bryant knows there will be better days, and so does everyone who has followed his remarkable development as a hitter.
In 181 Minor League games, he delivered a slash line of .327/.426/.667 while hitting 55 home runs and driving in 152 runs. He had homered for Iowa on Thursday night in New Orleans, and had a second home run taken away by a leaping catch at the wall.
Maddon liked that the guy who was the Cubs' best hitter in the Cactus League (.425, nine homers, 15 RBIs in 40 at-bats) had to get up early and travel to Chicago for his hastily scheduled debut.
"I love that,'' Maddon said before the game. "He's a little bit blurry-eyed right now, bloodshot, no sleep. Lot of excitement, his family coming to town, day game, Wrigley Field, 70 degrees in April, I'm sure he's feeling all that. But to be that tired can help you relax. I think it's almost the perfect setting for him to show up.''
This was the biggest debut for the Cubs since Mark Prior struck out 10 Pirates on May 22, 2002, and reminded Maddon of Evan Longoria's arrival with the Rays in 2008. Epstein said the excitement level created by Bryant in the Minor Leagues is the most of any player he's been around.
You're making a mistake if you look at Bryant's unimpressive box-score line and think the moment overwhelmed him. He simply got educated by Shields, who was on the verge of signing with the Cubs in February before the Padres outbid them.
Bryant demonstrated his poise to his teammates with his strong play in the field, especially on a diving grab to his right when he used his full height of 6-foot-5 1/2 (according to Epstein).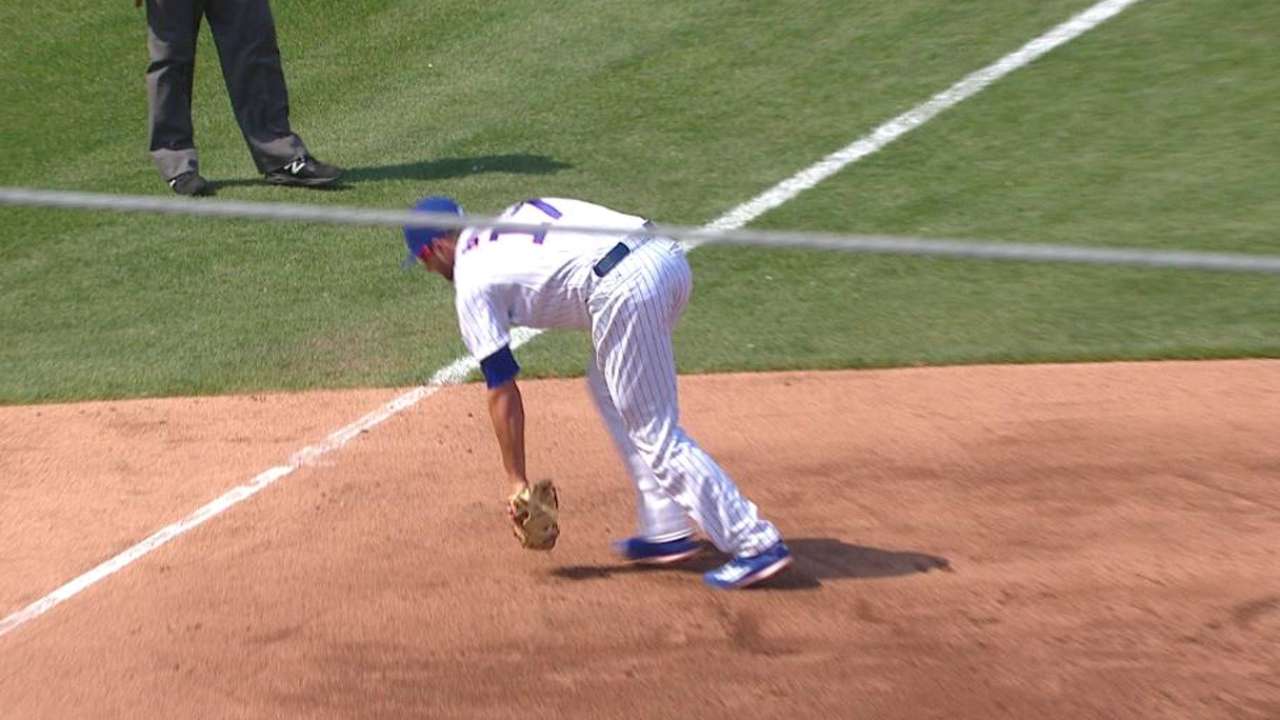 "Way to be tall!'' Maddon yelled from the bench.
Maddon would watch the last three innings from the clubhouse, getting ejected when he argued that Wil Myers had taken strike three before he hit the go-ahead home run for the Padres. But whether it was on the television screen or in the dugout, he saw nothing that caused him to worry about Bryant.
One of Maddon's favorite phrases is, "Don't let the pressure exceed the pleasure,'' and he said that Bryant has told him the phrase resonates with him.
"He's mentioned that to me,'' Maddon said. "I like the idea that he has grasped onto that because it's pertinent to him. I think that's a simple phrase to follow whenever things get complicated. Things get complicated if you permit them.''
Bryant was wide-eyed when he arrived at Wrigley.
"It's the time of my life, really,'' Bryant said. "I can't really put into words what a good feeling this is. You work for this your whole life, to finally get that chance. But the journey is just starting. This isn't where I want to end. I want to win a bunch of games for the Cubs. This is a good starting point.''
He was still smiling at the end of the afternoon.
"It was fun,'' Bryant said. "Sure, I could have done a little better. … I just absorbed everything. It was just a fun moment. All the smells, the sounds, playing in front of 30,000 people -- I think that's the biggest crowd I've played in front of -- and they're all cheering for you. It was just a really cool moment for me.''
Nice moment for baseball too.
Phil Rogers is a columnist for MLB.com. This story was not subject to the approval of Major League Baseball or its clubs.