Astros place Peacock on DL with rib injury
Houston calls up Wojciechowski to replace right-hander in rotation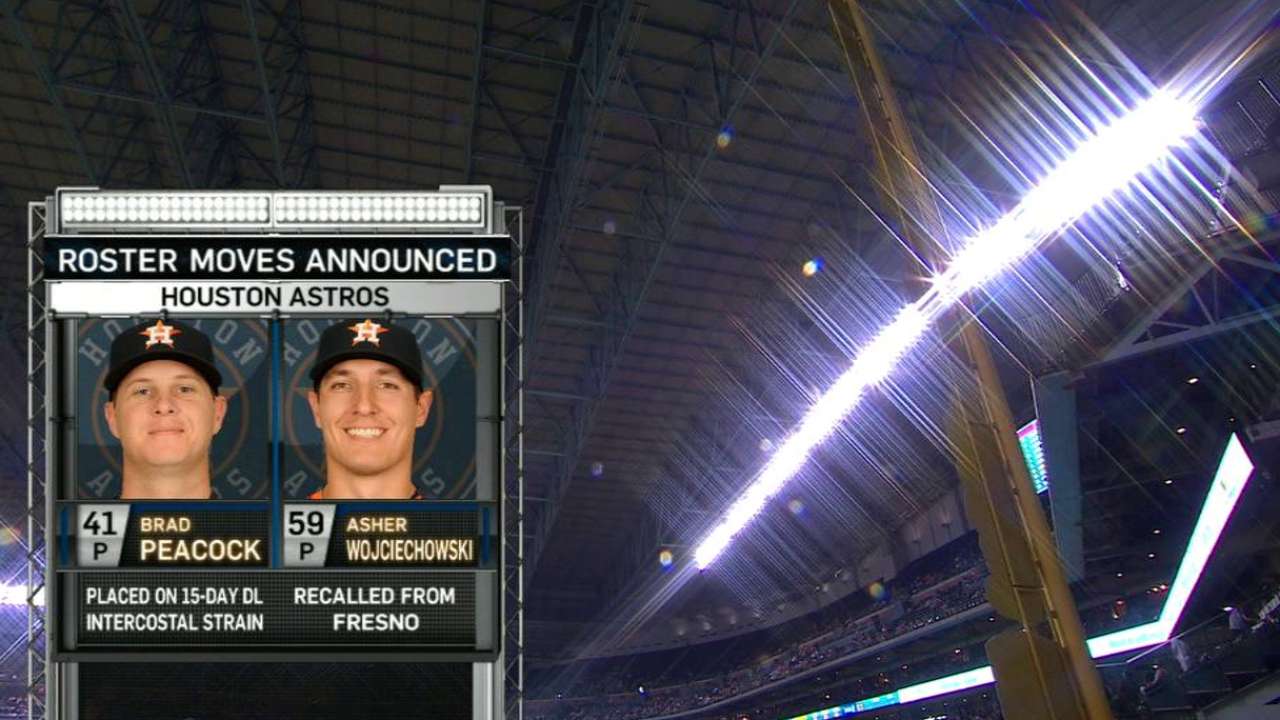 HOUSTON -- Brad Peacock, who made his first Major League start of the season on Tuesday after having offseason right hip surgery, was placed on the 15-day disabled list on Friday with a left intercostal strain (muscles between the ribs). Right-hander Asher Wojciechowski was recalled from Triple-A Fresno to replace Peacock.
"It's frustrating because I had the surgery and I worked so hard to get back," Peacock said. "Something like this happens. It could be a lot worse. It's nothing serious, it's one of those injuries where you got to rest it and give it time."
Peacock, who allowed three runs and five hits in five-plus innings on Tuesday in Houston's 4-0 loss to Oakland, felt discomfort in warming up prior to the start of the third inning. He didn't tell the Astros staff about it until he exited the game.
"I just tried to pitch through it, and it was hurting," said Peacock, who had hip surgery in October. "I tried to get five innings in, at least. I didn't want to come out in the third, my first game back of this year. It's unfortunate.
"I went and got the MRI and they saw some stuff wrong in there and they shut me down. They said it could be quick or it can be a long one. It depends."
For this type of injury, rest is the best option. The right-handed Peacock will be shut down for a while and the team will see how he responds.
"It's a terrible turn for him," Astros manager A.J. Hinch said. "To pitch so well and work so hard to get back to his start and then have something completely different come up. It's bad fortune. But we'll get him healthy and he's going to help us. He's just going to be down a little bit.
"These guys put a lot of torque on their bodies. You get it with check swings, you get it sometimes with deliveries. These guys go through a lot of different twists and turns."
On Tuesday, Peacock threw 85 pitches, 52 for strikes. He struck out three and walked two. Astros catcher Jason Castro was impressed with Peacock's outing.
"He showed me something out there the other day," Castro said. "His bullpen prior to the game was one of the best I've seen him throw. That was promising. Hopefully it won't be too serious."
Peacock had made one rehab assignment at Fresno on April 9, throwing 87 pitches.
Richard Dean is a contributor to MLB.com. This story was not subject to the approval of Major League Baseball or its clubs.