Mets plan to call Montero back up soon
Although righty optioned on Friday, club aims to have him start on April 28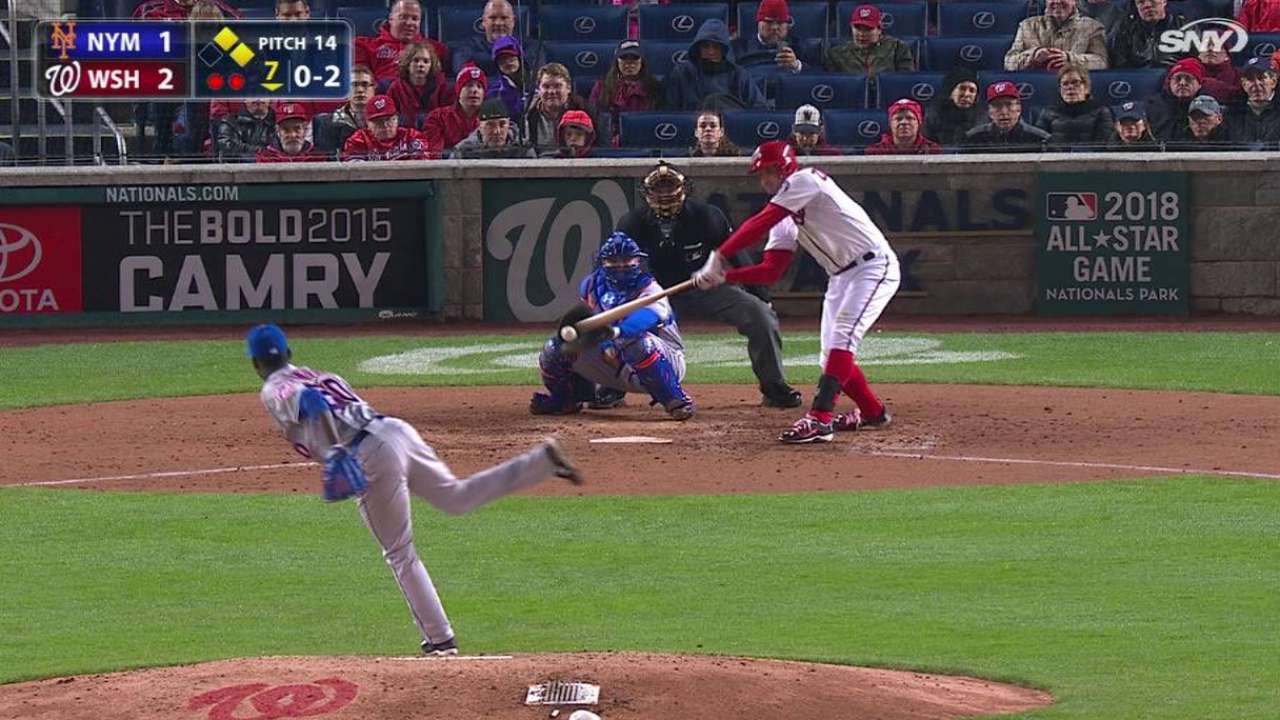 NEW YORK -- When the Mets optioned Rafael Montero to Triple-A Las Vegas on Friday, it was not exactly a demotion. Although Montero will spend the next 10 days as a Minor League pitcher, the Mets plan to call him back up for a big league start on April 28.
After that, any number of things might happen. If Dillon Gee is still struggling at that point, Montero may assume Gee's rotation spot for the rest of the summer. If an injury or something else unexpected occurs, Montero could become a permanent rotation member that way. Or, if Montero does not demonstrate the growth the Mets expect, he could find himself back at Triple-A.
"We want him to go start," manager Terry Collins said. "I think he's got to get some confidence, and the best way to do it is to let him go out there and start a game and see how his stuff plays, and I think that will help him."
Although the organization has always viewed Montero as a starter, the Mets placed him in the Opening Day bullpen not only because they felt Gee deserved a rotation spot, but also because they believed Montero could help in relief. Yet the rookie struggled in that role, particularly with his pitch selection; he threw 35 straight fastballs in losing a game last Friday in Atlanta, then was unable to command his slider Friday in New York.
"As I told him today, in order to pitch at this level, you've got to use all your pitches," Collins said. "There's nothing wrong with his fastball. His fastball's got great life to it. We all understand that. But at this level, you've got to use everything you've got, all your weapons. And I think in the relief role, he's uncomfortable doing that."
With Gee submitting his second subpar start in a row on Thursday, actually decreasing his ERA to 7.59, the Mets figured this was a good time to send Montero back to Las Vegas, where he will stretch out over the next 10 days as a starting pitcher. Montero will then start April 28 in Miami, and the Mets will go from there.
While the company line is that the Mets want to give Matt Harvey, Jacob deGrom and everyone else in their rotation some extra rest, team insiders expressed hope that Montero can stick in the rotation. That would allow them to bridge the gap between Gee and top prospects Noah Syndergaard and Steven Matz, who will not be ready until later this summer.
Anthony DiComo is a reporter for MLB.com. Follow him on Twitter @AnthonyDiComo and Facebook. This story was not subject to the approval of Major League Baseball or its clubs.